This article first appeared in The Edge Malaysia Weekly, on September 16, 2019 - September 22, 2019.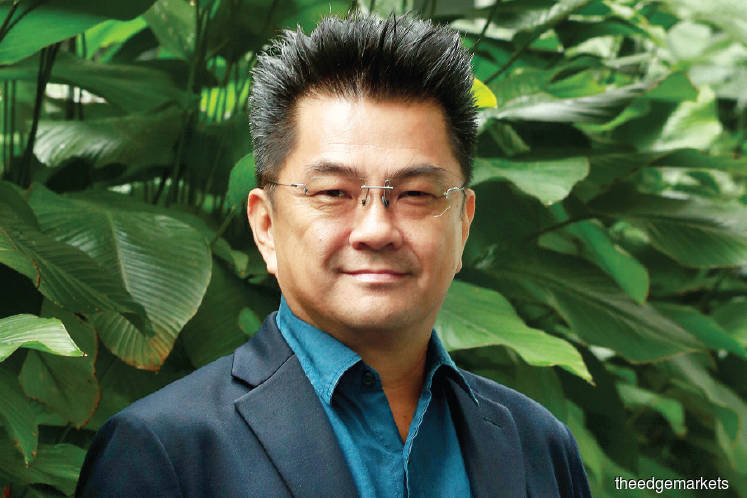 Sim: Our theme parks emphasise creativity, not technology. Photo by Sam Fong/The Edge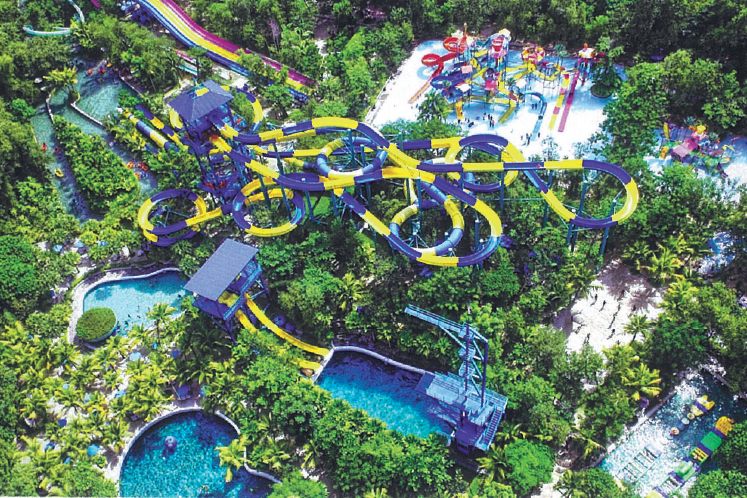 Escape needs fewer than 500 customers per day to break even, according to Sim.
THE theme park industry is largely misunderstood, observes Sim Choo Kheng, founder and CEO of Sim Leisure Group.
"We seem to have a cookie-cutter mindset. When we talk about the park industry, it conjures up images of roller coasters, colourful castles and movie-based theme parks. That's the understanding of the business for the man in the street, but that's not quite the case, especially from an Asian business model perspective ... it is very different," says Sim, who has been in the industry for more than three decades and has been involved in more than 300 projects globally, including Singapore's Universal Studio and Malaysia's Legoland.
"We have a different attitude towards leisure here in Asia. We tend to spend less on leisure compared with the West. That's the big difference. And there is a failure to understand the difference in culture. What works for theme parks in Orlando may not necessarily work for those in Asia," Sim says.
The Penangite opines that the theme park business model of the West cannot work for Asian emerging markets because of a lack of spending power. Based on this belief, Sim built Escape — the first outdoor theme park on Penang island that offers self-directed, free-range play in a natural environment.
It is about going back to basics and providing fun and quality service to the masses, Sim says matter-of-factly.
"Our theme parks emphasise creativity, not technology. It's about low tech, high fun. As the world is progressing at breakneck speed, there is a concern, especially among parents, about the need to go back to nature. There is a need reconnect with nature. This is the trend and we are riding it."
Online checks reveal that TripAdvisor has picked Escape as Malaysia's No 1 theme park.
Sim Leisure believes that leisure is for the masses and not the privileged few. "Our theme parks are built for the locals as that is our base, not tourists. This is where we are different from the mainstream corporates who are involved in the leisure business here. There is a mismatch between the business model and the expectations ... building something and trying to sell US$100 per day spend in a market where the average person is willing to spend RM150 to RM200 per day — that is not going to work. We know our business is the masses and so our business model is based on that. As a result, our capex is often 10% or lower than that of conventional theme parks," says Sim.
Operationally profitable from day one
"Many people say losing money in the first few years of operation is normal for theme parks as there is a gestation period. It's not normal. From day one, we have been operationally profitable and our latest operational growth is 15%."
For FY2018, Sim Leisure registered a net profit of RM6.1 million, compared with RM1.3 million a year ago. Revenue rose 119% year on year to RM21.2 million for the same period.
In 1HFY2019, the company incurred a net loss of RM2.79 million, compared with a net profit of RM2 million in the previous corresponding period. Stripping out the one-off expenses related to its initial public offering exercise of RM3.99 million, Sim Leisure would have posted a net profit of RM1.2 million. From an operational standpoint, it made a profit of RM1.93 million in 1HFY2019.
One of the reasons for its instant profitability — achieved soon after it opened its doors in 2012 — is its fervent belief in keeping capex and operating expenses low.
"When we designed the park, we looked at its maintenance and manpower needs. You can design something beautiful, but you will need many people to maintain it. So, does it make sense? For example, about 80% of the customers buy their tickets online and that cuts down the number of front counters. At Escape theme park, we have fewer than 100 employees. I know there are parks that have 1,500 employees ... that will impact the operational cost," says Sim.
At present, Sim Leisure is in a net cash position with a gross margin of about 50%. "Escape needs fewer than 500 customers per day to break even. Anything more than that goes straight to the bottom line," says Sim.
In 2013 — its first full-year of operation — 120,000 visitors thronged the park. Last year, it received 185,000 visitors.
Comparing Escape's Phase Two water park construction cost of RM28 million with that of another park of more than RM300 million, Sim says, "That (the cost of the other park) is more than 10 times what we spent, but we do a lot more business than them. So, there's already a mismatch. It doesn't mean that the more you spend, the better it is. Ours is a niche business, so not many people understand it. You need to draw in the crowd and keep costs low while ensuring that it is safe and clean fun."
While Sim Leisure strives to keep its capex and maintenance cost low, it does not compromise on safety. Every six months, a stringent safety audit is carried on Escape by a third party.
"Our revenue has increased because we have two phases now ... the park is bigger. We used to charge RM90, but today (some six years later), our rack rate is RM147. We will increase our admission charges when Phase Three opens," Sim says.
Exporting the business model
To keep its costs in check, Sim Leisure does not buy land for its theme parks. Instead, it leases the sites.
"We are in a unique position. We lease the land or have a revenue-sharing agreement with the landowner. Take, for example, our latest project in Paradigm Mall in Petaling Jaya. Our rent is a percentage of our revenue. That puts us in a good position as there is less financial strain," says Sim.
Interestingly, Sim Leisure's modus operandi is to value-add idle land.
"We don't need prime land for our theme parks. We also don't need flat ground. We look for forested and undulating terrain because a lot of our games are integrated with nature. These are the land parcels that will not be used for development. In fact, Escape was built on abandoned land in Teluk Bahang. Phase One used RM8 million of my own money as back then, banks did not believe in my vision," says Sim.
Sim Leisure has a 60-year lease for the 44 acres in Teluk Bahang. It makes progressive lease payments to the state government, starting with RM200,000 annually for the first five years,  with an increment of 20% every five years plus miscellaneous charges. "We are now in our ninth year and are paying RM288,000 per annum," says Sim.
"So, we have a business model that is easy to export. The plan is to take it overseas. We hope to get a business agreement signed in China this year," he says, adding the Chinese want to develop a theme park on a 50-acre tract in Shangdong.
Other potential export markets include Indonesia and Thailand.
Listed on Singapore's Catalist six months ago, the company is still 78%-owned by Sim. The stock is currently trading at 20 Singapore cents, two cents below its IPO price.
Why list the company only to still hold such a large stake?
"I still believe in the business ... there is potential. It boils down to getting the business model right," Sim declares.