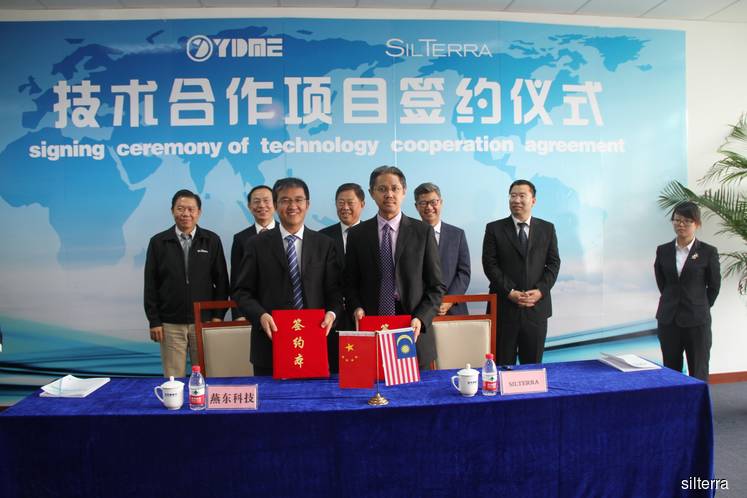 YDME CEO Huai Yong Ji and SilTerra CEO Firdaus Abdullah at the signing ceremony to set up an 8-inch wafer fabrication plant in Beijing worth RM2.9 billion. Photo by SilTerra
KUALA LUMPUR (Nov 22): SilTerra Malaysia Sdn Bhd has been picked as a key strategic partner by China-based microelectronics producer Beijing Yandong Microelectronics Co Ltd (YDME) to set up an 8-inch wafer fabrication plant worth RM2.9 billion in Beijing.
In a statement today, SilTerra said YDME is a subsidiary of state-owned high-tech enterprise Beijing Electronic Holding Company.
It said the new YDME fabrication plant is listed as one of 20 key projects of the Beijing Science and Technology Creation Centre in 2018, and is earmarked to serve as an integrated chip production plant integrating 8-inch chip research and development, manufacturing and packaging.
SilTerra said YDME had since 2016 engaged it to provide multi-tier strategic consultancy that includes planning, design and construction of the fabrication plant, setting up of the IT and quality assurance system as well as technology integration.
SilTerra chief executive officer (CEO) Firdaus Abdullah said almost all of the key staff that will be working at the new YDME plant will go through three months of intensive training at SilTerra's Kulim plant.
"It is a testimony to our 20 years of experience and know-how on independently running a fabrication plant and shows that a Malaysian company has been recognised as achieving standards high enough to be consulted on by Chinese companies.
"This partnership will open up new opportunities for SilTerra to play a more active role in the emerging China market for advanced microelectronics," Firdaus said.
Meanwhile, YDME CEO Huai Yong Ji said the expansion of its existing capability to the new 8-inch wafer fabrication using SilTerra's technology is an important component of its growth plans, not only in terms of improving YDME's overall level of technological innovation, but also in promoting the integrated circuit industry in China and achieving the targeted national output of US$305 billion (RM1.27 trillion) by 2030.
"In addition, SilTerra has supplied chips to our subsidiary companies utilising SilTerra's proprietary process technology in the areas of LCD drivers, MOSFET, RFLDMOS and BCD.
"Moving forward we will have more opportunity to collaborate in many areas," Huai said.
On SilTerra's future direction, Firdaus said the company is on track to producing higher valued products and services such as in the areas of life sciences, internet of things (IoT) and automotive.
"To achieve this, SilTerra embarked on an internal transformation process which began a few years ago.
"Externally, we have begun an initiative to build an ecosystem amongst manufacturers and like-minded partners to support each other as we collectively develop skills and capability to address emerging markets and develop advanced technology," Firdaus said.