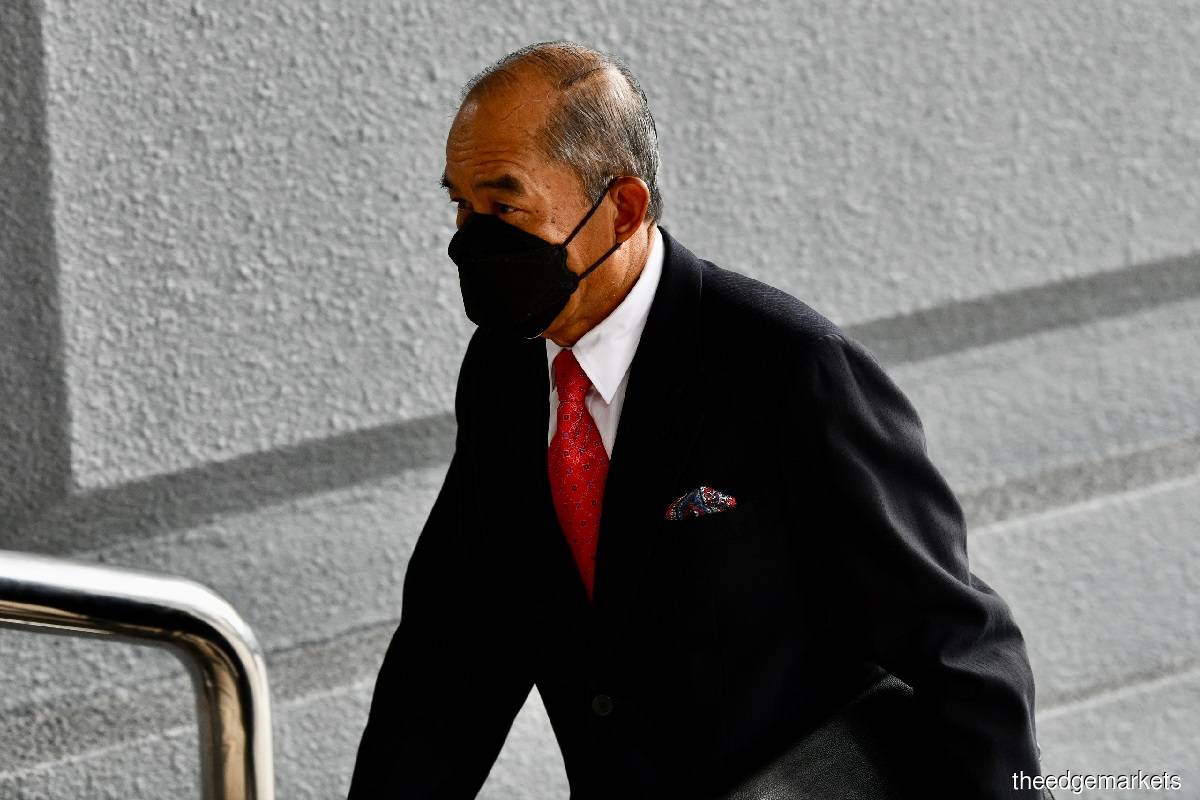 KUALA LUMPUR (June 8): Prosecution witness Tan Sri Mohd Sidek Hassan testified that he received a monthly salary of RM29,125 as then chief secretary of Malaysia, which was not adequate compensation for his duties and that former prime minister Datuk Seri Najib Razak gave him a place on 1Malaysia Development Bhd's (1MDB) board of advisers with an additional RM30,000 salary out of the "goodness of his heart".
Sidek, who was testifying at the 1MDB-Tanore trial, said that his salary was not adequate compensation for the duties he was carrying out.
The 71-year-old, who served as chief secretary to the government from September 2006 until he retired in June 2012, said that Najib had offered him to be on the board of advisers of 1MDB to make up for his relatively low salary.
On Tuesday, Sidek said that he received a monthly advisory fee of RM30,000 per month while he was on 1MDB's board of advisers from July 1, 2010, despite not having to attend any meetings or discussions related to the troubled fund.
After his retirement in 2012, 1MDB still retained him on the board of advisers with a monthly fee of RM10,000 effective January 2013, an amount he received every month until June 2015.
On Wednesday, Sidek reiterated that Najib had given him a role in 1MDB with the RM30,000 salary out of the "goodness of his heart" for compensation over his low salary with the government.
"I thought the reason why the [then] PM offered me that was because of my salary... I hate this because it appears in all the papers again today... [my thinking was that] the [then] PM thought that [for] the responsibility that I had[, the salary was low].
"So, out of the goodness of his heart [I thought] this was just a vehicle [for compensation]," he said upon cross-examination from Najib's lawyer Tan Sri Muhammad Shafee Abdullah.
While he did receive remuneration, Sidek said he was never involved in any meetings or discussions relating to 1MDB's issues or investments, nor did he receive any reports from the 1MDB management relating to the company's operations.
Sidek said he only found out about 1MDB's troubles through media reports in newspapers and on the internet, adding that he understands the issues were related to allegations of misuse of funds.
He said he was made aware of the investigations by local authorities such as the Malaysian Anti-Corruption Commission through media reports as well.
On Tuesday, Sidek had also testified that he did not question Najib or any other parties related to 1MDB about the troubles in the state-owned strategic development company because he assumed that 1MDB was established as a political fund for the then Barisan Nasional (BN) government.
During cross-examination on Wednesday, he agreed with Shafee that he did not have any "hard and fast" evidence to support this observation.
However, during re-examination by lead prosecutor Datuk Seri Gopal Sri Ram, Sidek qualified his assumption adding that there was a Cabinet discussion about 1MDB funds where ministers were encouraged to suggest projects and proposals for their constituencies.
Sri Ram: Those projects were meant for whom?
Sidek: For ministers [and] their constituencies
Sri Ram: So how did that lead you to assume it was for BN?
Sidek: The ministers were from BN.
Later, Sri Ram highlighted that it was not the purpose of the Cabinet to discuss party politics. Sidek replied that one could not separate party politics and government policies.
"I was a civil servant through and through. The government policy is the policy of the party in power, [whether] it is BN or [others]. You can't really differentiate the two," he said.
Sidek was released as a witness. The trial before High Court Judge Justice Datuk Collin Lawrence Sequerah will resume this afternoon.
The Edge is covering the trial live here.
Users of The Edge Markets app may tap here to access the live report.