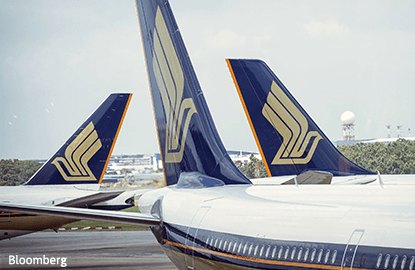 SINGAPORE (June 15): Singapore Airlines' passenger carriage (measured in revenue-passenger-kilometres) fell 2.9% y-o-y in May with a 1.6% reduction in capacity (measured in available-seat-kilometres).
Passenger load factor (PLF) dropped 0.9 percentage points to 72.7%, SIA said in a SGX filing on Wednesday.
"PLF increased for East Asia region, but declined for all other regions due to softer passenger demand," SIA said. "The competitive landscape continues to be challenging and promotional activities will continue in relevant markets."
SilkAir's passenger carriage grew 16.7%, surpassing capacity growth of 15.1%. Consequently, PLF improved by 0.9 percentage points to 69.5%.
Scoot's passenger carriage surged 56.9%, with capacity increasing by 60.1% as it added five aircraft to bring its fleet size to 11. Consequently, PLF dropped by 1.6 percentage points to 78.1%.
During the month, Scoot saw its eleventh Boeing 787 aircraft enter into service, and also launched flights to three new destinations – Jeddah, Chennai and Amritsar. Scoot now serves 21 destinations, including Singapore.
Tigerair's passenger carriage remained flat year-on-year while capacity increased by 1.5%. Consequently, PLF dropped by 1.1 percentage points to 81.9%.
SIA's overall cargo load factor was 0.7 percentage points higher with cargo traffic (measured in freight-tonne-kilometres) growing 4.7%, outpacing overall capacity increase of 3.6%.
"East Asia, Americas and Europe regions showed improvement in load factor with demand outpacing capacity changes," SIA said.
SIA shares fell 0.28% to close at S$10.52 on Wednesday.