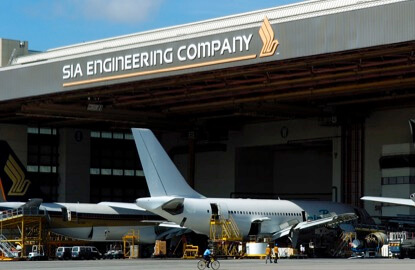 SINGAPORE (Nov 4). DBS Vickers Securities is keeping SIA Engineering at "hold", with a significantly lower target price of S$3.53 from S$3.81 previously.
This comes after the company on Tuesday posted what DBS deems an "uninspiring" set of 2Q17 financial results, including an interim dividend of 4 Singaporean cents, which was below the research house's expectations.
In a Thursday report, analyst Suvro Sarkar says the company's maintenance, repair and overhaul (MRO) outlook remains "fairly bleak" with base revenues declining over the last two years ago due to lower work content, longer intervals between checks on newer aircraft or engine models, and pressure on man-hour rates in a competitive environment.
"Airframe OEM encroachment into the aftermarket space remains a looming threat, as evidenced by SIA Engineering's fleet management segment seeing some customers defecting to Airbus' in-house fleet management programme. Thus, the 'Repair & Overhaul' segment continues to bleed at the operating profit level," he adds.
As such, DBS is lowering its FY17 and FY18 topline forecasts by 6% and 10%, and its core earnings forecasts by 18% and 22% respectively.
But the research house believes the company's share price could still be supported by the prospects of special dividends at the yearend.
These would specifically come from a high cash balance from the company's Hong Kong Engine Services Ltd (HAESL) stake divestment, as well as privatisation prospects by its parent company, SIA.
"[SIA] has a cash balance of about S$4 billion as of end-June 2016, and would effectively have to fork out only c. S$390 million cash to take SIA Engineering private," says Sarkar.
As at 11.36 am today, shares of SIA Engineering were down by 1 Singaporean cent at S$3.65.