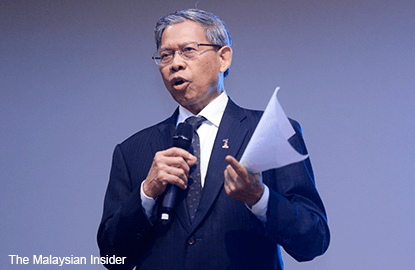 KUALA LUMPUR (Jan 26): Invest Selangor and Invest Penang should be shut down if opposition lawmakers feared foreign investments brought in by the Trans-Pacific Partnership (TPP) would rob locals of opportunities, Datuk Seri Mustapa Mohamed said today.
The international trade and industry minister told the Dewan Rakyat  that companies such as Invest Selangor and Invest Penang had been set up to attract foreign investments into the country.
"If there is any MP who believes that foreign investments rob opportunities from local investors, as claimed by several speakers in Padang Merbok last Saturday, then Bagan MP (Lim Guan Eng) must shut down InvestPenang and Gombak MP (Datuk Seri Mohamed Azmin Ali) must shut down InvestSelangor.
"I, as international trade and industry minister, must also shut down the Malaysian Investment Development Authority and the ministry," said Mustapa when tabling the motion on the trade pact in the Dewan Rakyat today.
Lim is also Penang chief minister while Azmin is Selangor menteri besar.
He was referring to the anti-TPP protest on Saturday, which saw groups such as the Malay Economic Action Council, Kongres Rakyat, and Perkasa converge in Kuala Lumpur to urge Putrajaya not to sign the deal.
He said even in Kelantan, there was no proof that a Japanese firm called Rohm-Wako Electronics, which had been in operation for 30 years, had robbed locals of any opportunity.
On the contrary, the company had brought in RM924 million in investment, and 1,700 job opportunities, said Mustapa.
"Hence, be careful when you speak, because Malaysia actually depends on international trade and foreign investment to create jobs and bring in capital, as well as to drive local development such as in Kulim and Selangor," said Mustapa.