This article first appeared in Digital Edge, The Edge Malaysia Weekly, on February 14, 2022 - February 20, 2022.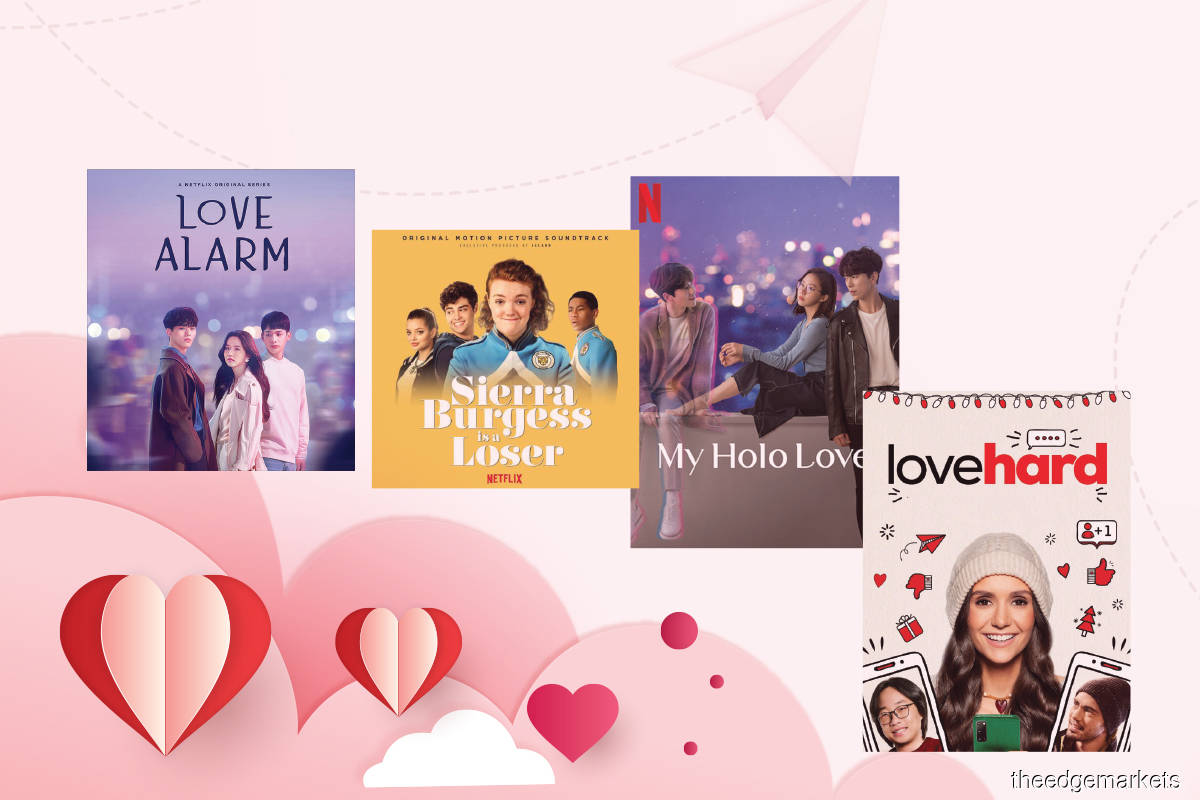 Truth be told, it is getting more difficult for people to find someone to share their lives without involving some element of technology.
Our virtual presence is already such an intrinsic part of our daily routine that it is becoming harder to distinguish real life from simulated reality. For many, the material world is already starting to lose its allure as virtual and augmented reality (AR) advances.
So, this Valentine's Day, we have compiled a list of movies and drama series that revolve around romances that developed with (or were shattered by) little nudges from algorithms and artificial intelligence (AI) in all their messy glory.
CREATIVE CONTROL (2015)
In this movie, considered one of his career breakthroughs, Benjamin Dickinson plays David, a nervous wreck who downs Xanax every morning and ends the day bingeing on alcohol. It does not help that his relationship with his yoga-instructor girlfriend Juliette (Nora Zehetner) is on the rocks.
While his life continues to spiral downwards disastrously, he is instructed by his company to design a marketing campaign for Augmenta, an eyewear that incorporates AR. David instead uses those glasses to capture visuals and construct an avatar of Sophie (Alexia Rasmussen), his best friend's girlfriend, whom he is obsessed with. As the lines start to blur, David finds himself believing that his AR relationship is real.
Set in Brooklyn with a classy soundtrack and Adam Newport's mostly black-and-white photography used in the movie, the film's strained conversations indicate the characters' disengaged lives. It is ironic when devices that are supposed to bring us closer together pull us apart.
LOVE ALARM (2019 to 2021)
Figuring out whether someone likes you before you approach them can be daunting. But what if there is a way to get notified every time someone nearby is infatuated with you? Now, would such an invention be a blessing or a curse?
Love Alarm, a limited series set in South Korea and based on a webtoon of the same name, centres on an app that notifies users when someone is interested in them through psychological reactions such as their heart rate.
The app changes everyone's lives — many find that they are mutually attracted to each other while others, such as the protagonist, Kim Jo-jo (Kim So Hyun) finds herself in a heated love triangle between her childhood friend Lee Hye-yeong (Jung Ga Ram) and the dashing model Hwang Sun-oh (Song Kang).
As the dating app rings when someone who harbours romantic feelings for you comes within a 10m radius, there is no way one can hide one's feelings, which is sometimes best kept secret.
This series perfectly encapsulates what love involves — that it is just as much about heartbreak as it is about romance.
NERVE (2016)
"Are you a Watcher or a Player?" "Truth or Dare" games usually end up ugly, even when they take place online. Vee (Emma Roberts) is an aspiring high school photographer who finds out about Nerve, a gaming app, where users get to choose whether they want to be a watcher or a player. Watchers, who are passive fans sitting on the sidelines of the game, can submit their dares to players on the app, and players who complete dares are rewarded at the end of each round.
Disappointed that her crush, J P, does not share similar sentiments for her, the upset Vee joins Nerve. Her first act is a dare to kiss a random stranger for five seconds at Colony's Diner, where she stumbles on fellow player Ian (Dave Franco).
Ian is seen hiding behind Vee's favourite book, To the Lighthouse, which the former had received from a watcher. Once a new player joins Nerve, the system captures every minute detail about the player, including their social media presence, interests, family and even bank accounts.
Romance begins to blossom between the lead characters but, as it is with thrillers, harmless dares turn increasingly dangerous every step of the way.
While Nerve is not strictly a dating app, it prompts viewers to assess their emotional well-being and self-esteem. In our attempts to seek validation, we tend to do whatever it takes to fit in, even if it means risking our lives. Nerve makes us wonder whether that is worth the risks.
SIERRA BURGESS IS A LOSER (2018)
Learning to love yourself is what Sierra Burgess is a Loser is all about. Starring Shannon Purser as Sierra, this movie is about not judging a book by its cover (with a little catfishing involved in the process).
Sierra, who suffers from a bad case of low self-esteem, develops a virtual relationship with Jamey (Noah Centineo), who is under the impression that Sierra is the popular cheerleader, Veronica (Kristine Forseth) — who is the source of confusion, as she shares Sierra's number, instead of hers, with Jamey.
As the movie pans out, Jamey eventually discovers the person he has been communicating with is his ideal partner and Sierra comes into her own.
THE TINDER SWINDLER (2022)
Already on its way to becoming one of the most watched true-crime documentary dramas of the year, The Tinder Swindler centres on a cruel yet charismatic conman, Shimon Hayut.
The gripping feature debut from Felicity Morris opens with two women talking about their experiences dating a person called Leviev, whom they met on Tinder.
Leviev, who had presented himself as an exceedingly wealthy and jet-setting diamond mogul at first, allegedly conned women into handing over cash and credit cards by telling them that his life was in danger, with promises to return their money in full.
The cautionary tale for those looking for love in a virtual world is told by the victims themselves, who in hindsight share how they missed all the red flags. They had banded up with a journalist to take down Leviev and create awareness about catfishing and fraud.
MY HOLO LOVE (2020)
This 2020 South Korean drama brings this question to the fore: Can you fall in love with a character created by AI? Or would you rather love a flawed human being?
Han So-yeon (Ko Sung-hee), a lonely and ordinary girl, comes across a pair of smart glasses that allow her to interact with a holographic AI-powered being named Holo. She starts to spend time with this hologram and falls in love with it, while being pursued by the founder of the technology and his competitors.
The pair of smart glasses, it turns out, is a beta test version and the only pair in the world. Unbeknown to Han, the hologram is modelled after the tech founder, Ko Nan-Do (Yoon Hyun-min), albeit a more perfect version of him. Ko is a lonely outcast in society and he produced Holo as the version of himself that he wants to be.
Throughout the series, Han grapples with her feelings towards Holo and Ko. Holo is the perfect partner who becomes exactly what she wants, whereas Ko is suffering from trauma but trying to become a better person.
A recurring theme in the drama is the idea that it is the flaws in human beings that bring people together and allow for love to flourish. An AI being is perfect and can meet all of your needs, but that is not what love is supposed to be.
In a particularly poignant scene, Han tells Ko — whom she has mistaken for Holo — that he is perfect, so he will be loved by people, unlike her. But Ko tells her that he is also lonely and has not been loved. "You may hate your flaws, but they are what is different and special. The fact that we're still imperfect is what brought us together," he says.
My Holo Love is an interesting series for people who like to consider how a person's inherent imperfections can be a strength in an AI-dominated world.
LOVE HARD (2021)
It is a known fact that, on popular online dating apps, looks matter. The superficiality of these apps has led some to "catfish" other users by using photos that are not their own.
This Netflix film tells the story of an Asian-American boy, Josh Lin (Jimmy O Yang), who uses this strategy on Natalie Bauer (Nina Dobrev). Lin is not the typical hot guy. He wears glasses, likes to make candles and does not have an athletic body. He fails to get good matches, so he uses a photo of his friend Tag Abbott (Darren Barnet), who is the opposite of him.
Of course, Bauer is furious when she surprises Lin for Christmas and finds out the truth. Through a series of circumstances, however, Bauer gets to know Lin for who he is. Lin also slowly gains confidence and embraces his true self, instead of hiding behind someone else's identity and crumbling under the pressure of societal norms.
The film breaks new ground in featuring an Asian-American male (without the six-pack and muscles) as a lead. It is also rare to see an Asian man and a white woman paired together in Hollywood. At the same time, it highlights the pressure imposed on users of online dating apps that are very visually driven.
Online dating platforms are supposed to widen the dating pool and offer one more options. But they can also backfire if the users are too focused on physical appearances or have preconceived notions about people of certain races or even body sizes. You will not even get a chance to show others your true self because you have been "swiped left" (users are not interested), as Lin experiences in the movie.
Do online dating apps open up more possibilities for love? Or do they narrow them? Watch the movie and ponder these questions.
LOVE, GUARANTEED (2020)
The premise of this Netflix romcom highlights a common concern of online daters: Are you guaranteed to find love on an online dating platform? It might seem possible, especially when aided by complex algorithms that match people based on compatibility and other factors.
As this movie shows, however, there are no guarantees in love. Lawyer Susan Whitaker (Rachael Leigh Cook) takes on a case for Nick Evans (Damon Wayans Jr), who wants to sue an online dating website called Love, Guaranteed for failing to find him love in 1,000 dates, as the website promises in its fine print.
The two get to know each other as they work on the case and eventually fall in love. But that poses a threat to the court case. Can they successfully prove that love cannot be guaranteed?
If the movie was not too busy portraying the romance between the two (with some rather contrived humour), it could bring to question the notion that romance can be perfectly calculated and predicted using math and science. This belief, after all, has spawned the many algorithms that power online dating platforms today.
"Love isn't something you can just guarantee. Love is unpredictable and it can burn you but it can also surprise you in the most remarkable way," says Evans in the movie.
Perhaps online dating platforms cannot guarantee that users can find love because love cannot be predicted. It is up to people to take a chance on each other.
MY PERFECT ROMANCE (2018)
Robinson Tech is in dire need of new revenue streams. On a whim, its CEO, Wes Robinson (Christopher Russell), decides to fast-track the launch of a new dating app that is still in development. The app, MyPerfectMatch, is led by tech developer Vivian Blair (Kimberly-Sue Murray), who is building a new dating app algorithm — no swiping left or right, no photos, just data to find your perfect match.
Blair and Robinson are put on the spot while promoting the app on TV, with the host challenging the pair to find their own respective "perfect matches". In the end, the algorithm shows interesting results.
The Netflix movie follows Blair on a series of bad dates with people she meets on the app, in an attempt to prove the viability of her newly developed algorithm. Meanwhile, womaniser Robinson is sceptical of the algorithm and tries to prove that the conventional way of dating is still the way to go.
The cheesy (and predictable) tension between the pair builds throughout the meeting, culminating on Valentine's Day, when they reappear on TV to share their experiences using the app.
This is not the best chick flick on Netflix, but if you are a hopeless romantic, a lover of predictable romantic comedies with subpar acting, you might just appreciate it. The only comedic element is the dates Blair encounters, which does not say much about the movie itself.
EUPHORIA (2019 to present)
This HBO series follows a group of high school students as they navigate love and friendship in a world of drugs, sex, trauma and social media. Award-winning actor and singer Zendaya (who gained recognition because of her impeccable acting skills in this show) leads an ensemble cast that includes Hunter Schafer, Jacob Elordi, Algee Smith and Sydney Sweeney.
It is important to note that this show is not for the faint-hearted, as it is extremely graphic (sex and violence) and realistic, especially when following Rue (Zendaya), a drug addict who finds herself struggling to stay sober.
Throughout the series, the viewer learns about each character in the show, with every episode starting with a deep dive into their past, explaining how they came to be. This includes the story of protagonist Nate Jacobs (Jacob Elordi), who struggles with his sexuality and masculinity, and Jules Vaughn (Hunter Schafer), who navigates love and life as a teenage transgender woman.
The online dating element in the show is minor but powerful. From the get-go, we see almost everyone in the show swiping on profiles and direct messaging potential sexual partners on what looks like a dating app. In the first season, we see that there is a blurred line between online dating and social media, as the teenagers pretty much live in and rely entirely on the digital world.
This show focuses on showing the harsh realities of online dating, including the potential of being catfished, the dangers of meeting potential matches in person as well as the sharing of explicit content on the app with their matches (which is punishable by law as a means of distributing child pornography). An extremely powerful and insightful series, it is no wonder it has won several awards since premiering in 2019.
MUST LOVE DOGS (2005)
Sarah (Diane Lane), is a 40-year-old kindergarten teacher who is recently divorced. Still reeling from her failed marriage, she is pushed by her whole family to start dating again by being introduced to friends who are potential partners. After a few failed dating attempts, her sister, Carol (Elizabeth Perkins) believes Sarah needs to date more.
Carol then sets up an online dating profile for Sarah without her knowledge, adding the clause "must love dogs" in her profile. Soon after, Carol receives a slew of messages from interested men and she eventually goes out on a few bad dates, rendering her jaded once more.
Meanwhile, there is Jake (John Cusack), who reluctantly decides to try internet dating after being pressured by his best friend. Sarah and Jake meet, and though both agree they are not interested in a serious relationship, their chemistry is undeniable.
But along comes Bob (Dermot Mulroney), a parent of one of her students, who also shows interest, which sees her torn between Jake and Bob. This romantic comedy contains all the elements of a cheesy 2000s chick flick — two attractive eligible bachelors vying for one girl; an overly involved family in Sarah's love life; and dramatic expressions of love and affection.
From the opening scene to the closing credits, you will find yourself drawn to the charismatic characters and unfolding plot in this 1½-hour movie.