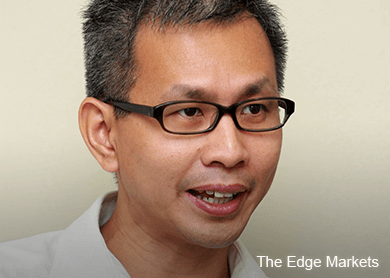 (June 26): DAP has challenged 1Malaysia Development Berhad (1MDB) and PetroSaudi International to make public the original versions of documents that UK-based cyber security firm Protection Group International (PGI) said were tampered with, following reports of the arrest of a former PetroSaudi director on suspicion of blackmail.
DAP national publicity secretary Tony Pua said this was the best way for the two companies to debunk, once and for all, the various allegations published by media organisations and website Sarawak Report.
However, he said that since January this year when the first incriminating documents surfaced in Sarawak Report, the state investment vehicle had made "absolutely no attempt" to produce evidence and documents to counter the whistleblower site reports as false.
He said 1MDB had not even verbally denied the specifics of the exposes, such as 1MDB's top management signing of a US$1 billion investment in the 1MDB-PetroSaudi joint venture within five days of meeting PetroSaudi.
Pua said the troubled firm has also not denied that US$700 million and a subsequent US$550 million was transferred to Good Star Limited, a company controlled by businessman Low Taek Jho.
He said that 1MDB had to date been unable to provide information on the nature of its US$2.318 billion investment in the Cayman Islands, since redeemed and substantially spent, with the balance kept as mysterious "units" in BSI Bank Singapore.
"In fact, the publisher of The Sarawak Report, Clare Rewcastle, even taunted all the relevant parties to sue her in the court of law if she has misrepresented any emails or documents in her website. There was no attempt by Petrosaudi, 1MDB or Jho Low to do so. All we get is meek and general denials, merely brushing aside the very serious allegations as tampered information.
"Come on, 1MDB. Man up, or own up. Stop hiding underneath the government skirt pleading secrecy while threatening to abuse its powers," Pua said in a statement today.
Thai police arrested Xavier Andre Justo, a former director with PetroSaudi, in Koh Samui earlier this week.
Justo was reported to have been paid some RM15 million to leave PetroSaudi and is now accused of asking for more money in an attempt to blackmail the oil company over its deals with 1MDB. Thai media reported that Justo has denied this.
Justo's arrest was to facilitate investigations into the leak of emails between PetroSaudi and 1MDB, which the government now says were tampered with after initial investigations by PGI.
Pro-government daily New Straits Times quoted an unnamed PGI expert as saying that the leaked documents had been edited so as to paint a negative picture of 1MDB.
1MDB also issued a statement after that to say that some of the leaked emails had been tampered with.
Today, Home Minister Datuk Seri Ahmad Zahid Hamidi was quoted by The Star Online as saying several Malaysians were behind the alleged tampering of documents and emails taken from PetroSaudi about its deal with 1MDB.
Zahid had also warned The Edge and its owner Datuk Tong Kooi Ong that publishing permits issued to the media group can be revoked over reportage of news concerning 1MDB, now that it had been found that the information leaked had been tampered with.
Pua today said Zahid's warning to The Edge and Tong were entirely based on a statement from PGI's anonymous source.
The Petaling Jaya Utara MP said even if the allegation was technically true, nothing in it actually debunked the information exposed by Sarawak Report.
"It may indeed be 'incomplete data' because some key transaction documents were not available in these leaked emails. To Petrosaudi and 1MDB, the emails may be 'creatively selected', but to the Malaysian taxpayers, they may be intelligently filtered. PGI alleged that the information was 'edited to fit a desired narrative' – to which I would say, of course they were!
"I would even say that the very allegation by the unnamed source from PGI is guilty of all of the above.
"There was not even any mention, whether by PetroSaudi, 1MDB or PGI on what exactly has been edited, or worse, tampered by any party.
"Was the joint venture agreements wickedly doctored? Were key words in the emails replaced other malicious words?
"Or where all of the above complete works of fiction?" asked Pua. – The Malaysian Insider