This article first appeared in The Edge Financial Daily, on November 9, 2018.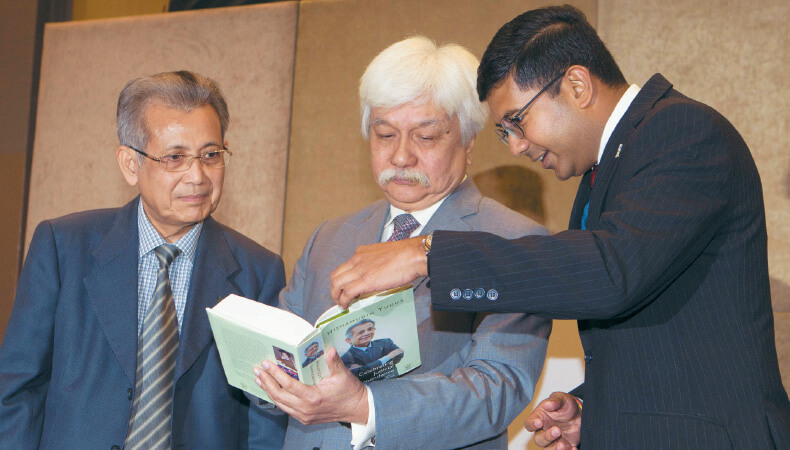 (From left): Hishamudin looks on as Yang di-Pertuan Besar of Negeri Sembilan Tuanku Muhriz is being briefed by the book's editor, S Saravana Kumar. Photo by Patrick Goh
KUALA LUMPUR: Judges should show courage to make dissenting judgments when they are convinced that justice is at stake, said Chief Justice of Malaysia Tan Sri Richard Malanjum.
"Dissenting judgments are the hallmarks of judicial independence," he said at the launch of the book Hishamudin Yunus: Celebrating Judicial Independence.
"Superior judges are not civil servants who have to support the actions of the government," he said at the event, which marks the silver jubilee of the law firm Lee Hishammuddin Allen and Gledhill, where Hishamudin is a consultant.
"Hishamudin has been steadfast in his allegiance to the Federal Constitution and his own principles, and serves as a guiding light for others," said Yang di-Pertuan Besar of Negeri Sembilan Tuanku Muhriz Ibni Almarhum Tuanku Munawir.
The Negeri Sembilan ruler also wrote a foreword for the book.
The volume comprises commentaries by leading legal figures on a number of landmark decisions by Hishamudin, who had written more than 700 judgments during his 23 years on the bench.
Among other things, Hishamudin had given a judgment against the criminalisation of cross-dressing Muslim males under the Negeri Sembilan State Syariah Enactment.
In another landmark decision, he held against a provision under the Universities and University Colleges Act which prohibits students from expressing political opinions, as a breach of their constitutional right to free speech.
"The strong public awareness about the importance of judicial independence that has arisen today is vital for restore public confidence in the judiciary," Hishamudin said in his address.
"Justice Hishamudin Yunus stands out as one of the rare judges who firmly subscribed to judicial independence, for which he paid a hefty price — he was not elevated to the Federal Court by the previous government despite being the most senior Court of Appeal judge at the material time," said the book's editor S Saravana Kumar.
Today, the new government has appointed Hishamudin to sit on the Judicial Appointments Commission. He has also been named the chairman of the Malaysian Competition Commission and chairman of the Taskforce on Foreign Workers.