This article first appeared in The Edge Malaysia Weekly, on November 5, 2018 - November 11, 2018.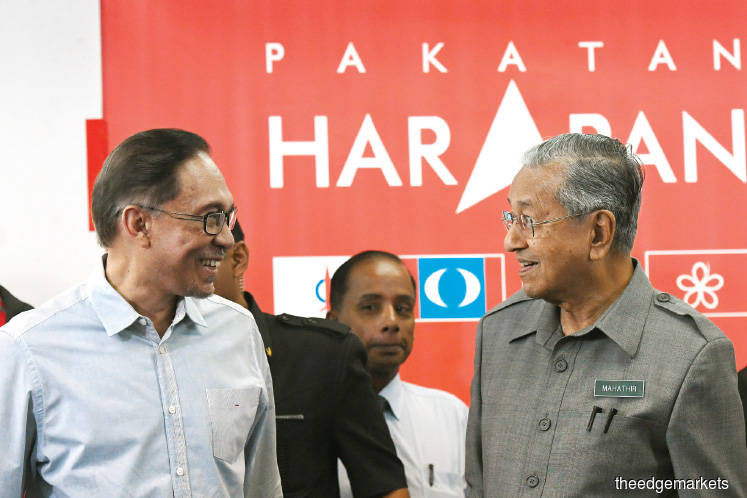 In 1989, well-known opposition leader, the late Fan Yew Teng, published a book entitled The Umno Drama: Power struggles in Malaysia. In Chapter One, he wrote about the "death" of Umno following the fallout of the bitter party elections in April 1987 and its "resurrection" a year later via what was then known as Umno Baru. The chapter was aptly titled "Umno is dead, long live Umno". Central to all that was Tun Dr Mahathir Mohamad, who was then president of Umno and later, Umno Baru.
Now 30 years on, many are talking of a "dying" Umno in the aftermath of the 14th general election (GE14) on May 9 and its possible resurrection or, should I say, reincarnation in the form of Parti Pribumi Bersatu Malaysia (Bersatu) led by Mahathir. Another version of "Umno is dead, long live Umno" perhaps?
What got a lot of people excited was the recent revelation by Bersatu supreme council member Datuk A Kadir Jasin that some 40 Umno parliamentarians had met Mahathir and that there is a "possibility  of them jumping ship and joining Bersatu".
As Kadir, the media adviser to the prime minister, sees it, the only way for them to do so is to leave Umno and become independent MPs before joining as individuals and not as a grouping.
He was quick to add that even then, there is no guarantee they will be accepted and that Bersatu has not made any decision on the matter. But that has not stopped speculation, predictions, forecasts, talk of political manoeuvring and what not.
And the favourite theme of the chatter is that the move is all about numbers, about strength in parliament. It will confer on Bersatu a much-needed position of power in the august house.
After GE14, Bersatu had 13 MPs, but gained one more when Jeli MP Datuk Seri Mustapa Mohamed quit Umno to join it. PKR has 50 MPs, making it the dominant party in the ruling Pakatan Harapan, while DAP has 42 and Amanah, 11.
Umno, the leading opposition party, is now left with 48 MPs from 54 after the election following the resignation of several of its representatives to become independent.
Never mind what it will do to Umno, but one need not be a mathematician to know that should 40 Umno MPs cross over and be accepted by Bersatu, the latter will have 54 MPs — a formidable force in parliament, I would say. And one need not be a political scientist to know that it would be a big deal.
But to a political pundit, logically, if one were an Umno MP, wouldn't it be better to join PKR, which already has the numbers, and the likelihood that the party president will become the next prime minister?
For some in Umno, attempts by Bersatu to court its MPs is a ploy to prevent Datuk Seri Anwar Ibrahim from succeeding Mahathir as prime minister.
Then there are those who would rather believe it is Umno and not Bersatu that is doing the courting, pointing to the fact that Bersatu is already in power and that Umno leaders, including party president Datuk Seri Dr Ahmad Zahid Hamidi and Datuk Seri Hishammuddin Hussein, had gone to see Mahathir. Both claimed to have had "good reasons" for doing so and denied it was to cut a deal.
But some in Umno seemed to contradict the party when it launched what I would describe as a psy-war campaign, spreading word that leaders and members would not be prosecuted by the Malaysian Anti-Corruption Commission if they join Bersatu, as if to suggest that those who leave the party would be doing so to save their own skins.
That prompted PKR communications director Fahmi Fadzil to come out with a statement declaring that the entry of Umno MPs into PH cannot be an excuse to cover up wrongdoings.
Anwar, on his part, responded to the Umno allegation of a ploy to thwart him from becoming PM by saying that he had no reason to doubt the political agreement made by PH leaders and dismissing talk of a conspiracy as "rubbish".
Mahathir has said on a number of occasions that Anwar will succeed him as the country's eighth prime minister. A time frame of two years has been set but that did not stop the Setiawangsa Bersatu branch from proposing that Mahathir complete one term of five years as PM until the next general election.
Conspiracy theories continue to surface, including those stirred up by Umno, but that is to be expected. Anwar has acknowledged that certain quarters with vested interests are trying to drive a wedge between him and Mahathir, but says "that's, of course, useless because the PM has made it clear in his statements and speeches (that he would take over from Mahathir), which to me is very reassuring".
But the big question remains: should Bersatu or other parties within PH accept Umno MPs, state assemblymen or even ordinary members into their fold?
To PKR's Nik Nazmi Nik Ahmad, politicians switching parties is not something new. He tweeted, "Winston Churchill first became MP with the Conservative party, then he joined the Liberal party and eventually ended up with the Conservatives."
A political observer agrees but has some questions in Mustapa's case. "Being the smart, hard-working and seemingly clean politician he is, why didn't he raise issues like 1MDB and make a stand when he was in the Najib administration?"
And now that Umno is not in power, he wonders if Mustapa is "taking the easy way out by joining Bersatu, and like in Umno, just becoming another yes-man in the party. This is not the culture of parties like PKR, DAP and Amanah in PH".
One telling question about the old government, says the political observer, is why other former ministers besides Mustapa, such as Datuk Seri Johari Ghani, Datuk Seri Idris Jala, Tan Sri Abdul Wahid Omar and Datuk Seri Ahmad Husni Hanadzlah — all considered smart, qualified professionals — did not voice their concerns and question or protest about matters like 1MDB.
To him, "the smarter and more highly educated a person is, the bigger the responsibility he or she has to shoulder in Cabinet and politics. It is about collective responsibility in the Cabinet. Integrity matters too and those who jump ship do not reflect that quality."
Back to Nik Nazmi. Well, he stopped short of saying out loud that he wanted Umno MPs to stay put and remain as the opposition, tweeting that "I've always said for the good of the nation, the role of the opposition must be upheld to ensure we do not deviate from our objective".
That's how I take his tweet to mean as before that, he had tweeted, "We ought to remember what made the rakyat despise BN — the abuse of the nation's institutions and the total domination of the federal government, which drove them to demand a balancing factor."
Speaking of the rakyat, many of those who voted for PH in GE14 are against any move to bring in Umno MPs into Bersatu or PH. That applies to BN's component parties as well or whatever is left of the coalition.
The fear or concern is that the unhealthy culture of Umno/BN will be brought into Bersatu and PH, giving birth to Umno 2.0 and BN 2.0. They are not mincing their words. Take a look at social media and the comment section of news portals and you will know what I am talking about.
Also not mincing words is DAP's Abdul Aziz Bari, who says Perak DAP wants the MACC to investigate if there are offers of position or other inducements to the 40 Umno MPs to switch camp. Malaysiakini columnist Azly Rahman sums it up best: "The people voted for a newer Malaysia, not a newer Umno".
Bersatu deputy president Datuk Seri Mukhriz Mahathir tried to allay those concerns, saying that the party will first screen anybody who wants to join and that the door is closed to Datuk Seri Najib Razak, Zahid, Datuk Seri Nazri Aziz and Datuk Seri Abdul Azeez Abdul Rahim.
As to whether his assurance has allayed the doubts of the rakyat, your guess is as good as mine.
DAP's Liew Chin Tong has some advice: "For me, whatever things are said among ourselves, let's not jump to conclusions. Leaders have to articulate their thoughts before sharing their views. More importantly, let's build trust among leaders and communities."
But to the many Malaysians who voted for change, their trust will begin to be eroded if indeed more Umno MPs are allowed to jump ship.
Mohsin Abdullah is a contributing editor at The Edge. He has covered politics for more than four decades.
Save by subscribing to us for your print and/or digital copy.
P/S: The Edge is also available on Apple's AppStore and Androids' Google Play.