This article first appeared in The Edge Malaysia Weekly, on May 18, 2020 - May 24, 2020.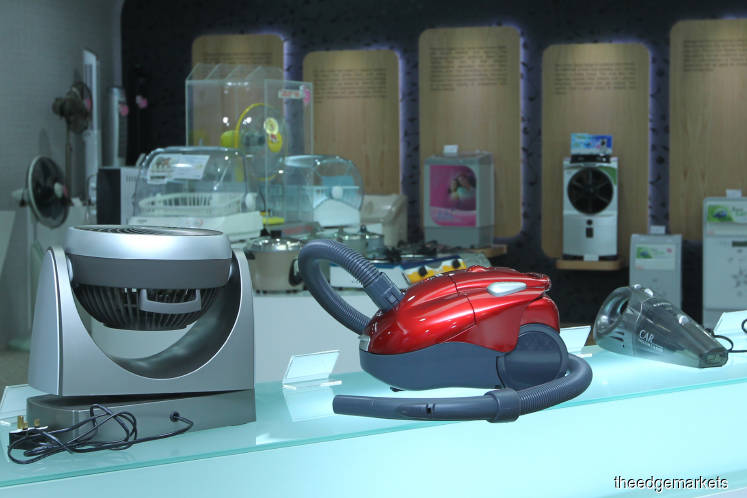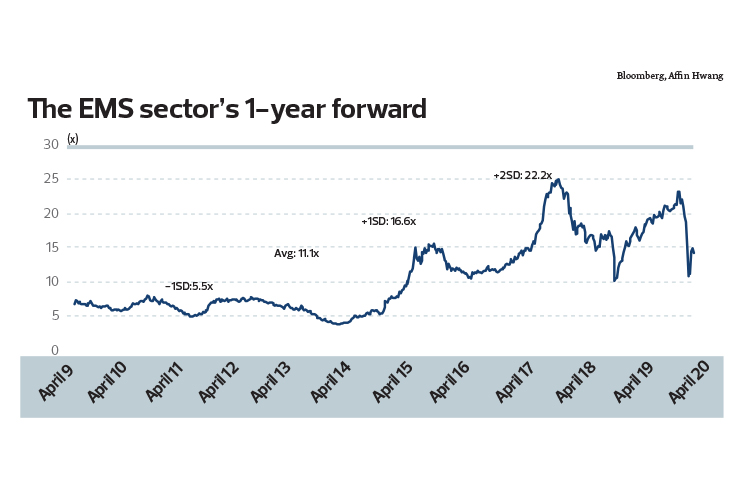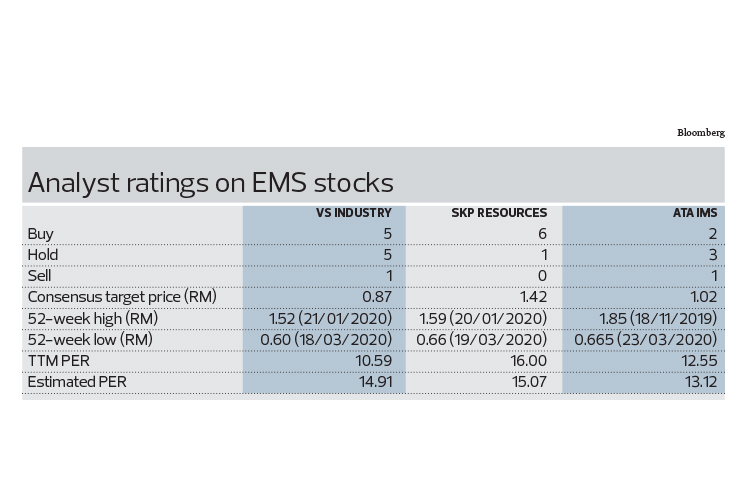 OVER the past year or so, local electronics manufacturing services (EMS) companies, namely VS Industry Bhd, ATA IMS Bhd and SKP Resources Bhd, have been widely seen as beneficiaries of the trade diversion as a result of the US-China trade war.
Notably, VS Industry had, in March last year, secured a new customer at a time when many multinational corporations (MNCs) were looking to move their production lines out of China.
The trade tensions also opened up opportunities for the likes of ATA IMS, which secured five new customers last year.
Then came the Covid-19 outbreak, which delivered a blow to the EMS sector. First, it was the global supply chain disruption due to the temporary closure of many factories in China. Then, the Movement Control Order (MCO) in Malaysia forced most local manufacturers, including the EMS players, to halt production.
Not surprisingly, EMS stocks have been battered since the beginning of the year before they pared their losses following the gradual relaxation of the MCO.
Now, what lies ahead for the EMS companies? More importantly, will the Covid-19 crisis change the narrative of them being trade war beneficiaries?
Temporary production halt
According to VS Industry managing director Datuk Gan Sem Yam, the Senai-based EMS provider adhered to the MCO and halted production from March 18 to April 10.
Subsequently, the group resumed operations with a reduced workforce after receiving the necessary regulatory approval and complying with standard operating procedure (SOP) such as cleaning and sanitisation.
"We started with 20% of the workforce before raising it to 50% upon subsequent approval from Miti (Ministry of International Trade and Industry). With the latest green light from Miti to operate at full capacity, subject to adherence to the SOP, we are gradually ramping up production," he tells The Edge.
In China, VS Industry's operations in Zhuhai stopped for the Chinese New Year holidays between Jan 25 and Jan 30. But it was only able to resume operations on Feb 17, in line with the China's efforts to contain the spread of Covid-19.
Likewise, in compliance with government regulations, ATA IMS also halted production from the start of the MCO until mid-April when it resumed operations at around 25% utilisation.
ATA IMS head of corporate strategy Datuk Christopher Chan says considering that EMS is part of the electrical and electronics (E&E) sector, which is classified as an essential industry, the group is working gradually towards 80% of its pre-MCO utilisation.
"The production halt and subsequent restricted operations will definitely impact our financial performance in the financial year ending March 31, 2021. The first quarter will be severely affected because April was directly impacted by shutdowns while production for the remaining two months will be slow due to the many adjustments we have to make to comply with the new and necessary health SOP," he tells The Edge. At press time, SKP Resources had yet to respond to a request for comment.
Consumer spending recovery
VS Industry's Gan expects the group's performance in the second half of its financial year to be weaker than that of the previous year due to the impact of the pandemic locally and globally.
"The speed of recovery depends on many factors such as the global demand for consumer electronics products and consumer spending going forward. It will take time for consumer spending to recover," he says.
Gan acknowledges that in the near term, there will be some headwinds ahead for the EMS players, but in the longer term, the outlook for the sector remains positive as there are still opportunities and room for the sector to grow, especially from the trade diversion.
Meanwhile, ATA IMS' Chan points out that compared to certain services where consumption lost cannot be replaced — for instance, customers who do not buy coffee daily during the MCO will not double their consumption post-MCO — the EMS industry is in a better position.
"Generally, EMS companies produce household appliances. The replacement cycle of such products is measured in years, not days. Consumers who defer their purchases now because of lockdowns or economic uncertainty will eventually buy new appliances next year, or the following year, when normalcy returns," he explains.
Chan says as more people stay and work from home now and in the future, consumers are likely to invest more in household appliances.
"They want to be more efficient at household chores and to increase home comforts. For example, some people who started doing their own cleaning at home during the MCO — as their part-time maid could not come — decided to invest in a good vacuum to help them. Hence, there will be pockets of new demand."
While 2020 will be a challenging year for the EMS sector, Chan reiterates that things will pick up as household appliances such as vacuums, fans and temperature control devices have to be replaced.
"There is a natural replacement cycle and new pockets of demand. There will be new innovative products to automate more and more of our household chores. So, our underlying growth potential remains intact," he explains.
Trade war narrative remains
Since the US-China trade war, VS Industry has secured a new customer from the US — a direct result of the trade tensions. Gan say the group had also received numerous enquiries and had been in serious discussions with several prospective customers who are considering setting up a manufacturing base in Malaysia.
 Although these discussions have been put on hold due to restrictions on travel, he remains confident that beyond Covid-19, these MNCs would still diversify their manufacturing base as part of their risk management plan.
"As such, we are looking forward to resuming our discussion as and when the travel restrictions are lifted and the situation is safe with the virus spread under control," says Gan.
ATA IMS' Chan also highlights that the group has been a major beneficiary of the trade war and has secured five new customers, comprising major Western brands.
"We will be starting production for these new customers this year. Due to geopolitical reasons, trade war concerns will continue to weigh on global brand owners. This will benefit the Malaysian EMS sector as more global companies seek to diversify their supply chain," he says. "We will continue to follow up with new enquiries from potential customers during the Covid-19 pandemic. We partly overcome the travel limitations by providing virtual tours of our production facilities to potential customers," he explains.
Split views on outlook for EMS players
Year to date, the shares of VS Industry Bhd, ATA IMS Bhd and SKP Resources Bhd have declined by 31%, 41%, and 18% respectively, mainly due to the impact of Covid-19. Recall that the selldown of the three EMS counters started around mid-January, before they rebounded between late March and early April.
Research analysts are divided over the prospects of EMS stocks (see table). According to Bloomberg, five research houses have "buy" calls on VS Industry, five have "hold" , and only one has a "sell". Meanwhile, two analysts have "buy" calls on ATA IMS, three have "hold", and one has a "sell" recommendation.
VS Industry managing director Datuk Gan Sem Yam says the group will remain focused on growing its business and continuously creating value for its stakeholders.
"Have a look at our earnings track record, our balance sheet and our dividend payout. We believe as long as we do our best to grow our business, the investing public will take notice and see value in us. We are in this business for the long term, so we hope investors will stick with us and ignore the short-term fluctuations," he says.
ATA IMS head of corporate strategy Datuk Christopher Chan concurs. "The EMS sector is a proxy for long-term growth and not daily consumption. On this basis, the listed EMS companies seem to be trading at very attractive levels if one takes a medium-term view," he says.
CGS-CIMB Securities Sdn Bhd analyst Syazwan Aiman Sobri is of the view that the sales volume outlook for EMS players remains uncertain, but says some should benefit from new product launches from their key customers this year.
"Weaker consumer spending should weigh on the Malaysian EMS sector due to weaker end-demand as the larger listed local EMS players are mostly manufacturing consumer electronics. The concerns are there, and have been more or less priced in as can be seen from the share price weakness, although most have rebounded," he tells The Edge.
"Depending on how Covid-19 related news flows and market sentiment play out, there could be a short-term downside, but when taking a longer-term view, we still see some upside to stock prices. Nonetheless, we have to note that since the general stock market rebound, valuations for the EMS companies have recovered and are inching closer to fair value."
 Affin Hwang Capital research analyst Brian Yeoh believes weaker consumer sentiment and the global economic slowdown are likely to dampen discretionary spending, and EMS players likely won't be spared as they are mainly involved in manufacturing upmarket consumer products.
However, the Covid-19 pandemic has prompted many MNCs to diversify their supply chain and reduce their reliance on China.
"Given the EMS sector's competitive advantage in engineering capabilities, ready infrastructure and labour availability, we opine that the local players could be beneficiaries of this change in the long haul," he says.
Meanwhile, Maybank Investment Bank analyst Kevin Wong believes the outlook for the EMS Industry would need to be gauged further by zooming in on individual players' key or core products and services, as well as their end-customers.
"We believe that the US-China trade war narrative will still remain. However, with the Covid-19 outbreak, we believe the EMS players' current priority will be focused on resolving matters resulting from the outbreak," he says.
Maybank IB has a "hold" rating on VS Industry with a target price of 75 sen, pegged at a price earnings ratio of 10.5 times on CY20's earnings.
"Although valuations are undemanding, it is still lacking near-term earnings visibility at this juncture. We believe VS Industry could re-rate once there are better operations and earnings visibilities, in tandem with the gradual improvement of the Covid-19 outbreak," he says.