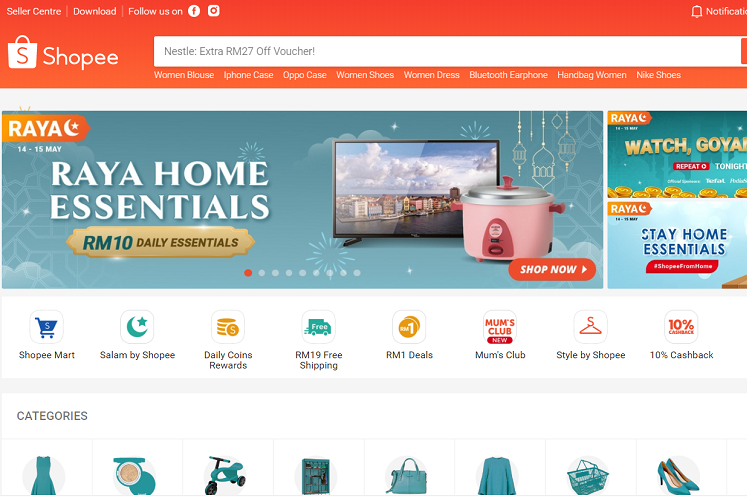 Shopee beats Lazada as the e-commerce website in Malaysia with the most visitors in the first quarter of this year, according to data by the iPrice Group, an online shopping aggregator platform.
iPrice's data showed that Shopee received 81.82 million visits (including desktops and mobile phones) during this period, to Lazada's 36.96 million. This works out to an average of 27.27 million visits per month for Shopee, against Lazada's 12.32 million.
However, Lazada is still the second most visited e-commerce platform after Shopee in Malaysia. This data does not include visits through mobile applications.
"Also, iPrice does not track online platforms that [provide] e-ticketing services, financial services, rental services, insurance, delivery service, food and beverages services, metasearch, couponing, cashback services and e-commerce platforms that solely provides classified advertisements and peer-to-peer services," says Deridian Nurhalim Sutiono, content marketing executive at iPrice. 
How has this shift taken place? Those in the industry have their views. One player, who declined to be named, believes that Shopee overtook Lazada because it is still subsidising its merchants in terms of shipping fees, while Lazada has phased out or reduced these subsidies in its move towards a more sustainable business model.
He also says that Shopee is selling lower-end products that naturally have higher sales volumes but lower profit margins. Lazada, on the other end, has moved into selling higher-end and branded products with lower sales volumes but higher profit margins.
"This is probably the main reason why Shopee has been receiving more visits to their website recently," he speculates.  
The other top visited e-commerce websites locally are PG Mall (5.07 million), Lelong (3.37 million), Zalora (3.32 million), Astro Go Shop (2.88 million), eBay (2.25 million), Hermo (1.11 million), Qoo10 (0.94 million) and Sephora (0.88 million). 
Shopee was also the champion in Indonesia and Vietnam in terms of total visits, in the first quarter of this year.
Tokopedia and Bukalapak, two home-grown e-commerce unicorns, are Shopee's biggest contenders in Indonesia while in Vietnam they are The Gioi Di Dong (thegioididong.com) and Tiki.
The Gioi Di Dong is a leading mobile phone retail chain in Vietnam that sells mobile phones, tablets, laptops, accessories, wearable devices and provides value-added services through online and offline channels while Tiki is a home-grown e-commerce company in Vietnam with JD.com (China's second largest e-commerce firm after Alibaba) as one of its major backers. 
Lazada is still the most visited e-commerce platform in countries such as Singapore, Thailand and the Philippines.    
In Singapore, Lazada's biggest competitors are Shopee and Qoo10. Qoo10 is a Singapore-based e-commerce marketplace that expanded its footprint to Southeast Asia and China. It was formerly known as GMarket and its parent company is Qoo10 Pte Ltd. 
In Thailand, Lazada's main rivals are Shopee, once again, and JD Central. The latter was launched by JD.com in 2018 to expand its business into Southeast Asia. 
In the Philippines, Lazada's is facing stiff competition from Shopee and Zalora. 
According to iPrice, Shopee (550.35 million), Lazada (303.16 million), Tokopedia (209.43 million), Bukalapak (112.95 million) and The Gioi Di Dong (85.77 million) are the top-five most visited e-commerce platforms in Southeast Asia in the first three months of the year. This is followed by Tiki (71.97 million), Blibli (52.8 million), Sendo (52.79 million), Dien May Xanh (33.54 million) and FPT Shop (24.77 million). 
"Despite the disruption caused by the virus outbreak, Shopee, Lazada, Tokopedia, Bukalapak and The Gioi Di Dong remained prominent in this region. 
"Other home-grown e-commerce platforms in their respective countries [include] Blibli and Tiki," says iPrice's Deridian.  
The e-commerce trend, which has been gaining a lot of traction in recent years, has also benefited iPrice. The Malaysia-based company raised US$10 million in its series B funding round led by ACA Investments, a Daiwa-linked fund management company. The other investors in that funding round include Daiwa PI Partners, LINE Ventures and Mirae Asset – Naver Asia Growth Fund. 
"We are expanding beyond price comparison. The company's next goal is to improve our engagement with users directly through our platform. We also want to continue our strong presence on Google as it remains a vital starting point for many online shoppers. 
"The company also wants to enable our partners across the region including media platforms, social media mobile application and emerging super apps [operators] to provide e-commerce content for their audience [through us]," says Deridian.