This article first appeared in The Edge Financial Daily, on September 4, 2018.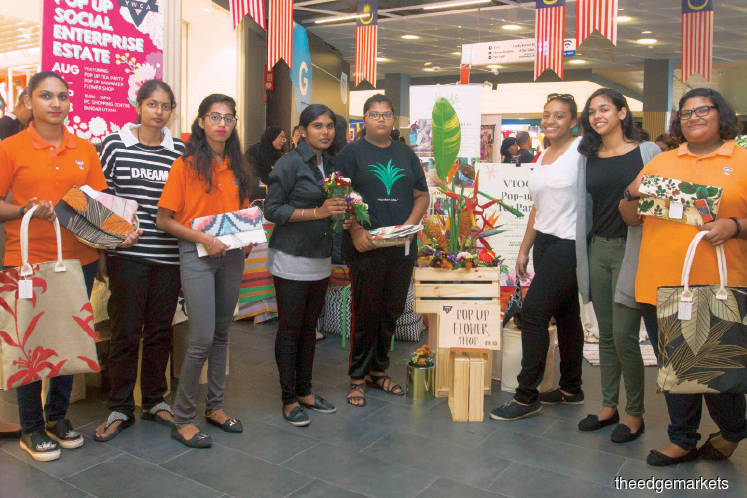 IPC Shopping Centre's I Love Malaysia Bazaar provided visitors with an avenue to celebrate Merdeka while contributing to 10 good causes
Last Merdeka weekend, 10 non-governmental organisations (NGOs) and social enterprises showcased various products and other offerings at the I Love Malaysia Bazaar in IPC Shopping Centre. Organised by the mall, with The Edge as the media partner, the bazaar enjoyed a large turnout of shoppers who indulged in some retail therapy over the Merdeka weekend. These 10 booths were part of the shopping mall's larger Merdeka Day campaign which included giveaways such as a nostalgic candy-filled Malaysian flag, while the first 150 customers wearing at least two colours of our flag received Merdeka-themed cookies.
It many ways, the bazaar was a timely celebration of products that are inherently Malaysian such as the batik gifts and accessories of social enterprises, batik boutiques and colourful bags by weavers of Sarawak's Penan community from Helping Hands Penan and a premium line of agricultural produce (rice, ginger powder and black pepper) from smallholder farmers in Lawas, Sarawak. Other groups such as Project Heart, Asrama Cahaya Rumah Wanita Cacat Infant Jesus Convent and YWCA featured the handiwork of shelter home children, disabled elderly residents and underprivileged women whom are the beneficiaries of the organisations respectively. Project Heart also held a sponsorship drive where shoppers could pledge a school bag for a child living in a shelter home for his or her 2019 schooling year.
This was the first bazaar experience for Asrama Cahaya, a shelter home for a group of mentally and physically disabled women and the exceptional response has led home manager Rita Nair feeling encouraged to give other bazaars a go in the future. "We did not come expecting to only make sales but also spread awareness of this home in Bukit Nanas. Many people may have never heard of it," she said. Havan co-founder Eng Seng Guan (Ivan) also shared this sentiment on the importance of raising public awareness of its cause while featuring the artistic expression of the shelter children the organisation works with in the form of its latest Superhero collection of T-shirts.
Also, Ipoh-based Persatuan Daybreak travelled to the bazaar with a huge selection of items handmade by the disabled youths and adults undergoing its skill training programme. Food lovers were also spoiled for choice with an array of traditional sweets and cakes from MySkills Foundation's De'Devine Cafe as well as various food and beverage options and wellness products by the vendors from the Caring Moms platform. Vyanthimala of De'Devine Cafe found that besides providing visibility for the training centre, bazaars such as this also provides exposure for the trainees who, as it was for the trainees and artisans from YWCA led by programme officer Lindsey Ong, experienced dealing with and catering to customers.
One shopper, Charlotte Yeo who had come to support a Caring Moms vendor said: "It is nice to see locally made products being highlighted instead of imported ones ... the more the better!" she said as she would love to see more local brands that do good for the community. Husband wife couple Bobby Lee and Jennifer Chan have frequented bazaars that feature social enterprises and look forward to supporting more. "There are not many channels to showcase their products and it is nice to see more and more efforts to do so," Chan said, complimenting the range of products on display at the I Love Malaysia Bazaar.
In addition the wide range of offerings, each purchase was made extra special seeing that all the NGOs and social enterprises present championed a meaningful cause. Inspired by the Balance Sheet column in Options, the lifestyle pull-out of The Edge Malaysia weekly, the vendors were made up of organisations that had been featured there before as well as a number of others that fit the spirit of the column by enriching and empowering communities in their own way.