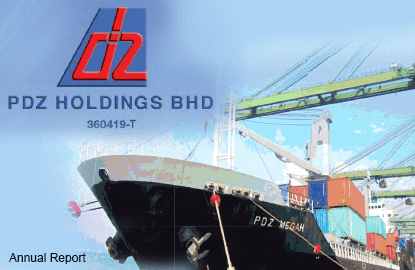 KUALA LUMPUR (Feb 3): Shin Yang Shipping Sdn Bhd, a wholly-owned subsidiary of Shin Yang Shipping Corp Bhd and Harbour-Link Lines Sdn Bhd, which is a unit of Harbour-Link Group Bhd, have taken legal action against PDZ Holdings Bhd's vessel PDZ Mewah.
In a filing with Bursa Malaysia today, PDZ said that Shin Yang and Harbour-Link have both served the company with Writs in Admiralty Action in Rem (action against the ship) to seek delivery of containers which were shipped on board PDZ Mewah by Perkapalan Dai Zhun Sdn Bhd, a former wholly-owned subsidiary of PDZ.
On Dec 30 last year, PDZ disposed of its entire stake in Perkapalan Dai Zhun to Salvage Point Ltd. However prior to the disposal, the beneficial interest of PDZ Mewah was transferred from Perkapalan Dai Zhun to PDZ. The ownership change was reflected in the Registrar of Malaysian Ships, Port Klang on Dec 6 last year and the vessel is now fully owned by PDZ.
"Subsequent to the service of the Writs, the company has made the necessary arrangement for the discharge of the aforementioned containers, which is in progress. The board is currently seeking legal advice and intends to take steps to defend the writs and any claims that may subsequently be filed and set it aside," read PDZ's announcement.
PDZ said the writs are not expected to have material business, financial and operation impact on the company and its subsidiaries for the current financial year ending Dec 31, 2017.
To recap, PDZ Mewah was arrested by Dan-Bunkering (Singapore) Pte Ltd last month over the non-payment of supply of marine fuel oil and/or marine gas oil to the vessel. Dan-Bunkering supplies bunker fuels, lubricants and related products and services for vessels worldwide
PDZ said it was issued a Writ in Admiralty Action in Rem and a warrant of arrest on PDZ Mewah on Jan 24, following a request by Dan-Bunkering.
The company said operational impact from the vessel's arrest should be minimal, as the company has arranged to secure slots from third party vessels in the interim to continue to serve its customers.
"The expected losses will be in the range of RM90,000 to RM100,000 per month, as a result of the additional costs arising from purchasing slots from third party vessels," it said in a separate filing today, adding the company's solicitors believe they have a "strong arguable case" to challenge the arrest and to set aside the claims.
PDZ shares closed unchanged at seven sen today, and for a market capitalisation of RM60.85million.