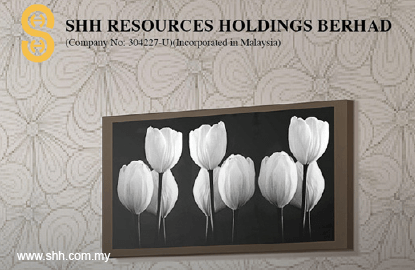 KUALA LUMPUR (Feb 28): Furniture maker SHH Resources Holdings Bhd is establishing a 70%-owned joint-venture to gain access into the Australian furniture market.
In a filing with Bursa Malaysia, SHH said its wholly-owned subsidiary SHH Furniture Industries Sdn Bhd (SHHFI) had completed a subscription of 70,000 shares or a 70% stake in Zillo & Co Pty Ltd for a total cash consideration of AU$70,000 (RM238,403).
The remaining 30% stake, according to SHH's disclosure, is owned by The MM Lab Pty Ltd (29.99%) and Teo Bok Yu (0.01%). Teo is the son of SHH's managing director Datuk Teo Wee Cheng and Deputy managing director Datin Teo Chan Huat.
SHH said Zillo was formed to develop an internet-based marketing platform for the sale of furniture to the Australian market. Currently, SHH's sales are mainly meant for the North American market.
"The SHH group had previously shipped some products to furniture distributors in Australia. The demographics and traditions of the Australians are similar to the people in North America where the group's products are well accepted," it said.
While the population of Australia is relatively smaller compared with SHH's traditional markets, it said the affluence of the residents of major cities in Australia provide good opportunities for it to expand its presence there.
"The share subscription is the first step for the group to expand into the Australia furniture market. The subscription also will provide the initial capital to Zillo for the development of its internet-based marketing platform for the sale of furniture to the Australian market," it explained.
"It is the intention of the joint-venture parties that SHHFI will be the manufacturer and export the furniture from Malaysia to Australia whereas MM Lab shall develop, launch, market and maintain the online portal, and thereafter manage the import, warehousing, distribution and after sales services for customers of Zillo," it added.
SHH's share price was traded unchanged at RM1.62 today, giving it a market capitalisation of RM81 million.