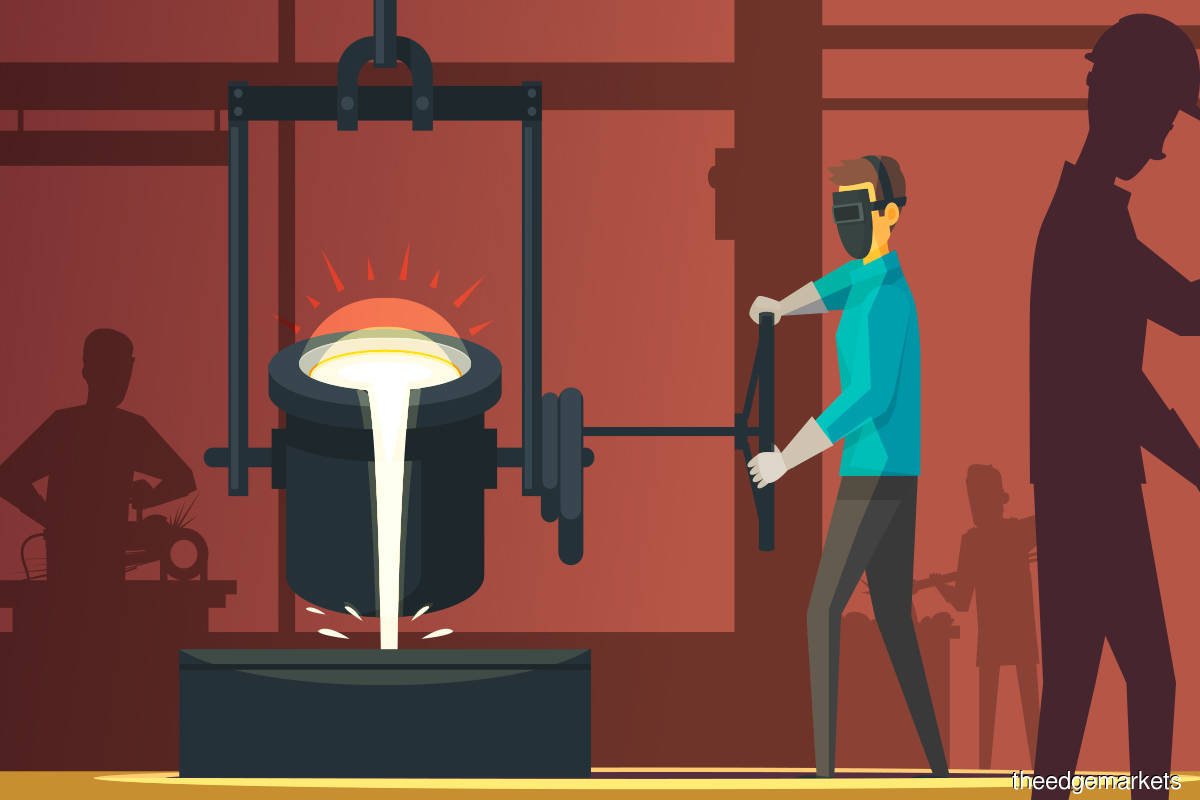 KUALA LUMPUR (Feb 22): Shares of metal-related manufacturers were among top gainers on Bursa Malaysia's Tuesday (Feb 22) morning session, ahead of their 4Q2021 results filings, on improved sentiment following strong showing by tin producer Malaysia Smelting Corp Bhd.
Shares of aluminium products manufacturer PMB Technology Bhd rose as much as 56 sen or 2.97% to RM19.44, before paring gains to RM19.04 — still up 16 sen to lead the segment's gainers,
At the time of writing, shares of Malaysia Smelting rose up 13 sen or 2.96% to RM4.53 to extend its record high.
Steelmakers CSC Steel Holdings Bhd (up 12 sen or 8.76% to RM1.49) and Ann Joo Resources Bhd (up 7 sen or 3.83% to RM1.90), were also among top gainers across Bursa Malaysia.
Among big caps, Press Metal Aluminium Holdings Bhd rose 5 sen or 0.75% to RM6.70.
Steel-related manufacturers rose in anticipation of healthy results in the fourth quarter, tracking performance of peers and on the back of elevated prices of metals and related commodities. 
On Monday (Feb 21), small-cap aluminium product manufacturer Alcom Bhd and steel product manufacturer Tashin Holdings Bhd both posted record quarterly revenue as well as their second best quarterly net profit since listing.
Alcom booked in RM10.31 million net profit in the fourth quarter ended Dec 31, 2021 (4QFY21) up 49.77% quarter-on-quarter, and as revenue soared to a record high of RM183.32 million, up 40.8% from RM130.15 million in 3QFY21.
Tashin Holdings' 4QFY21 net profit came in at RM15.95 million, down 23.38% from RM20.82 million in 3QFY21. However, revenue rose 12.62% q-o-q to RM110.04 million, from RM97.71 million.
Earlier on Feb 18, Malaysia Smelting posted record quarterly net profit of RM64.07 million in 4QFY21, up more than two-fold from RM28.94 million in 3QFY21. Revenue rose 16.74% q-o-q to RM255.06 million, from RM218.48 million.
Outlook improves
In the steel industry, prices of iron ore and coking coal have rebounded by around 60% from its November 2021 low. This year alone, the SGX TSI iron ore futures rose 14% at US$138.15/mt. In the same period, The Dalian Commodity Exchange coking coal futures gained 16.8% at 2,583 yuan/mt.
Fitch Solutions on Feb 21 has sharply revised upwards its iron ore price forecasts for this year to US$120/tonne from US$90/tonne previously. Its 2023 forecast was also revised to US$110/tonne, from US$70/tonne.
"While we expect iron ore prices to see some weakness in the coming days from spot levels over the Chinese crackdown, we believe this will only be temporary," Fitch Solutions said.
"In fact, we believe that prices will receive support from supply constraints and renewed Chinese demand strength in 2022, such that the annual average iron ore price for 2022 and 2023 will remain above pre-Covid-19 levels," it said, pointing to renewed stimulus of the infrastructure sector in the world's second biggest economy to support economic growth.
Read also:
Malaysia Smelting hits all-time high of RM4.56 on record FY21 earnings