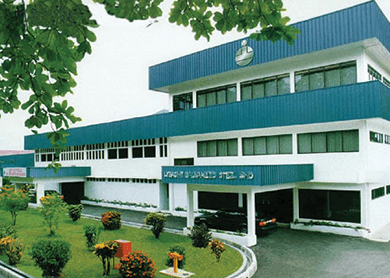 This article first appeared in The Edge Malaysia Weekly, on January 11 - 17, 2016.
A SHAREHOLDING change in Lysaght (M) Sdn Bhd (LMSB), the controlling shareholder of Lysaght Galvanized Steel Bhd, may turn the spotlight back on the Bursa Malaysia-listed company.
This, in turn, could spark a debate on whether the share purchase has triggered a mandatory general offer (MGO) for Lysaght, whose share price closed at RM3.73 last Friday.
When contacted, Singapore-listed United Engineers Ltd (UEL) confirmed that it had sold its entire 11.63% stake in LMSB. However, it declined to name the buyer.
LMSB was originally owned by nine parties, including UEL, and the Chew family, which holds 40% equity interest through Chew Bros (M) Sdn Bhd. Liew Hoi Foo has a 17.1% stake in LMSB through WTWT Sdn Bhd.
Liew, Lysaght's managing director, also holds a direct 15.46% stake in the publicly listed company through Ingli Sdn Bhd. He is the brother-in-law of Annie Chew Meu Jong, who is at the helm of Chew Bros. The duo was said to have been involved in a family tussle for the past two years to gain control of Lysaght.
The purchase of UEL's equity interest has always been perceived as the trump card coveted by the Chew family to tighten its grip on Lysaght.
Hypothetically, if the block of shares in LMSB has been sold to the single largest shareholder, Chew Bros, its shareholding would increase to 51.63%. Some quarters believe the Chew family's investment vehicle would then be obliged to make an MGO to Lysaght, pursuant to Practice Note 9 (PN9) of the Malaysian Code on Take-Overs and Mergers 2010 under "acquisition of a company through an upstream entity".
According to paragraph 4.1 of PN9, a mandatory offer applies to a person who intends to obtain or has obtained control in an upstream entity, which holds more than 33% of the voting shares of a downstream company, and the upstream entity has a significant degree of influence in the downstream company.
Paragraph 4.2 of PN9 reads: "The upstream entity is deemed to have a significant degree of influence in the downstream company when the acquisition of the upstream entity to which the Code does not apply is a means to acquire control in the downstream company to which the Code applies."
The Code seems to apply to Lysaght's case, as LMSB and Lysaght could be deemed as the above-mentioned "upstream entity" and "downstream company" respectively. Furthermore, Lysaght constitutes more than 50% of the assets, sales or earnings of LMSB, which meets another criteria set in paragraph 4.2 of PN9.
Citing Leong Hup Holdings Bhd and Kian Joo Can Factory Bhd as examples, some corporate advisers opine that an MGO is possible at Lysaght.
To recap, when Tan Sri Francis Lau Tuang Nguang's Emerging Glory Sdn Bhd proposed a takeover of the then listed Leong Hup in 2010, the general offer was also extended to the latter's subsidiaries, Emivest Bhd and Teo Seng Capital Bhd.
Over at Kian Joo, Aspire Insight Sdn Bhd is obliged to make an MGO for Box-Pak (M) Bhd when it acquires the assets and liabilities of Kian Joo, including its 54.83% stake in the corrugated carton box manufacturer.
While there is no filing with the Companies Commission of Malaysia (SSM) that shows any changes in LMSB's shareholding, it appears that the Chew family controls the board of LMSB.
Interestingly, UEL's board representative in LMSB resigned from the company last year. The latest search on SSM shows that Roy Tan Chee Keong, a Singaporean who was appointed to the board of LMSB on March 21, 2015, is no longer a director of the company. Earlier, he was appointed to replace Wong Hein Jee, another Singaporean director who joined the board on March 18, 2014.
In September last year, Lim Iee Kuan, a former director of Lysaght, was appointed to fill the post. She is the mother of Meu Jong, the managing director of Chew Bros. Iee Kuan, also a director of Chew Bros, is seen as the representative of the Chew family in LMSB.
The family has four representatives on the board of LMSB, which has six directors. They are Meu Jong, Iee Kuan, Chew Kar Hoo and Lim Fong Boon. The other two directors are Liew and Yusuf Jamil.
The increasing number of Chew family members on the board suggests that Meu Jong has already tightened her grip on LMSB.
Lysaght made the headlines in 2014 when Meu Jong and Liew became embroiled in a family tussle.
The shareholding structures of Lysaght and LMSB clearly show that whoever controls the latter will eventually control the former.
According to the official website of the Federal Court of Malaysia, Liew and Meu Jong were involved in a legal battle over Chew Bros' move to buy UEL's 11.63% stake in LMSB.
The court's judgment document dated Jan 8, 2015, showed that UEL had in March 2014 given notice to LMSB that it would like to sell all its shares "at a certain value" based on LMSB's net assets as at Dec 31, 2013.
Subsequently in April 2014, Chew Bros and UEL signed a sale and purchase agreement. Claiming that the transfer of shares was "invalid", Liew then took Chew Bros, UEL and LMSB to court.
However, High Court (commercial division) judicial commissioner Datuk Wong Kian Kheong eventually ruled in favour of the defendants, saying that the LMSB offer "has been lawfully made".
In October 2014, Meu Jong told The Edge in an interview that UEL's equity interest was up for sale, but she declined to reveal if Chew Bros was eyeing the stake.
When asked whether Chew Bros was interested to increase its stake in LMSB, Meu Jong replied, "Maybe, maybe not. There is no commitment. Nothing much is happening. We have to wait and see."
It has been more than a year since then. Perhaps, the relevant parties should come forward to shed some light on the matter.