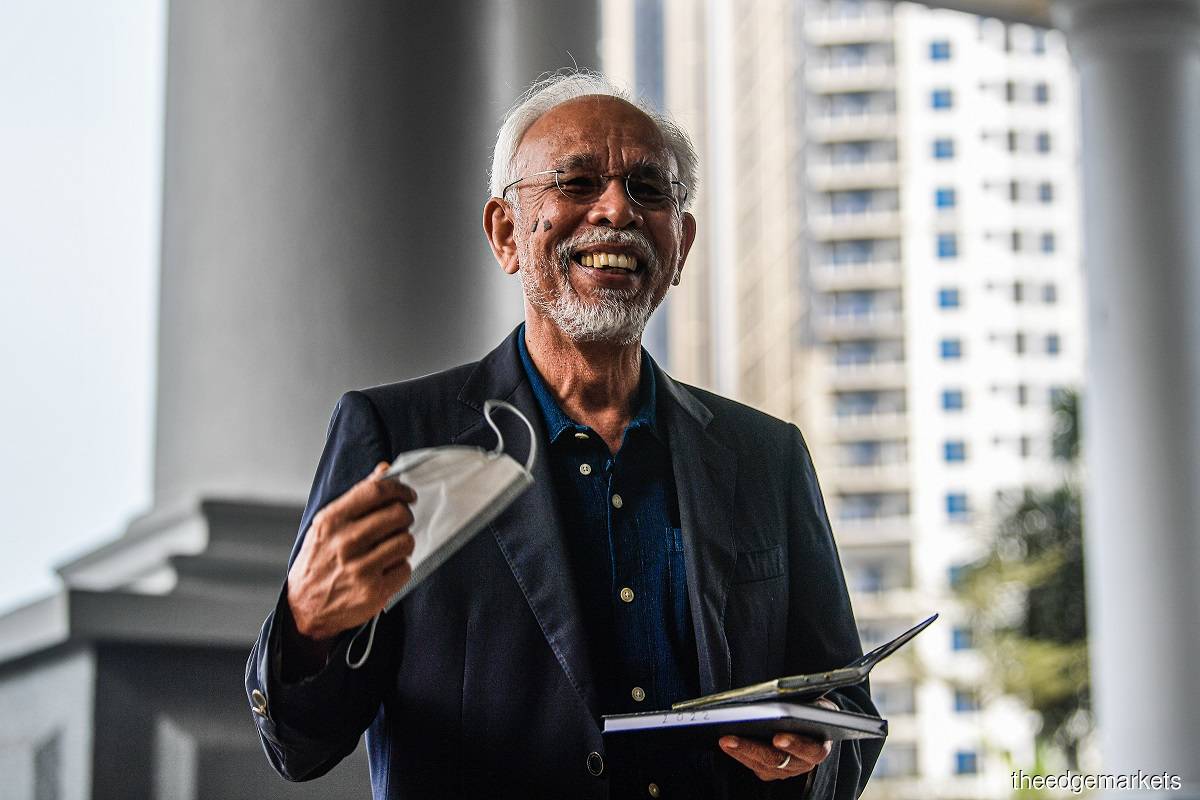 KUALA LUMPUR (July 27): A bank manager on Wednesday (July 27) told the High Court that he could not verify that funds transferred to a construction firm in March 2014 belonged to former Johor Bahru member of Parliament (MP) Tan Sri Shahrir Abdul Samad.
Testifying in Shahrir's ongoing criminal trial, Public Bank Bhd Muar branch's banking services manager Tan Kok Kiong said he could only verify that RM63,800 was deposited into Zam Engineering & Construction's account but could not verify the source of the money.
During cross-examination by defence counsel Shazreen Mohd Hatta, the prosecution's third witness also agreed that he could not verify that the money was entrusted to the former Felda chairman or that he was reimbursing the company.
Shazreen: The payment was made through a Public Bank Islamic [cheque]. You can't verify the source of the money?
Tan: Yes, correct.
Shazreen: You as the receiving bank, you can't verify with accuracy that the RM63,800 belonged personally to [Shahrir]?
Tan: Yes, agree.
Shazreen: You also can't verify if the money was entrusted to Shahrir?
Tan: Yes, agree.
Shazreen: If it was a reimbursement, to pay back, you can't verify?
Tan: Yes, agree.
Later, during re-examination by Deputy Public Prosecutor Natrah Fareha Rahmat, Tan explained that based on the cheque issued, he can only verify the account that the money came from.
Shahrir, 72, is charged with failing to declare RM1 million which he received from former prime minister Datuk Seri Najib Razak to the Inland Revenue Board (IRB).
However, the RM63,800's link to the RM1 million is yet to be established in the trial, which is in its second day of proceedings.
Transaction didn't raise AMLA 'red flags'
Shazreen also pointed out that according to the company's account statements provided, the account only had a balance of RM529.60 before the deposit of RM63,800 issued through a cheque in March 2014.
He then questioned if the sudden deposit of such a sum could trigger any suspicions. To this, Tan answered in the negative, saying that ZAM Engineering was a construction company and that sum could have been a form of payment.
"This is a construction company and maybe they got paid," he said.
Tan also agreed with another defence counsel Datuk Firoz Hussein Ahmad Jamaluddin that there were no issues in processing the cheque and it did not trigger any Anti-Money Laundering Act (AMLA)-related warnings.
Firoz: Am I correct to say that the RM63,800 went through without any problem because there was no issue with AMLA? Am I correct to assume that?
Tan: Yes.
Firoz: Am I correct to assume that your bank will do the due diligence, [that] they would have verified the transactions to make sure it would have not been contravening AMLA?
Tan: Yes.
Shahrir is charged with money laundering by not stating his real income in the Income Tax Return Form for Assessment Year 2013, which is a violation of Section 113(1)(a) of the Income Tax Act 1967, over the RM1 million, believed to be from unlawful activities, which he received from Najib through a cheque.
Shahrir is alleged to have committed the offence at IRB, Duta Branch, Government Office Complex, Jalan Tuanku Abdul Halim on April 25, 2014.
The charge, framed under Section 4(1)(a) of the Anti-Money Laundering, Anti-Terrorism Financing and Proceeds of Unlawful Activities Act 2001, provides a maximum fine of RM5 million, or imprisonment of up to five years, or both, if found guilty.
The trial before Justice Datuk Muhammad Jamil Hussin continues on Thursday (July 28).
Read also:
Prosecution to show RM1m deposited into Shahrir's bank account from Najib was not declared