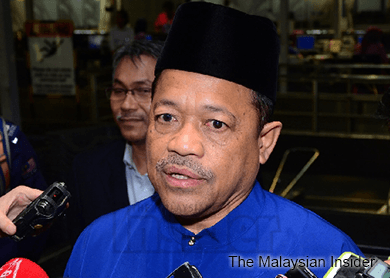 GEORGE TOWN: After being cleared of a rumoured plot to topple the government, Umno leader Datuk Seri Shahidan Kassim said he would act against the person behind the slander.
The Minister in the Prime Minister's Department said he would sue in his personal capacity, and viewed the lie and slander as serious.
"I am part of the government, as a minister. I am also Perlis Umno chief and a supreme council member. In fact, that puts me in a comfortable position, so I have no reason to want to topple the government," he said.
"I am very clean. Others, I don't know," Shahidan told reporters in Penang yesterday, after an event at Universiti Sains Malaysia.
A blog called Suara Hati recently published a list of 20 Barisan Nasional (BN) lawmakers accused of being part of a plot to topple the government. Among them were former deputy prime minister Tan Sri Muhyiddin Yassin, Youth and Sports Minister Khairy Jamaluddin, Deputy Home Minister Datuk Nur Jazlan Mohamed, Semporna member of parliament Datuk Seri Mohd Shafie Apdal and Shahidan.
Earlier this week, Deputy Prime Minister Datuk Seri Ahmad Zahid Hamidi cleared them of the accusation, saying none had been approached to sign statutory declarations in the plot to overthrow the government — a plan said to be hatched by a senior and elderly Umno leader, whose identity has not been revealed to date.
On Sunday, Zahid said the plotter had repented and wanted to meet Prime Minister Datuk Seri Najib Razak that evening, but the meeting never took place.
When asked if he knew about the plotter, Shahidan said he was certain the individual was not a member of the Cabinet. "A senior Umno leader who is still in service? I don't think so. Definitely not a minister or a deputy minister. If others, then I don't know."
Earlier, Shahidan expressed concern about the spread of lies on social media. He said the people should not simply regard the government as trying to conceal information because those serving in the government also fear God's wrath.
"There are some people who want something to happen to the government now. But what is wrong is wrong, and what is right is right.
"We all have to answer God when the time comes, so don't think the government is hiding information.
"It is like this so-called plot to topple the government, which is not true. Surely, action will be taken against the person who wrote about it [on the blog] ... we should not play games to the extent of hurting the innocent."
Shahidan said there was a fatwa in Perlis stating that leaders could be criticised but not removed by force, and that in politics, no one is above God.
The BN federal government has been under attack for months over the scandals surrounding debt-ridden state investment fund 1Malaysia Development Bhd and the RM2.6 billion donation deposited into Najib's personal accounts shortly before the 2013 general election. 
Apart from criticism by former prime minister Tun Dr Mahathir Mohamad, Najib has also been criticised by his Cabinet members, which led him to drop Muhyiddin and Mohd Shafie in a recent reshuffle. — The Malaysian Insider
This article first appeared in digitaledge Daily, on August 21, 2015.