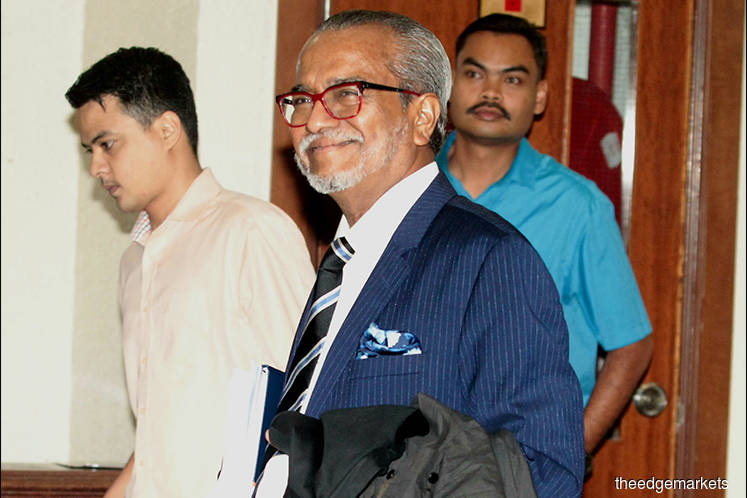 KUALA LUMPUR (July 8): Datuk Seri Najib Razak's lead counsel Tan Sri Muhammad Shafee Abdullah said the overlapping dates of the 1Malaysia Development Bhd (1MDB) and SRC International Sdn Bhd trials puts all parties at a disadvantage.
He told the press that Attorney-General (AG) Tommy Thomas was the one who had initially suggested for these different trials to be completed consecutively.
"He's the one who made promises to both courts [for the 1MDB and SRC trials], but it looks like he's not delivering on the promises. And now the A-G, who initially said we should finish one case at a time, now seems to be going back on his word," he said.
Earlier today, Justice Collin Lawrence Sequerah refused an adjournment request by the AG for the August and September trial dates, given the case has already been postponed twice before.
He had heard submissions from both Tommy and Shafee for the application to adjourn the hearing.
During an earlier case management session on May 2, when the judge fixed Aug 19 for the 1MDB hearing to begin, he had warned both the prosecution and defence against delaying the trial.
Currently, Former Finance Ministry secretary (management, loan, capital market and actuarial) Datuk Maliami Hamad, the 43rd prosecution witness, is in the midst of his testimony.
The prosecution is expected to call up to 65 witnesses for the trial.
The 39th prosecution witness, former SRC chairman Tan Sri Ismee Ismail, was cross-examined by the defence for a record seven days.
Asked if this would put his team at a disadvantage, given it will be working on two cases at the same time, Shafee said it is disadvantageous to all parties, even the prosecution.
The dates fixed for the 1MDB trial are Aug 19 to 29, the whole of September and October, except Fridays and the first two weeks of November.
Najib, 66, is facing four charges under the Malaysian Anti-Corruption Commission (MACC) Act and 21 charges of money-laundering involving RM2.28 billion.
The Pekan member of Parliament was charged with committing the offences at AmIslamic Bank Bhd, No. 55, Jalan Raja Chulan, Kuala Lumpur between 2011 and 2014.