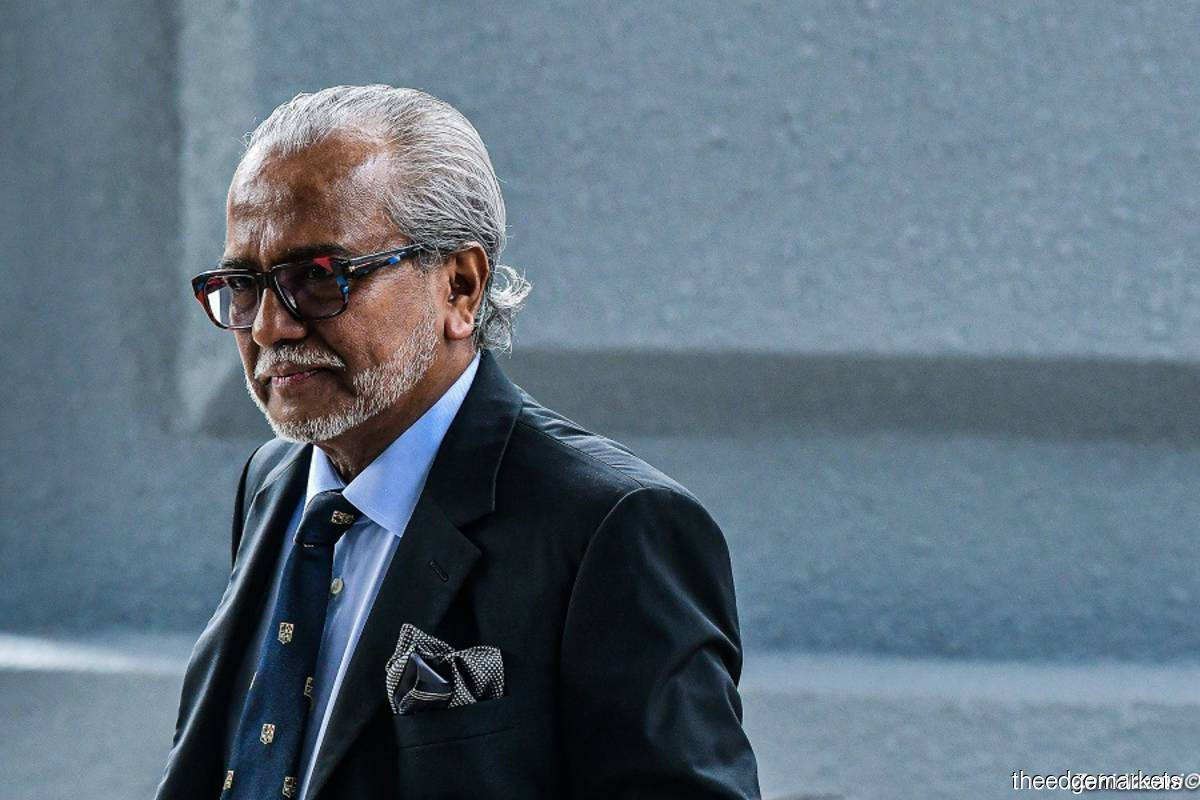 KUALA LUMPUR (Oct 12): King's Counsel Jonathan Laidlaw would represent imprisoned former prime minister Datuk Seri Najib Razak if there is a rehearing of his appeal in the SRC International Sdn Bhd case.
Najib's lawyer Tan Sri Muhammad Shafee Abdullah said this on Wednesday (Oct 12) when commenting on Laidlaw's potential role in Najib's defence.
Shafee said that there were two possible outcomes from Najib's application for a review of his conviction and sentencing.
"Either [Najib] is acquitted in the review itself or [Najib's appeal] is sent back to a different panel [of Federal Court judges] to rehear his appeal," he told reporters after proceedings of the 1Malaysia Development Bhd-Tanore (1MDB-Tanore) trial concluded for the day.
Shafee said he would handle the review process. However, Laidlaw will be relevant in the second option if Najib's full appeal is to be heard before a new Federal Court panel.
Shafee added that he and his team were still pursuing Laidlaw because he was "easily the best fraud, corruption or other commercial crime lawyer".
Shafee's team had initially pursued Laidlaw to handle Najib's SRC appeal.
However, the High Courts had in July dismissed Laidlaw's application to be admitted as an advocate and solicitor in Malaysia, on the grounds that there were local lawyers who were "well capable" of handling such cases.
The senior lawyer's team then filed an appeal, which came up for case management on Wednesday.
The Attorney General's Chambers, Malaysian Bar and Kuala Lumpur Bar, which had opposed Laidlaw's application at the High Court, took the position that the appeal was now academic, as the SRC appeal was over.
Shafee's team, however, maintains that the initial application states that Laidlaw's involvement was not merely for the main SRC appeal but also for any other matters related to the main appeal.
Another case management for this has been set for Nov 8.
Shafee says he will seek a stay of conviction
Shafee on Wednesday also said that if the outcome of the review was for a rehearing of Najib's appeal, then Shafee would request for a stay of conviction.
Najib filed the review on Sept 6, in a bid to overturn the Federal Court's decision in August, which affirmed his guilt and sentence in the SRC International case. He is seeking a panel of seven judges in a bid to overturn the decision.
The former prime minister was sentenced to 12 years' jail and fined RM210 million by the High Court, with the jail sentence and fine being upheld by the Court of Appeal on Dec 8 last year, and further affirmed by the Federal Court on Aug 23.
He is currently serving his jail sentence at the Kajang Prison.
However, before the actual review is heard, he will have to first gain leave from the apex court.
Case management for the review application is set for Oct 21.
Read also:
Shafee files appeal against dismissal of QC Laidlaw's bid to represent Najib
Najib files application to review Federal Court decision in SRC case 
Court to hear on Oct 19 Najib's bid to attend Dewan Rakyat 
Shafee tight-lipped on whether Najib will seek Prisons Dept's permission to campaign during GE15