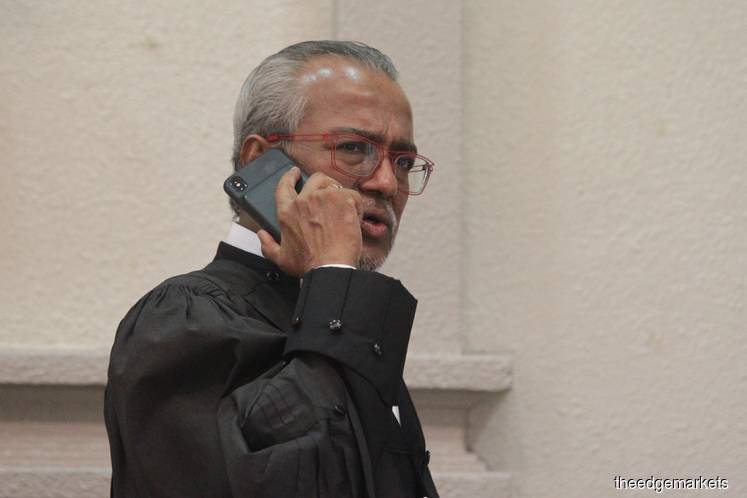 KUALA LUMPUR (Jan 30): Datuk Seri Najib Razak's counsel Tan Sri Muhammad Shafee Abdullah today declined to disclose details over what transpired in the former premier's show cause against DAP veteran leader Lim Kit Siang and Malay Mail Online journalist Emmanuel Santa Maria.
Shafee spent more than half an hour at High Court Justice Mohd Nazlan Mohd Ghazali's chambers on this issue, but when met, the senior lawyer declined to reveal what transpired.
"We are not allowed to reveal anything, as this is ex-parte (single party). Zero disclosures," the senior lawyer said when met.
However, sources familiar with the case revealed Najib had been asked to file further documentations and the court will fix another case management date.
It was previously reported last Nov 11 that Najib wanted to take action on two entities whom Shafee refuced to name for possible show cause or to initiate contempt proceedings against them.
At that time, Shafee only disclosed a politician, a journalist and a media organisation for what he described as "serious contemptuous remarks" over that weekend and wanted the court to issue show-cause letters to the parties subject to the contempt charges.
"Once we and the court have received [a response] to the show-cause letter, we will study it. If we find [the response to] the show-cause letter gives good explanation [for the alleged contemptuous remarks], we may not proceed. But if we are not happy, we will go for ex-parte committal for contempt," he was quoted to have said then.
Checks today revealed Najib had named Lim, who is also Iskandar Puteri member of Parliament, and Santa Maria, on the court listing.
It is understood that last November, Shafee's firm had filed papers and this morning, it is learnt that more documentation is needed.
Lim was alleged to have made some comments that was carried by several media over the former premier's ongoing SRC trial before the Tanjung Piai by-election, resulting in the action.
In contempt proceedings, leave (permission) has to be obtained in court first to kick-start the proceedings where the respondents can also seek to set-it aside, and if unsuccessful in the bid to set-aside, the respondents would then be required to answer in court and later, the court to decide whether it is contemptuous.
Read also:
Najib's legal team to file contempt charges relating to SRC trial