This article first appeared in The Edge Financial Daily, on April 26, 2019.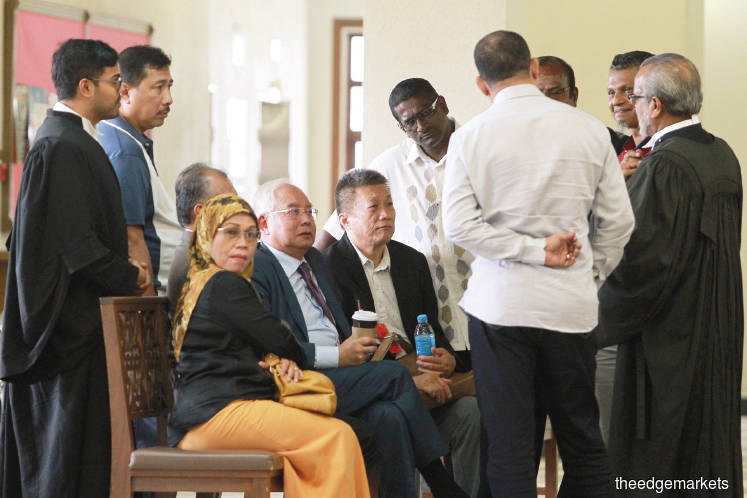 Najib with lawyer Muhammad Shafee (extreme right) and supporters outside the courtroom. Photos by Shahrin Yahya
KUALA LUMPUR: Datuk Seri Najib Razak's lead counsel Tan Sri Muhammad Shafee Abdullah said Nik Faisal Ariff Kamil could be involved in a conspiracy against the former premier, together with several others.
Speaking to reporters after wrapping up the ninth day of Najib's SRC International Sdn Bhd trial, he talked about the issue raised by defence lawyer Harvinderjit Singh regarding the possibly forged signatures in several transfer instruction documents during the cross-examination of the 21st witness for the case, AmBank branch manager R Uma Devi.
"The cross examination today (yesterday) supports our main defence that Najib's account was manipulated by people who are unauthorised. Outsiders, like Jho Low and others, and some people in the bank," he said, referring to AmBank.
He insisted Najib has no knowledge of the forgery. He added that AmBank relationship manager Joanna Yu was confirming the transfer instructions with an outside party.
Muhammad Shafee hinted that the defence possesses a record of conversation between Yu and Low, although it has not come up in the trial yet.
"That will come out. We have the evidence already. When a transfer instruction is received [by the bank], they should confirm [with the correct party]. There must also be a hard copy of the confirmation within three days," he said.
However, when a document is sent over electronically, there is the possibility that the signatures used could be 'cut and paste' onto the digital copy of the document, without requiring the authentic signature.
He said this proves that some party had been hijacking the account.
"This is why we say Datuk Seri Najib is a victim rather than a person who is a crook. The instructions were never given by Datuk Seri Najib and in fact, we now suspect his own representative was acting in cahoots with some other people to mislead the accounts," said Muhammad Shafee, referring to Nik Faisal, who had been appointed as an authorised signatory for several of Najib's AmBank accounts.
"Neither did Datuk Seri Najib and in certain instances nor Nik Faisal were aware [of these transactions]. In some other instances, it looked like Nik Faisal is part of the conspiracy," he said.
"This case is very interesting. It is going to expose a lot of people. And this is going to be like a movie because the person you suspected the most turns out to be, in the end, a victim," he added.
An arrest warrant has been issued for the 48-year-old fugitive.