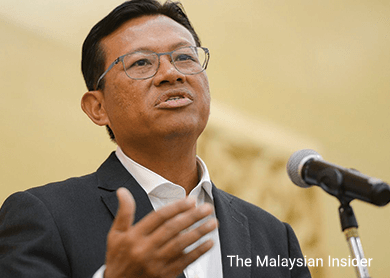 (June 30): Communications and Multimedia Minister Datuk Seri Ahmad Shabery Cheek has made a sorry spectacle of himself for alleging that opposition lawmaker Tony Pua had shamed the Public Accounts Committee (PAC) in his critical statements against 1Malaysia Development Bhd (1MDB), DAP said today.
The party's parliamentary leader Lim Kit Siang said Shabery had been "quite hysterical" when he accused Pua of making biased statements about the government-owned fund, and as such, his party and his supporters should feel ashamed of being associated with him.
"Shabery has indeed made a sorry spectacle of himself.
"It is he, Umno, BN and the Cabinet who should feel ashamed, for his hysteria and for spearheading the Umno guerrilla campaign to remove Pua from PAC hearings on the 1MDB scandal," Lim said in a statement today.
Lim said that he was certain that many Malaysians, including those who voted for Umno and Barisan Nasional in the 13th general election would be proud of Pua for demanding transparency and accountability in the 1MDB scandal.
He also asked if Shabery was willing to debate Pua on national television if he doubted that Pua had the support of the people in speaking up on 1MDB.
The Gelang Patah MP also questioned if Umno and BN were that afraid of Pua to want to throw him out of PAC, adding that this would be against parliamentary rules and procedures.
He added that Shabery appeared not to know that PAC's role was to examine public accounts and to submit its report to the Parliament.
"Does Shabery also want MPs who are critical of the 1MDB scandal to be removed from Parliament, so that Parliament can rubber-stamp approval for the biggest financial scandal in the nation's history without upholding the principles of accountability, transparency, integrity and good governance?"
Pua, one of 1MDB's strongest critics, has been issuing regular press statements to highlight irregularities and to demand answer about the strategic investment fund's dealings.
It led to Umno lawyer Tan Sri Muhammad Shafee Abdullah urging Pua to quit his post in PAC, since the parliamentary bi-partisan body was currently investigating 1MDB.
Shafee's call has been echoed by Shabery as well. – The Malaysian Insider