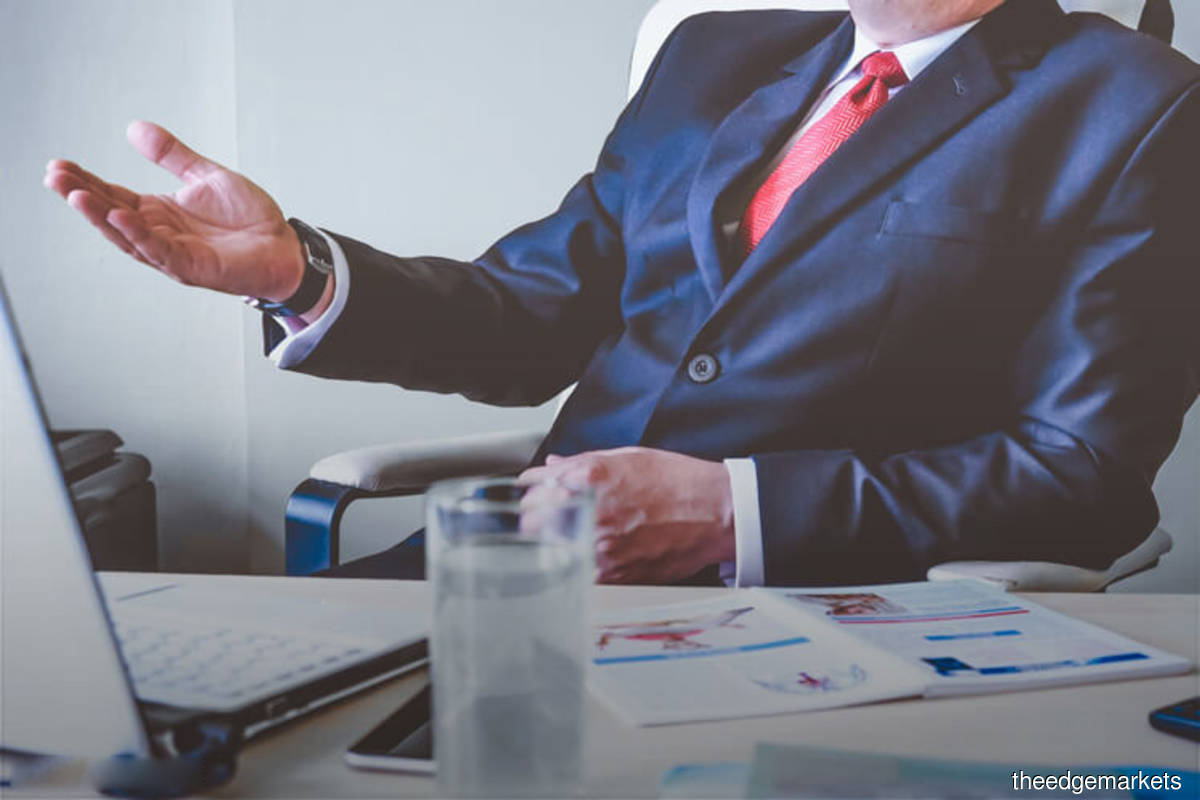 KUALA LUMPUR (Oct 8): Seven of the top 10 highest-paid boards of the companies in Malaysia's bellwether index are family-controlled companies, which are also where the top 10 highest-paid chief executive officers (CEOs) are mainly from.
Meanwhile, six out of the top 10 boards with the highest total non-executive director remuneration are from government-linked companies (GLCs) — a contrast to CEO remuneration of GLCs found to be relatively lower than that of other CEOs in the top 100 firms.
The six GLCs are Malayan Banking Bhd (Maybank), CIMB Group Holdings Bhd, Sapura Energy Bhd, Sime Darby Plantation Bhd, Telekom Malaysia Bhd (TM) and Axiata Group Bhd. The remaining four among the top 10 boards with the highest total non-executive director pay are AMMB Holdings Bhd, Public Bank Bhd, IHH Healthcare Bhd and PPB Group Bhd.
These were among the findings in the Securities Commission Malaysia's (SC) Corporate Governance Monitor 2020 (CG Monitor 2020), which shifted its focus to board remuneration of the FTSE Bursa Malaysia Top 100 (FBM100) Index constituents (as at Dec 23, 2019) from CEO remuneration in the SC's inaugural report for the previous year.
Six of the 10 companies with the highest total board remuneration are also on the top 10 listed companies with the highest-paid CEOs, which suggest that a significant portion of total board remuneration of these companies can be attributed to CEO pay packages.
Five of the top 10 highest-paid boards in 2019 recorded a decline in total board remuneration from 2018, the largest being 23%.
The five which recorded a decline year-on-year (y-o-y) were Genting Bhd, Genting Malaysia Bhd, YTL Corp Bhd, Public Bank Bhd and VS Industry Bhd. Those who saw an increase y-o-y included IHH Healthcare Bhd, Sunway Bhd, AirAsia Group Bhd and Berjaya Corp Bhd.
Despite the decline, Genting Bhd still had the highest total board remuneration at RM172.24 million, followed by Genting Malaysia (RM77.8 million), YTL Corp (RM76.09.8 million), IHH Healthcare (RM63.03 million), Public Bank (RM62.5 million), AirAsia Group (RM60.5 million), Sunway (RM46.83 million), Berjaya Corp (RM39.5 million) and Leong Hup International Bhd (RM32.56 million).
Also in the top 20 companies among FBM100 constituents with the highest board remuneration are VS Industry (RM23.68 million), IOI Corp Bhd (RM22.64 million), Matrix Concepts Holdings Bhd (RM22.06 million), Guan Chong Bhd (RM20.56 million), Maybank (RM20.29 million), IOI Properties Group Bhd (RM19.16 million), Dialog Group Bhd (RM19.09 million), Gamuda Bhd (RM17.49 million), Time dotCom Bhd (RM17.48 million), Sapura Energy (RM17.29 million) and Axiata (RM15.15 million).
According to the CG Monitor 2020, the chairman of AMMB is the highest paid non-executive chairman, whose RM2.5 million remuneration represents 50% of remuneration of all non-executive directors of the company. This is followed by Maybank's chairman at RM1.8 million, 15% of the RM11.86 million in total remuneration for its non-executive directors.
AMMB's non-independent non-executive chairman Tan Sri Azman Hashim, 80, founded Arab-Malaysian Merchant Bank in 1976 and has been AMMB's director for 28 years since August 1991, according to AMMB's latest annual report. Maybank's non-independent non-executive chairman Datuk Mohaiyani Shamsudin, 71, who has over 40 years' experience in investment banking and stockbroking, was appointed to the board in August 2011 and made chairman on April 1, 2017.
The top 20 highest-paid boards "received significantly higher remuneration than their respective sector's median remuneration", according to the CG Monitor 2020, which found the median overall board remuneration of the FBM100 companies at RM7.4 million last year (down 2.6% from RM7.6 million in 2018).
The Industrial products and services sector had the highest median total board remuneration at RM11 million, more than double the RM4.2 million for the transport and logistics sector, which had the lowest median total board remuneration in 2019. Three other sectors with the highest median total remuneration last year were telecommunications and media (RM10.8 million), property (RM8.5 million) and plantations (RM8.5 million)
Total board remuneration in 2019 of the companies in the FBM100 declined by 11.7% to RM1.34 billion from RM1.52 billion in 2018, dragged lower by a 14.5% fall in remuneration for executive directors to RM1.12 billion (from RM1.31 billion in 2018) despite compensation packages for non-executive directors rising 6.2% y-o-y to RM223 million in 2019 (from RM210 million in 2018).
As remuneration for executive directors accounts for 91% of total board remuneration, changes to total board remuneration are largely driven by compensation packages for executive directors.
A total of 52 boards saw an increase in total remuneration in 2019, while 46 boards saw a decrease in total compensation from the year before.
Read also:
More small- and mid-cap companies aim to have 30% of board comprising women directors — SC
Absence of buffet spread, door gifts put off shareholders, but 74% still want option of virtual meetings — SC