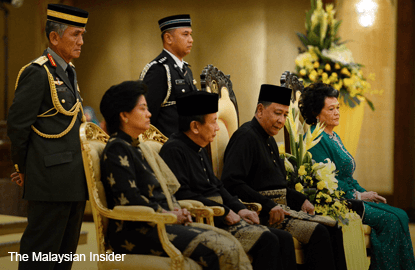 KUALA LUMPUR (Feb 2): Kedah opposition assemblymen made their stand known to the state Regency Council over Datuk Seri Mukhriz Mahathir today, saying they did not agree with the way Umno was trying to remove the menteri besar and urged that the matter be resolved by voting in the state legislative assembly.
PAS's Alor Mengkudu assemblyman Ahmad Yahya said the opposition representatives (reps) had come to a consensus that if Mukhriz had to be removed, it should be at the legislature.
"Up to them who don't have confidence to put in their votes, when the sitting is called," he told reporters outside Wisma Darul Aman in Alor Star, Kedah.
Ahmad, however, would not state explicitly if this meant the opposition reps were throwing their support behind Mukhriz as menteri besar.
He said replacing the menteri besar now was not a priority for people in the state.
"I think we all agree that it is more important to change the prime minister."
Ahmad said it was up to others to interpret and maintained that the opposition was objecting to how Mukhriz was being removed.
"Especially when people are facing rising cost of living and other problems. This is making things tougher for them," he said.
With him were several other opposition assemblymen, including PAS's Kubang Rotan representative (rep) Mohd Nasir Mustafa and Lunas rep Azman Nasrudin from PKR.
He said all opposition assemblymen were in agreement that the approach taken by Kedah Umno to oust the first term menteri besar was without decorum and "uncivilised".
"We regret how it is being done. If you have to remove the MB, do it in a proper manner.
"Removing a menteri besar is not something that can be done by just calling a press conference, on the birthday of the Sultan, and by signing SDs (statutory declarations)... you cannot use force and threats.
"It cannot be done to satisfy the political desires of a particular individual and then causes inconvenience to the people and the palace," he said, referring state Umno deputy chief Datuk Seri Ahmad Bashah Md Hanipah, who led a press conference of Kedah Umno leaders on Jan 20 to declare their loss of confidence in Mukhriz's leadership.