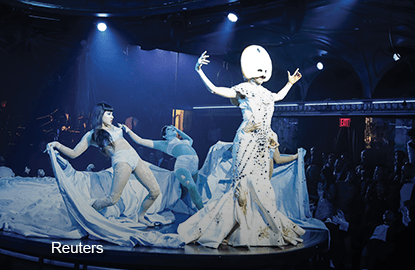 Aerialists descend in a giant chandelier and lift a guest back up with them, a showgirl leads an audience member back in time to a 1920s Parisian nightclub and actors single out guests for a mysterious experience yet to come.
Immersive theatre productions such as Sleep No More, an adaptation of Macbeth that has been running in New York since 2011, have brought audiences into the performance.
But simply putting on a mask to follow the action through vast, rambling warehouses or old hotels is not enough for some audiences. The latest immersive theatre lures them in by giving them roles and responsibilities.
"It is a necessary step in the evolution of the form," said Noah J Nelson, editor of immersive and interactive theatre guide No Proscenium. "Somebody has to try this and there is a real chance it could take off."
Cynthia von Buhler, the creator of Speakeasy Dollhouse: Ziegfeld's Midnight Frolic which is playing in New York, believes directors and producers are just touching the surface of what is possible in immersive theatre.
In her show based on the death of Ziegfeld Follies showgirl and actress Olive Thomas in 1920, guests are transported back to Prohibition-era New York and the Ritz hotel in Paris, where Thomas died.
Audience members, many dressed in period costumes, enter a hidden theatre in New York's Times Square for a show within a show. Guests are given roles and some create their own, blurring the lines between the audience and actors.
"I want to keep pushing it further, like how immersive can you get?" said von Buhler.
A few blocks away, American playwright and producer Randy Weiner has transformed the former 1940s Diamond Horseshoe nightclub in the basement of the Paramount Hotel for his show, Queen of the Night, based on Mozart's opera The Magic Flute.
Costumed performers escort guests into the club. Some are whisked away for private meetings or given markers, signifying a role in the show that includes circus acts, dance and a sumptuous feast.
Amy Moyes, of Phoenix, Arizona, said she was looking for a new experience when she chose Queen of the Night.
"We wanted something outside the box and so I definitely think we got what we wanted," she said about the show which has tickets ranging from US$152 (RM576.08) to US$595, including an open bar and reserved seating.
Nelson believes the latest shows could not have happened without the success of Sleep No More by British theater company Punchdrunk.
Sleep No More co-director Felix Barrett said the show was an attempt to make the theatre more dangerous for audiences. By bringing the audience into the play and blurring the rules, he hoped to create a sensory experience greater for them than just sitting in a theatre.
Barrett and co-director Maxine Doyle are planning to take the concept further in a future project involving travel to a mystery city.
"Your real life and the everyday blend with the fictional, so you can't quite determine what are parts of the narrative or what is life passing you by," said Barrett. — Reuters
This article first appeared in The Edge Financial Daily, on July 6, 2015.