This article first appeared in City & Country, The Edge Malaysia Weekly, on May 31, 2021 - June 06, 2021.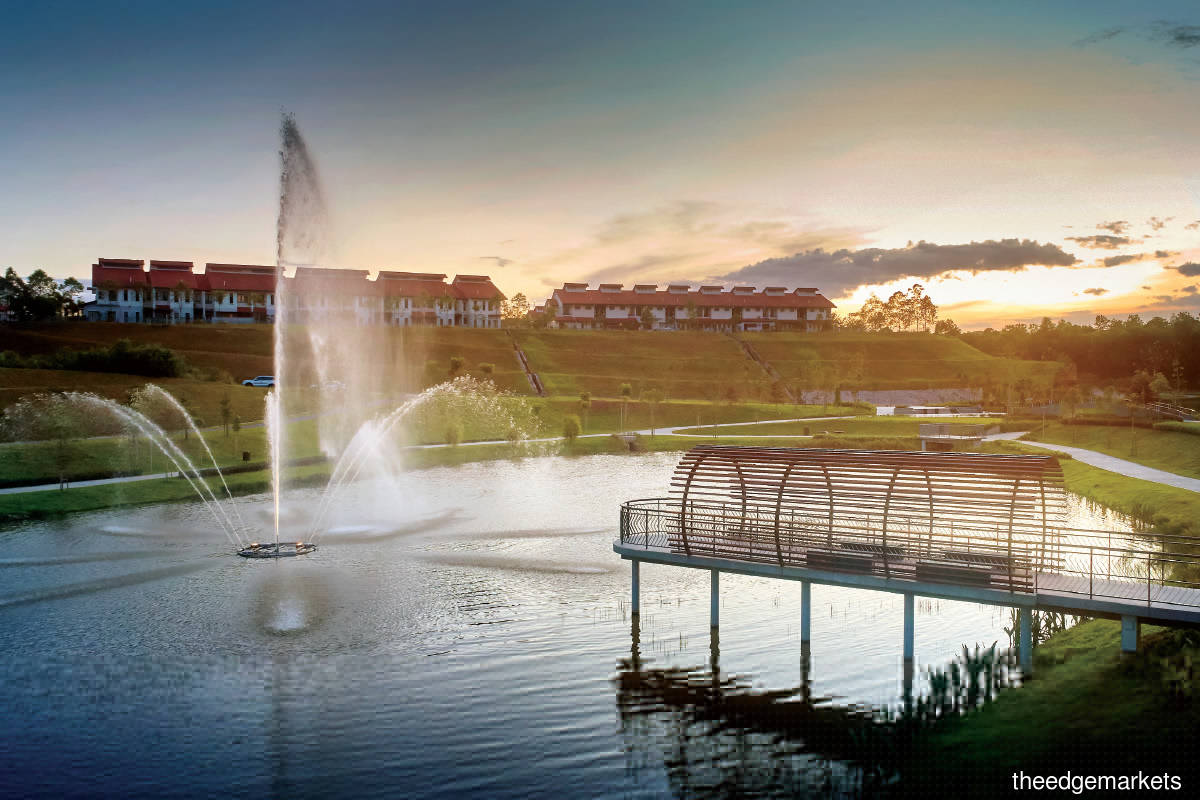 The Setia Alamsari township in Bangi, Kajang, has been given a facelift in the past few years, with master developer S P Setia Bhd upgrading the freehold township by adding more landscaping and greenery to provide homebuyers with lush surroundings.
So far, projects have been launched on 35% of the 775-acre township, with almost all units sold. The remaining 65% of the land bank, which has a total gross development value (GDV) of RM4.3 billion, will be developed over the next eight to 10 years. 
This year, S P Setia plans to launch four projects — comprising residential and retail units — in Setia Alamsari. 
Setia Alamsari was initially developed by S P Setia's sister company, I&P Group Sdn Bhd, under the name Alam Sari. I&P Group started developing the first 432½-acre parcel in 2007. Subsequently, in 2017, S P Setia bought a 342½-acre site nearby and acquired I&P Group.
The two parcels were then merged into a 775-acre township, and rebranded as Setia Alamsari, with a total GDV of RM5.1 billion. The township is targeted at families, upgraders from the surrounding areas as well as investors seeking capital appreciation.
Connected to highways such as the KL-Seremban Highway, Kajang-Seremban Highway and Kajang SILK Highway, Setia Alamsari is near amenities such as UKM KTM station, Bangi Gateway, IOI City Mall, Alamanda Shopping Centre, Bangi Golf Club, Stadium Kajang, the German-Malaysian Institute as well as KPJ Kajang Specialist Hospital.
The upgrading work will give the township — which will eventually have eight parks in total — a more cosy ambience.  According to general manager Soh Wai Fong, S P Setia aims to add one park a year and has completed two so far — Canopy Park (2.4 acres) and Canal Park (11.3 acres).  The township now has an entrance signage and a new sales gallery, the Setia Alamsari Welcome Centre.
Canopy Park is the first park to be completed in Setia Alamsari and offers a football field, seats and a pavilion, among other facilities.
Canal Park, which has three lakes, was completed last year. Soh explains that the lakes were initially used for water retention, with no landscaping, and were full of weeds.
"We came in and saw the potential as the lakes are at different levels and many things can be done. We made it a park for active living, where people can cycle and jog around the lakes and landscaped area. There is also exercise equipment and a giant slide for the children," he tells City & Country.
"We have put in a landscape that is easy to maintain. We hope it gives a homey feel that goes with the tropical design for the homes. Also, it is near UKM, which has more than 2,000 acres of greenery. This year, we will complete another park — Lake of Reflection."
Lake of Reflection occupies 10½ acres and is surrounded by homes. There will be an island in the middle of the lake, which will be called Pulau Pelangi, as the developer plans to plant rainbow trees there.
Soh says all the units launched have been fully sold, except for a limited number of bungalows and semi-detached homes in the Verdale precinct that were launched in December 2019. The precinct focuses on low-density living within lush greenery.
There are 47 two-storey bungalows measuring 3,161 to 3,881 sq ft in the Verdale precinct, on lots of 6,890 to 16,502 sq ft. They are priced from RM1.94 million and there are seven units left. 
There are also 36 two-storey semi-detached homes in the precinct, with a built-up of 3,118 sq ft and lot sizes of 3,200 to 9,360 sq ft.  Five of the bungalows, priced from RM1.52 million, are still available. 
S P Setia plans to launch four projects in Setia Alamsari this year. The first will be Caressa — 88 two-storey linked semi-detached homes with a GDV of RM71 million — under its Casa Collection. Slated for launch in July, these units have a north-south orientation, built-ups of 1,965 to 2,022 sq ft and a lot size of 32ft by 65ft. Caressa was soft-launched in April, priced from RM788,000 to RM927,000, and some 60% of the units have since been taken up. 
Next quarter,  the developer will unveil Aderyn — 108 two-storey terraced homes — in the Andra Collection. These units will have built-ups of 1,682 to 1,938 sq ft and a lot size of 20ft by 65ft. They will be priced from RM650,000.
Soh observes that there have been more buyers after the first Movement Control Order, as there is demand for space. The township attracts many upgraders from surrounding areas such as Bangi and Kajang. 
After Aderyn, Soh says there are plans to build 30 two-storey shoplots on the site of the old sales gallery. Slated for launch by year-end, the project, which has yet to be named, will sit on a five-acre tract and offer two-storey shopoffices, with a built-up of 3,300 sq ft and lot size of 22ft by 75ft. The indicative price starts from RM1.5 million.
The fourth project, which is still in the planning stage, will be bungalows and semi-detached homes adjacent to Lake of Reflection. It is also planned for launch by year-end.
"There are still upcoming launches for the linked semi-detached homes in the Casa precinct and terraced homes in the Andra precinct. Then, there will be eight high-rise developments there, including Rumah offer retail spaces to turn them into neighbourhood F&B spaces. Also, we are looking to sell parcels on the east side of the township, which will be suitable for drive-through businesses," Soh says.
"At the same time, we aim to link the township so that residents can walk safely from one end to another through the walkway and landscape. A house is a house — it needs to be practical and many people can [build] it. What makes it different is the soft touch, such as the landscape and walkway. The township will be fully launched in eight to 10 years, depending on market conditions."