This article first appeared in City & Country, The Edge Malaysia Weekly, on August 19, 2019 - August 25, 2019.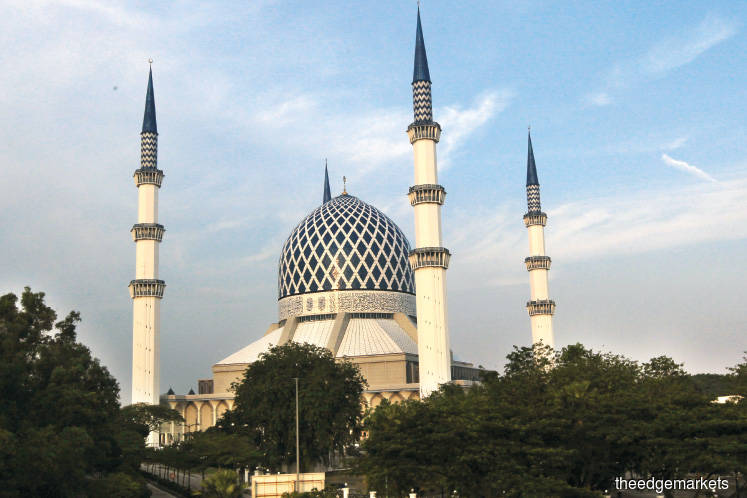 The Sultan Salahuddin Abdul Aziz Shah mosque is one of the famous landmarks in Shah Alam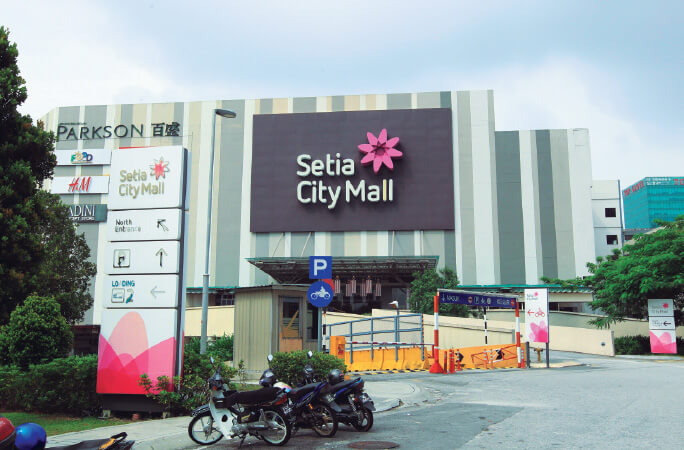 Setia City Mall has transformed the township into a lively place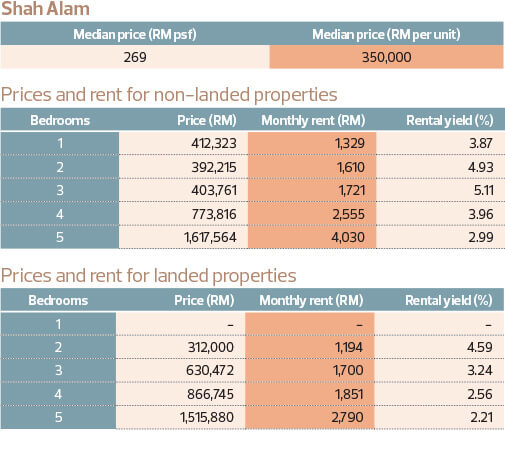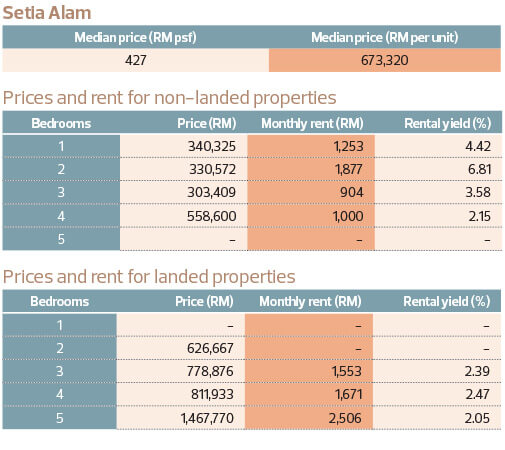 Shah Alam has come a long way since it was established in 1963. The area that was home to oil palm and rubber estates has become a city with its own recognisable qualities. Shah Alam is the administrative centre of Selangor. It was declared the state capital in 1978, four years after Kuala Lumpur was made a Federal Territory.
According to CBRE | WTW managing director, Foo Gee Jen, Shah Alam has a good mix of developments, ranging from industrial to universities.
The commercial and residential areas are divided into 56 sections in the north, central and south sectors. The north sector covers 18 sections, including Kampung Melayu Subang and U1. The central sector has 25 sections (from Section 1 to Section 24), where most of the administrative agencies are situated. The south sector has 12 sections, including Kota Kemuning and Bukit Rimau.
"Shah Alam is seeing faster population growth as more industrial areas are converted to commercial and residential uses," says Foo.
Shah Alam is accessible via the Federal Highway, New Klang Valley Expressway (NKVE), Guthrie Corridor Expressway (GCE), Shah Alam Expressway (KESAS), Kemuning-Shah Alam Highway and North-South Expressway Central Link (ELITE). There are two komuter train stations — Shah Alam station in Section 19 and Batu Tiga in Section 13.
According to Foo, the average compound annual growth rate (CAGR) for landed residences in Shah Alam over the past five years is 4% while that for rental yield is 3%. Based on EdgeProp.my data, the median sale price in Shah Alam is RM268 psf or RM350,000 per unit.
A 1,206 sq ft terraced house in Elmina West @ Denai Alam Sime DarProperty was sold for RM315,000 or RM261 psf in April and a 1,916 sq ft terraced house in Alam Impian I&P Group fetched RM725,000 or RM378 psf in March.
Apart from that, a 1,141 sq ft condominium in Seri Hijauan in Taman Bukit Saga Tan & Tan Development Bhd was transacted for RM380,000 or RM333 psf in September last year while a 1,356 sq ft condo in Metia Residence in Seksyen 13 Hua Yang Bhd, for RM580,000 or RM428 psf last November.
Based on listings on EdgeProp.my, asking rents for landed homes with built-ups of 900 to 3,000 sq ft are RM1,050 to RM4,500 per month. As for high-rises, units with built-ups of 900 to 3,000 sq ft have asking rents of RM750 to RM7,500 per month.
The area average price per sq ft for non-landed properties in Shah Alam is RM221 psf while for landed properties is RM2,222 psf. In comparison, the state's average price per sq ft is RM237 and RM2,085 respectively.
Foo sees that developments are moving away from Shah Alam's central district as it is already congested.
"Future developments are moving towards the northern and southern parts of Shah Alam such as Bukit Jelutong, Subang and Kota Kemuning," says Foo.
Ongoing and future developments include Ferrea, Green and Viana houses in Sime DarProperty's City of Elmina, all due for completion this year; Rimba Villa S P Setia Bhd; and Lilia @ Rimbayu and Penduline IJM Land, both due for completion in 2020.
A well-planned township
An area in Shah Alam that would make an ideal home address is Setia Alam, says Foo. The lush, well-planned township of Setia Alam has been thriving since its inception.
It sits on 2,525 freehold acres in Seksyen U13. First launched in April 2004 S P Setia Bhd, the residential and commercial township has a gross development value of more than RM20 billion. Set to be completed in 2027, it comprises residential developments — landed homes, bungalows, affordable high-rises — and commercial developments. The 2,525-acre tract was previously owned See Hoy Chan Group.
With its residential and commercial developments on the rise, Setia Alam has secured its position as one of the more sought-after addresses in the Klang Valley.
"One of Setia Alam's advantages is its proximity to Shah Alam city and industrial areas, and it is one of the more recent, better planned townships in Selangor that is ideal for family living," says Foo.
Setia Alam offers a range of amenities including international and local schools, malls, convention halls, parks and a clubhouse.
According to EdgeProp.my, the median sale price per sq ft and per unit in Setia Alam is RM427 and RM673,000 respectively. Foo puts the average five-year CAGR for landed properties at 7% and rental yields at 3%.
A 1,173 sq ft terraced house in Bandar Setia Alam was sold for RM600,000 or RM511 psf in May and a 2,777 sq ft terraced house in Alam Nusantara PKNS fetched RM1.18 million or RM425 psf last December.
A 700 sq ft condo in Suria Rafflesia Sunsuria Bhd was sold for RM254,000 or RM363 psf in December last year and a 1,119 sq ft unit in Ken Rimba Condo 1 Ken Holdings Bhd, for RM420,000 or RM375 psf last November.
A search of listings on EdgeProp.my show that landed homes with built-ups of 900 to 3,000 sq ft are asking rents of RM1,100 to RM4,500 per month while 700 to 2,000 sq ft high-rises are asking for RM800 to RM2,500 per month.
The area average price per sq ft for non-landed properties in Setia Alam is RM308 (state: RM237). The area average price per sq ft for landed properties is RM2,301 (state: RM2,085).
The land of roundabouts
Shah Alam has more than 18 roundabouts in the well-developed, green city. Its unique landscape houses some of its major landmarks, including the state mosque — Sultan Salahuddin Abdul Aziz Shah Mosque — the Sultan of Selangor's Palace, the largest library in Selangor — Perpustakaan Tun Uda — Muzium Sultan Alam Shah and Shah Alam Stadium.
Notable schools in Shah Alam include Management and Science University (MSU), Universiti Teknologi Mara (UiTM) and KDU University College.
The population is mostly newly married couples, young families, lecturers, civil servants and young graduates who are joining the workforce, and most homes are owner-occupied, according to consultants.
It has a number of shopping malls, including SACC Mall, Plaza Shah Alam, Kompleks PKNS, AEON Mall, Ole Ole Seksyen 18, Jusco, Anggerik Mall, and hypermarkets such as Tesco, Tesco Extra and Giant.
The township was granted city status, with the vision of a "Bandaraya Melayu" (Malay City), resulting in a change in its entertainment sector. Shah Alam has been declared the first city in the world with no entertainment outlets that include alcohol-friendly premises.
In an effort to add more vibrancy and to attract more tourists, i-City was developed. With an estimated GDV of RM7 billion, the 72-acre urban development consists of corporate, residential and leisure hubs developed I-Bhd. Due to be fully completed in 2020, the Leisure Park at i-City hosts a number of entertainment centres that draw thousands of tourists every weekend. The Snow Walk is a 50,000 sq ft Arctic environment with 100 tonnes of ice sculptures while the city of Digital Lights, Fun World, houses the country's first wax museum, and Waterworld, which offers daytime fun in the sun for all ages.
i-City recently opened its first mall, the 940,000 sq ft Central i-City shopping centre. Boasting more than 350 retail outlets, the mall is a joint venture between Thailand's Central Pattana PCL and I-Bhd.
The area can be accessed via the Guthrie Corridor Expressway and the ELITE Highway. Improved routes and connections to Shah Alam will further increase its potential. The proposed extension of the Damansara-Shah Alam Highway (DASH) will improve the linkage between Kwasa Land and Shah Alam North. This will spur developments around Denai Alam and Batu Arang.
Shah Alam residents are known to be foodies, so it is no surprise that the city offers a plethora of local restaurants. One of the main food attractions is the Naan Lounge. Located in Seksyen 7, the popular restaurant serves more than 30 types of naan. A signature dish is Nutella naan. Other popular dishes are the cheese and pizza naan and Shah Jahan naan.
For a good meal of gulai kawah and nasi kerabu, Restoran Hatinie in Seksyen 10 comes to mind. Apart from the local lauk, the restaurant also serves a selection of authentic Kelantanese dishes.
Also in Seksyen 10 is the famous Pak Mal Nasi Ayam. As its name suggests, the restaurant is known for its scrumptious chicken rice served with sambal, and its kuey teow soto. For a taste of the north, Pak Ngah Utara serves arguably the best sup utara in town. Located in Jalan Bukit Kemuning, the warung-style outlet also serves nasi campur and pisang goreng madu.
Apart from local restaurants and warung, a slew of insta-worthy cafés are coming up in Shah Alam, including Cake Jalan Tiung, Kopimeo, The Third Letter and Pinggan Puteh.
Ample green space
Setia Alam prides itself on its green surroundings and community living. The township offers an impressive 400 acres of green space, wetlands and urban parks. Residents make full use of the space, walking or cycling in the park, or engaging in recreational activities such as football and badminton.
Flanked Bandar Bukit Raja, Klang Sentral and Alam Nusantara, the self-contained township's amenities include Setia City Mall, Setia City Convention Centre, Setia City Convention Centre 2, offices, petrol kiosks, neighbourhood shops, hypermarkets and local and international schools.
Education facilities include Peninsula International School Australia, SJK @ Pin Hwa 1 Chinese School, TenInternational & Private School and SMK Setia Alam. Other notable amenities in the vicinity are Tesco Setia Alam and Columbia Asia Hospital in Klang.
Setia Alam is easily accessible via the NKVE–Setia Alam Link or Jalan Meru, Federal Highway, New North Klang Straits Bypass Expressway and KESAS. The township is 72% completed and has a good mix of owner-occupiers and investors. Many have moved there from other areas in the Klang Valley and in Shah Alam.
Setia City Mall S P Setia Bhd has transformed a quiet backwater into a lively place to spend time. With established tenants such as Zara, The Body Shop and MPH Bookstores and dining options like Sushi Zanmai, Seoul Garden and Tony Roma's, the commercial development is gaining in popularity.
As for the food, Kambing Bakar Kontena at Seria 88 Business Centre specialises in lamb dishes and desserts. One of their best-sellers is kambing bakar. The marinated lamb chops are tossed in a flaming pan then served with black pepper sauce. Daging bakar air asam is another popular dish. As for desserts, the restaurant is famous for the "Ice Bucket", layers of shaved milk ice with sliced fruit, syrup and ice cream. The restaurant also serves Kelantanese and Indonesian food.