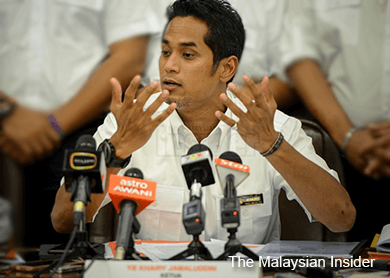 (June 16): Youth and Sports Minister Khairy Jamaluddin has hit back at his Cabinet colleague for suggesting that sports attire for athletes be reviewed over the issue of "aurat", asking the government to also include a guideline for perverts.
In a tweet today, Khairy said "Should also have guidelines for 'gatal' men to lower their gaze when they can't contain themselves watching sports."
His posting has been retweeted 830 times and favourited by more than 350 Twitter users.
Khairy is believed to be referring to minister in charge of Islamic affairs Datuk Seri Jamil Khir Baharom's remark in the Dewan Rakyat last night, when he said that the government will review sports attire for athletes following complaints about a gymnast's leotard.
Gymnast Farah Ann Abdul Hadi's gold medal win at the SEA games was overshadowed when a photo of her on a news organisation's Facebook page drew criticism from some social media users who complained that she was exposing her "aurat".
Khairy had defended her then, telling critics to leave her alone and let God be the judge of her deeds.
"In gymnastics Farah wowed the judges and brought home gold. In her deeds only the Almighty judges her. Not you. Leave our athletes alone," said Khairy in his tweet @Khairykj on the issue last week.
Farah Ann, 21, won gold in the women's floor exercise and women's team event. She also won silver in the women's individual events and three bronze medals in the Games.
She herself shrugged off her critics, with a tweet saying "Empty cans make the most noise".
Following the outrage over her exposed aurat, Jamil Khir had said that the matter of the "aurat" cannot be questioned, adding that issues that could "shame and taint" Islam must be given serious attention.
"We take attention of this matter so that this becomes a lesson, in whichever field, including sports, for us to look into the clothing and attire," the minister in the prime minister's department had said.
"Not only in sports, but in all areas, Islam does not deny the responsibility of closing the aurat be it for men or women. This is something that cannot be denied or challenged, because this is the view of Islam." – The Malaysian Insider