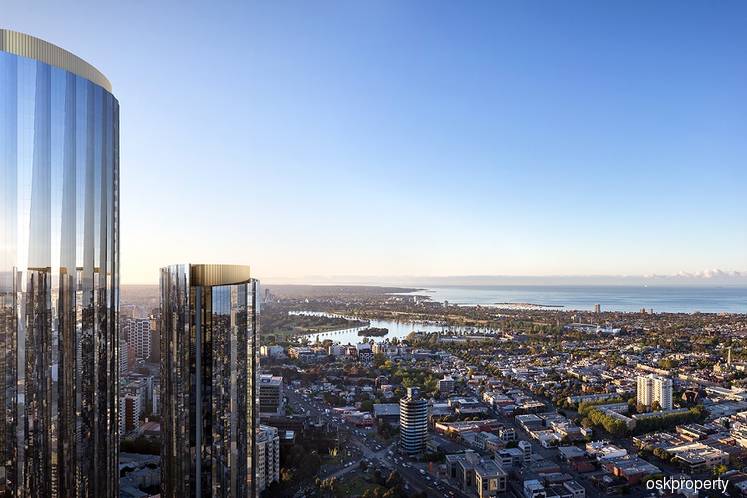 PETALING JAYA (Sept 30): Coming up at the junction of Power Street and Kavanagh Street in Southbank is Melbourne Square, touted by its developer OSK Property Bhd as the largest mixed-use  development approved in the greater CBD of Melbourne thus far. It also marks a milestone for the company as it is its first project in Victoria state's capital city.
In April, the Employees Provident Fund (EPF) announced it will enter an agreement to subscribe 49% interest in Yarra Park City Pty Ltd. OSK Holdings Bhd's subsidiary PJ Development Holdings owns the remaining interest. Yarra Park City holds the development rights for the five-acre Melbourne Square development.
Melbourne Square has a GDV of RM9 billion and consists of four residential blocks, one office tower and one hotel, to be developed over five phases in eight years.
"Our vision for Melbourne Square is to transform the site into a vertical village that will add value to the community and complement the vast offerings Melbourne has. The project will create a vertical community with opportunities to come together and connect through family, nature, leisure and work," OSK Group deputy group managing director Ong Ju Xing told EdgeProp.my.
It is very important to choose the right architectural firm that knows the market well, he added.
"We engaged Melbourne-based Cox Architecture, because of their in-depth knowledge and extensive experience in the local market. They are a proven architecture firm that has won multiple awards for projects that has changed the landscape of the community and that was consistent with our vision for Melbourne Square," Ong noted.
The firm was selected following a competition among leading Australian architecture firms to submit their best ideas and vision for the Melbourne Square masterplan.
"Cox Architecture presented the concept that best reflected our vision to create a 'city within a city' that will change the landscape of Southbank.
"Cox Architecture and we had studied the Southbank Structure Plan, a very detailed report by the City of Melbourne so, we were clearly able to understand the needs and opportunities which led us to create Melbourne Square with residential, office, hotel, greenspace and retail," Ong said.
"A big focus was on creating a green civic space for the community and the importance of delivering great design that is workable in Southbank."
According to Cox Architecture director Ian Sutter, Melbourne Square is positioned in a unique location in Southbank on the edge of Melbourne's CBD, offering panoramic views of the city and bay — maximised by the dynamic pleated building design, angled so the apartments are permeated with sunlight.
Melbourne Square will have amenities such as a full-fledged supermarket, childcare facility and a designer park creating a gateway between Melbourne's Botanical Gardens and the CBD.
Multi-award winning landscape architect Taylor Cullity Lethlean (TCL) has been appointed to design the park.
According to OSK, the design of the Melbourne Square park is drawn from the boulevards often seen in Paris and Florence such as the Champs-Élysées and Viali di Circonvallazione. The park will also be the largest park in Southbank, expanding close to 4,000 sq m and making up 20% of the development land.
"The green open space aims to invite public engagement and the designer park is elevated to maximise sunlight throughout the day. It is designed to encourage the Italian tradition of promenading, which is taking an evening walk with family and friends, by creating vistas and seating nestled among the greenery all within an urban environment," Ong shared.
He added that the park will be located over a gently rising slope, simulating the environment of an ampitheatre, with an elegant display of flora bursting with colour and texture.
In addition, a water feature, cascading down the pathway leads visitors up to the café terrace, providing a breathtaking gateway to the development.
The first phase of Melbourne Square comprises two residential towers with a retail podium and a public park of about an acre wide. The first tower — East Tower — has already been soft-launched in private previews in China and Australia since early April while the exclusive West Tower preview for Malaysia was held at Kuala Lumpur in early June.
East Tower offers 69 floors including three floors of retail that is linked to the retail podium, while the eighth and 54th floors will be the facilities floors. Its 566 apartment and penthouse units have built-ups ranging from 49.4 sq m to 316.8 sq m (531 sq ft to 3,409 sq ft). Prices range from A$401,200 to A$5.8 million (RM1.29 million to RM18.64 million), or an average of A$11,000 per sq m.
Meanwhile, West Tower features 386 apartment and penthouse units as well as 91 podium apartment units. They have built-ups ranging from 49.6 sq m to 262.2 sq m (531 sq ft to 2,821 sq ft).
"We received an overwhelming response to our Asia Pacific launches so far. As of today, approximately 60% of the units in East Tower and 50% from West Tower are taken up. We look forward to its official launch in Australia on Oct 3," says Ong.
"The entire project has been approved for the building of six towers with a total gross floor area (GFA) of 380,000 sq m (4.8 million sq ft). We have the flexibility to adjust future launches, built-up and design according to market needs in the future."