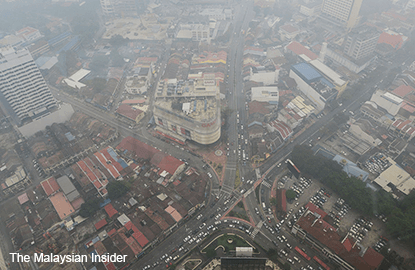 (Oct 19): The number of areas with unhealthy air quality more than doubled over the past 24 hours, said the Department of Environment, with the air pollutant index (API) reading in Seremban the worst among 17 areas nationwide.
As at 8am, API in Seremban is at 181, followed by Tawau in Sabah at 164 and Banting in Selangor at 154, showing deteriorating air quality in the past two hours.
Other areas with unhealthy air quality include Bandaraya Melaka (151), Bukit Rambai and Port Dickson (150), Nilai (48), Batu Muda (145), Putrajaya (136) and Port Klang (136).
The return of the smoke has forced authorities to close schools in Malacca, Negri Sembilan, Putrajaya, Selangor, Kuala Lumpur, Tawau, Samarahan and Kuching.
An API reading of between 101 and 200 is considered unhealthy while a reading under 50 is good, 51-100 moderate, 201-300 very unhealthy, and above 300 hazardous.
Schools in smoke-choked areas had been ordered to close several times last month and earlier this month, following forest fires and the burning of plantation lands in Indonesia.
Some 7,000 schools were closed on Oct 5 and Oct 6 after API showed hazardous air in Shah Alam and unhealthy air in other parts of the country – The Malaysian Insider