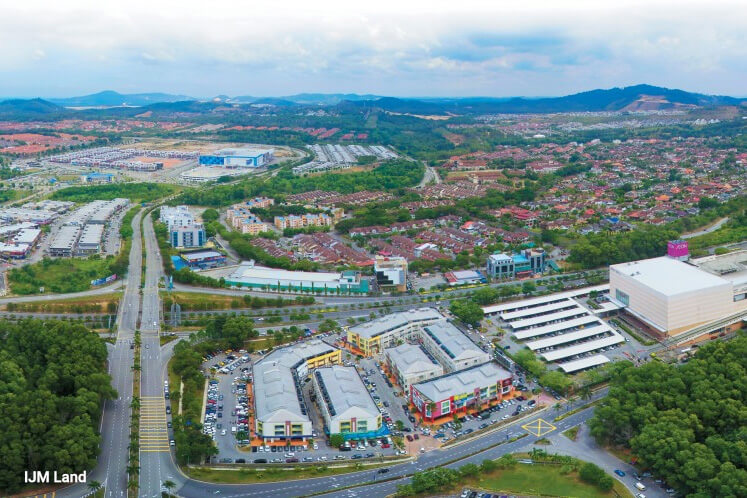 SEREMBAN (July 17): In the early stages of its development, 95% of IJM Land Bhd's Seremban 2 purchasers were from Seremban or neighbouring areas. Over the years however, as infrastructure development and amenities improved, many people from the Klang Valley had chosen to settle down here.
"The buyers' profile has changed over the years. Now around 20% of buyers are from the Klang Valley who are working in Bangi, Cyberjaya, Kuala Lumpur and even Petaling Jaya," IJM Land Bhd central region senior general manager Datuk Hoo Kim See told TheEdgeProperty.com.
"With the improved infrastructure, amenities and road network, Seremban 2 has become a place for work, play and stay and is especially suitable for families," said Hoo, who himself moved from KL to Seremban 2 in 2000.
The 22-year-old Seremban 2 initially spanned 2,300 acres and was a joint venture between IJM Land and the Negeri Sembilan state government. It serves as an extension to the congested Seremban town.
The satellite town is currently 90% completed with 13,000 homes and over 1,000 commercial properties.
"But with an additional 1,500 acres purchased in 2000 for the development of Seremban 2 Heights, it has now expanded into a 3,800-acre township with a mix of offerings," Hoo said.
Upcoming launches
The developer will be offering more mid-range landed homes and a project known as Safira Apartment in Seremban 2 this year.
It has launched the final phase of Rimbun Vista (Rimbun Vista 2), two months ago and has seen 75% of the 187 double-storey superlink homes of 22ft by 70ft and 22ft by 80ft, taken up.
This low density guarded development is located near the North-South highway with easy access to the Ainsdale and Seremban tolls. It features a four-acre central park with basketball court and 1.5km jogging and cycling path.
"An upcoming project Rimbun Harmoni is slated to be launched in August. The site is situated on elevated ground offering a good view of the hill park," he said.
Rimbun Harmoni comprises 228 units of double-storey terraced homes measuring 20ft by 70ft and 22ft by 70ft, with selling prices from RM528,000 onwards.
Another double-storey terraced housing project offering over 105 homes measuring 22ft by 65ft will be launched this year, but the names and unit prices have yet to be determined.
IJM Land also plans to launch Safira Apartment by year end offering 242 apartment units with a built-up size of 820 sq ft. The indicative selling price starts from RM250,000.
Safira Apartment is located close to the Seremban district administration centre, the State Court Complex, a health clinic and the Seremban district police headquarters as well as the Fire and Rescue Services headquarters.
Hoo said the affordable pricing and its location where various government agencies are, have attracted the attention of buyers.
Seremban 2 comprises 18 residential communities, seven schools, a 15-acre city lake park, a sports complex and commercial business parks.
Accessibility in and within Seremban 2 is via a six-lane dual carriageway that eases traffic flow even during peak hours.
There is also a 30-acre adventure hill park where residents could enjoy panoramic views of Seremban 2.
Nearby amenities include malls like Mydin, Aeon shopping centre and NSK Hypermarket. Food and beverage choices, government and private hospitals are within 15 to 30 minutes' drive.
"All the infrastructure developments (parks, schools and roads) were planned from day one in our master plan and this is what makes Seremban 2 a success," he said.
Property transactions in Seremban 2 were slow in the first five years, but once the early phases were delivered and the infrastructure was completed, sales increased significantly.
The population in the self-contained township has also increased to 62,000 people now. Community activities are regularly held to bring the residents together. For instance, the IJM Run which will be held in August 13 has attracted 8,000 participants this year within two months' of registration compared to 1,000 participants five years ago.
Capital appreciation
Seremban 2 purchasers have seen the value of their properties double or triple over the years. According to Hoo, the double-storey semi-dee units known as Acacia that were sold at RM350,000 in 2008 are now going for RM1.1 million.
Meanwhile, Kalista Residence condominium units of 926 sq ft have seen their price climb 28% to RM320,000 from RM250,800 during launch in 2013.
The higher-end projects including the two-storey Sri Carcosa bungalows are now asking for over RM2 million. The cheapest selling price back in 2006 was around RM600,000.
In terms of rental, Hoo said there is strong demand from students from the universities and colleges in Nilai and people working in the neighbouring industrial areas. "The rental yields are between 4% and 6%, depending on property type," he added. For example, a double-storey Saujana Duta semi-dee unit is fetching a monthly rental of RM4,500, generating 4% yield.
The three-storey shop offices in Biz Avenue could be rented out for RM8,000 and above, generating 10% to 14% yield while rents for the double-storey shop offices at Uptown Avenue are around RM4,000 to RM5,000, generating 8% to 10% rental yield.
"We expect prices to rise further in the future. However, it still depends on market sentiment, inflation and economic growth," he opines.
Hoo also believes the KL-Singapore High Speed Rail which will have a transit station in Seremban will boost the growth of the township further.
This story first appeared in TheEdgeProperty.com pullout on July 14, 2017. Download TheEdgeProperty.com pullout here for free.