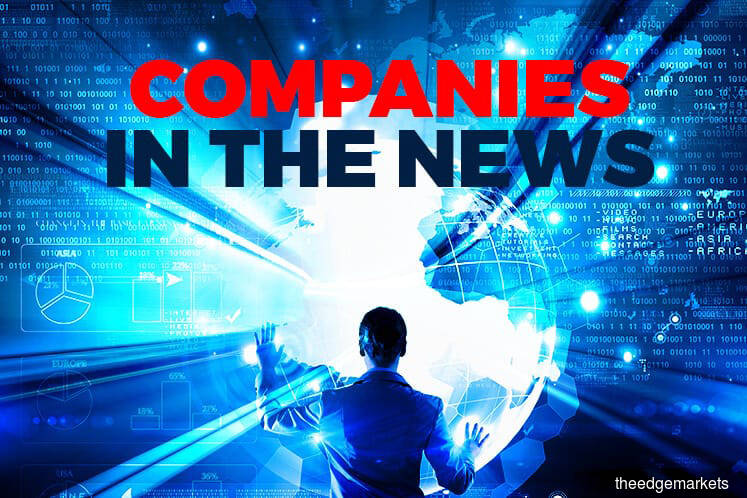 KUALA LUMPUR (July 4): Based on the corporate announcements and news flow today, companies in focus on Thursday (July 5) may include: Serba Dinamik, Xian Leng, SCGM, Perdana Petroleum, TA Global, MNRB, China Automobile Parts and JMR.
Serba Dinamik Holdings Bhd plans to explore new territories in Central Asia, with hopes of securing some projects in new countries in the region this financial year.
"The projects would be centred around Central Asia — we are looking at three countries: Turkmenistan, Uzbekistan and Kazakhstan," said its group chief executive officer Datuk Dr Mohd Abdul Karim Abdullah.
It has an order book of RM6.6 billion that is expected to last for the next two to three years.
The company is expecting to hit a target order book of RM7.5 billion by year-end.
Lee Kian Hu has been redesignated as the independent and non-executive chairman of Xian Leng Holdings Bhd, following the retirement of Augustine TK James today.
Lee, 43, was previously the independent and non-executive director of Xian Leng, a post he held since 2012.
A wholly-owned unit of SCGM Bhd plans to dispose of three of its properties in Johor to raise funds to pare down its bank borrowings.
SCGM said Lee Soon Seng Plastic Industries Sdn Bhd is looking for prospective buyers for the properties in Kulai, Johor, but did not specify the total price of the two freehold plots and one leasehold land that are on sale. The properties comprise industrial and agricultural land, as well as a factory and warehouse.
Bank Negara Malaysia (BNM) has agreed to mediate more sustainable financing terms between Main Market-listed Perdana Petroleum Bhd and its financiers.
Perdana Petroleum said it received approval from BNM's corporate debt restructuring committee (CDRC) to help renegotiate with its specific financiers, financing facilities on terms that can be sustained in the face of this challenging period for the oil and gas industry.
"The successful mediation will enable the company to be better positioned to raise new financing and capital in the future and ensure its operations to easily sustain its underlying viability, going forward," the group said. As part of the approval, Perdana Petroleum is required to submit a proposed debt restructuring scheme within 60 days.
Shareholders of TA Global Bhd stand to receive a mandatory general offer (MGO) from Datuk Tony Tiah Thee Kian if his interest in TA Enterprise Bhd crosses the 50% mark.
This is because of TA Enterprise's 60.17% stake in property developer TA Global, in which Tiah and persons acting in concert (PACs) control another 15.34%.
TA Enterprise said it has received a supplemental notice from Tiah on his takeover offer on Monday (July 2), saying that in the event that his offer turns unconditional, it would trigger an obligation to undertake another MGO for TA Global shares, for an offer price of 31.01 sen per share.
The supplemental notice said the offer price represents the volume weighted average price of TA Global's share price for the last 20 market days prior to the date of the notice.
MNRB Holdings Bhd president and group chief executive officer Mohd Din Merican has resigned as non-independent executive director effective July 1 but he remains the company's president and group CEO.
"Pursuant to BNM's Policy Document on Corporate Governance dated Aug 3, 2016, there should only be one Executive Director on the Board of a financial holding company/financial institution and there should also be a minority of common directors on the Board of a financial institution or its affiliates," MNRB said.
Mohd Din was previously the CEO of Etiqa Insurance Bhd, serving from Nov 1, 2008 to Dec 31, 2011.
China Automobile Parts Holdings Ltd (CAP) expects to finalise its audited financial statements by the middle of August and issue its outstanding 2017 annual report by Aug 31, after failing to meet the June 30 deadline.
The company said it has hired qualified financial personnel in June to handle its financial matters, and expects to progressively furnish relevant information requested by the auditors.
CAP explained that the issuance of its 2017 annual report was delayed because its Malaysia-based financial personnel left at the end of June last year.
For nearly a year, the Practice Note 17 company said it faced difficulty hiring qualified financial personnel, in view of the trading suspension on its securities at Bursa Malaysia, and the negative impact that fell upon the company.
JMR Conglomeration Bhd has expanded its landbank in Seberang Perai Tengah, Penang through subscription of an additional 4.49 million new shares in its subsidiary TAG Steel Holdings Sdn Bhd (TSH) for RM4.49 million.
TSH currently owns a 26,657 sq m piece of freehold land in Seberang Perai Tengah, near the Autocity, Juru, which is expected to be developed into a mixed development project.
JMR said the subscription is in line with its strategy to acquire and expand its existing landbank in strategic locations with high development value, to sustain its business as a property developer.