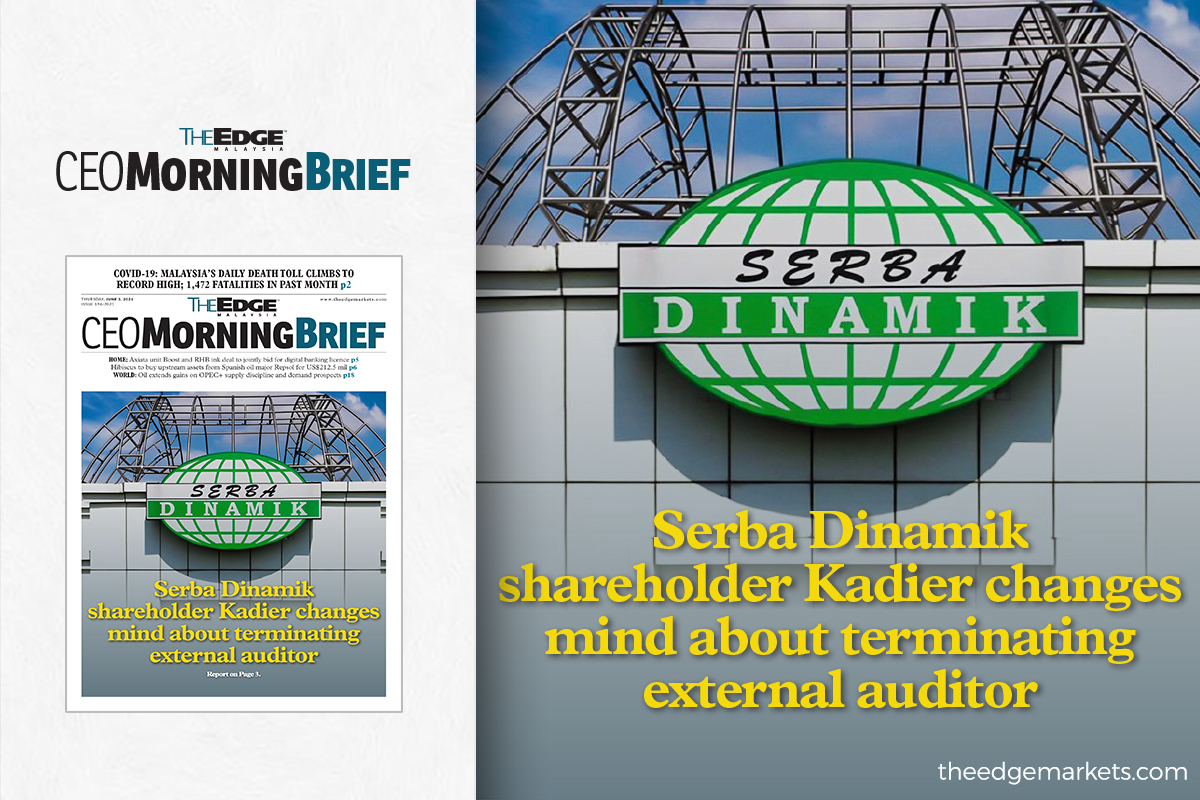 KUALA LUMPUR (June 2): Serba Dinamik Holdings Bhd said today that it has accepted a request from its second largest shareholder Datuk Abdul Kadier Sahib to withdraw the proposal to remove the company's external auditor KPMG.
Abdul Kadier, who owns 15.96% in Serba Dinamik and is its non-independent non-executive director, last week called for an EGM to vote for a resolution to remove KPMG, and to appoint BDO as the new external auditor.
This was soon after Serba Dinamik announced on May 25 that KPMG had raised certain audit issues in Serba Dinamik in its financial year ended Dec 31, 2020.
"The board wishes to announce that the Company had on June 2, 2021 received a notice dated June 2, 2021 from Datuk Haji Abdul Kadier Sahib, requesting for the above Special Notice to be withdrawn," Serba Dinamik said in a filing today.
"The board has accepted the Withdrawal Notice and in view of the above development, the above matter is now considered closed," the company added.
Abdul Kadier is also a member of Serba Dinamik's audit and risk committee.
The audit issues raised by KPMG pertained to sales transactions, receivables and payables to the tune of over RM3 billion.
On May 29, Serba Dinamik said KPMG has not responded to the management's replies. The company is in the midst of setting up an independent review to validate KPMG's findings.
Shares of Serba Dinamik took a beating following the news, with nearly 48% of its market capitalisation wiped out this week.
On Tuesday, Kumpulan Wang Persaraan (KWAP) ceased to be a substantial shareholder after selling 0.7% stake in the open market.
Meanwhile, its shareholders, the Employees Provident Fund (EPF) and Permodalan Nasional Bhd (PNB), have both come out to express concern over the audit episode.
"The Employees Provident Fund is concerned with the current issues surrounding Serba Dinamik Holdings Bhd and is currently engaging with the company," EPF said in an email response to theedgemarkets.com.
"Rest assured that the EPF's priority is to safeguard members' interest by ensuring that our investee companies adhere to the highest level of transparency and corporate governance," the fund said.
Separately, PNB said there is no merit in removing the appointed auditor before they finish the annual audit, according to the report by Reuters.
Amid the sell-off, Abdul Kadier and group chief executive officer Datuk Dr Mohd Abdul Karim Abdullah – also the largest shareholder in the company – each bought five million shares in the open market on Monday.
The counter settled down 1 sen to 82.5 sen today, valuing the group at RM3.07 billion.
Read also:
Serba Dinamik says proposal to change auditor was substantial shareholder Kadier's decision
Time for Serba Dinamik independent directors to speak up
Serba Dinamik shareholder PNB has 'deep concern' after audit issues raised
Serba Dinamik boss bought more shares as price tumbled
Serba Dinamik climbs nearly 9% to 91 sen after two-day fall 
KWAP sold shares in Serba Dinamik after audit issues; shareholding trimmed to 4.53%
Serba Dinamik's Abdul Kadier Sahib ups stake again to 16.17%
Serba Dinamik's independent non-executive directors express concern over audit issue 
To receive CEO Morning Brief please click here.