This article first appeared in The Edge Malaysia Weekly, on July 13, 2020 - July 19, 2020.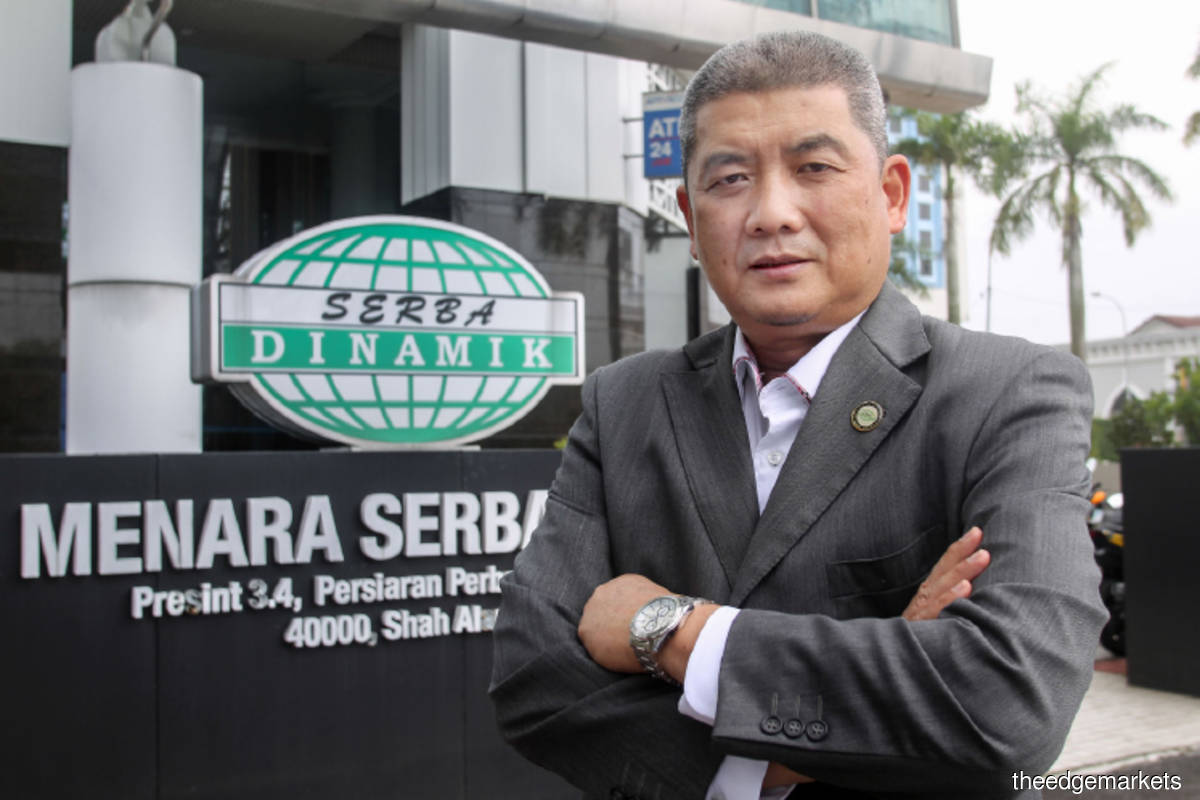 IN its almost three decades of existence, Serba Dinamik Holdings Bhd has become known as an engineering services provider especially in the oil and gas (O&G) industry. It is now one of the biggest O&G contractors listed on Bursa Malaysia.
Having achieved relative success within the O&G industry, its founder and group CEO Datuk Dr Abdul Karim Abdullah is preparing the group for a world where oil will no longer be the main energy source.
This is one of the reasons Serba Dinamik is building the Block 7 Innovation Hub in Abu Dhabi, Karim says in an exclusive interview with The Edge. The innovation hub will feature some information technology systems developed in-house by Serba Dinamik.
"We are not deviating from the original foundation of Serba Dinamik. From day one of the IPO, we have had four core capabilities — operation and maintenance (O&M); engineering, procurement, construction and commissioning (EPCC); ICT solutions; and education and training.
"ICT will move on to be one of the major contributors of Serba Dinamik. When we proposed the innovation hub to investors in Abu Dhabi, it was about the content that we [would] put into the innovation hub," he says.
It is not clear what Block 7 Innovation Hub's ICT capabilities will be or how it will differentiate itself from other innovation and technology entrepreneurial hubs in the Middle East. However, on its website, Serba Dinamik claims it has expertise in interface, app development and e-commerce platforms.
Serba Dinamik also launched its first virtual reality park in Kota Samarahan, Sarawak, last month. Called D-Virtual Park, it was developed at a cost of RM13 million and features 10 virtual reality rides.
On April 15, the company announced it had received a letter of award from Block 7 Investment LLC to develop an innovation hub, academic campus, related facilities and IT infrastructure in Abu Dhabi for a fixed price of US$1.78 billion (RM7.7 billion).
It is the group's largest single contract ever. With this win, Serba Dinamik's total order book so far this year stands at RM17 billion, its highest ever.
Karim says the innovation hub is just one part of the entire development. There will also be a digital theme park to attract visitors and make it a lively place.
"It is one of the major components of the entire futuristic development that we are developing in Abu Dhabi. Another component is the digital theme park. Innovation Hub is for professionals, businesses and entrepreneurs.
"Cyberjaya attracted a lot of enterprises and professionals but throughout the years, they packed up and left because there is no work-life balance. With the digital theme park, Block 7 will be different from other innovation hubs," he explains.
Despite the efforts to develop its ICT business, the EPCC and O&M businesses are still very much Serba Dinamik's lifeline. In the first quarter ended March 31, 2020 (1QFY2020), revenue from the ICT business made up only slightly over 2% of the group's total revenue.
However, the segment has been growing rapidly. In 1QFY2020, revenue from ICT grew 95.7% year-on-year to RM27.93 million, while revenue from the O&M and EPCC businesses increased by less than 30%.
Last month, Serba Dinamik announced that it had secured three overseas projects in Indonesia and Zambia worth a combined US$126.8 million (RM541.1 million). Two of the contracts are for the implementation of digital micro-lending and a health platform in Zambia.
Steven Chan, an analyst with Kenanga Research, estimates that the bulk of the contract sum comes from the ICT contracts in Zambia, estimated at more than US$100 million. This means that they are the largest ICT contracts in Serba Dinamik's history.
"This is a huge boost to the group's ambition of growing its ICT segment to be its third core business, complementing the two other core segments of O&M and EPCC as well as broadening the company's revenue base.
"Contribution from the segment is still relatively inconsequential at the moment, but the company is targeting for the segment to grow its revenue contribution to RM300 million by year-end (~5% of FY2020E revenue)," says Chan in a July 1 report.
Serba Dinamik is also promoting innovation hubs in other countries, including the Maldives, Indonesia and also Malaysia, says Karim. In Indonesia, the group is in serious discussions with the government to develop an innovation hub in the country's new capital city, he says.
Nevertheless, analysts are still not including the Block 7 project in calculations for Serba Dinamik's valuations, pending financial close from investors of the project as well as finalisation of the civil construction portion.
The project's investor is Efire Capital Holdings Ltd, says Karim. A look at Efire's website shows that the investment holding company in which Emiratis Salah Salem Omair Al Shamsi and Hadef Al Shamsi, and Karim himself are partners.
"At the moment, we are finalising the pre-architecture with Gensler — one of top 10 architecture firms based in London. Soil investigation and traffic study are currently ongoing.
"Once the architectural design has been firmed up and accepted by Efire, we will start the ground work. We can put in the first invoice to Efire by end-August. Construction will start in the first quarter of 2021," says Karim.
Financially, Serba Dinamik appears to be doing well. In 1QFY2020, the group recorded RM133.72 million in net profit, an increase of 19.2% y-o-y, while revenue increased almost 30% to RM1.28 billion.
However, the group has a high net gearing ratio of 0.8 times as at March 31, 2020.
Year to date, Serba Dinamik's stock is trading 22.6% lower than its opening price of RM2.21 on Jan 2. It is trading at a trailing 12-month (TTM) price-earnings ratio (PER) of 11 times.
In a bullish market, even the massive RM7.7 billion Block 7 contract did not manage to lift investors' appetite for Serba Dinamik. Since the contract was announced on April 15, its share price has risen only 9.74% to RM1.69 from RM1.54.
On its net gearing ratio, Karim says the group is monitoring the level every day. This is because it has sukuk and bank loans that require the ratio to not exceed the allowable threshold of one time.
"Sure, our borrowings have increased, but our earnings are increasing as well. So we are trying to [find a balance] between our debt and equity levels. One way to raise the equity portion is through private placement.
"Next year is a possibility (for private placement), but the shareholders should not be concerned because this is to fuel our business growth," he adds.
To reduce the group's dependence on contracts from the O&G industry, Serba Dinamik is also growing its O&M and EPCC businesses by getting contracts from non-O&G players. Its target is to reduce revenue contribution from the O&G segment to 45% to 50% of total revenue in three years' time.
Besides the innovation hub, other non-O&G EPCC contracts that Serba Dinamik has won include those for a chlorine processing plant in Uzbekistan worth US$250 million, a chlor-alkali processing plant in Tanzania worth US$110 million and a hydropower plant in Laos valued at US$150 million.
The group is also exploring opportunities to become a small stakeholder in petrochemical plants in Malaysia and the Middle East, says Karim.
All these are testament to Serba Dinamik's efforts to reduce its dependence on O&G contracts.
"How long will O&G power the world? Solar and battery are coming in a big way. We believe that O&G will still be a source of energy for the next 20 years to come. Beyond that, it all depends on the optimal performance of new energy sources," he states.