This article first appeared in The Edge Malaysia Weekly, on August 19, 2019 - August 25, 2019.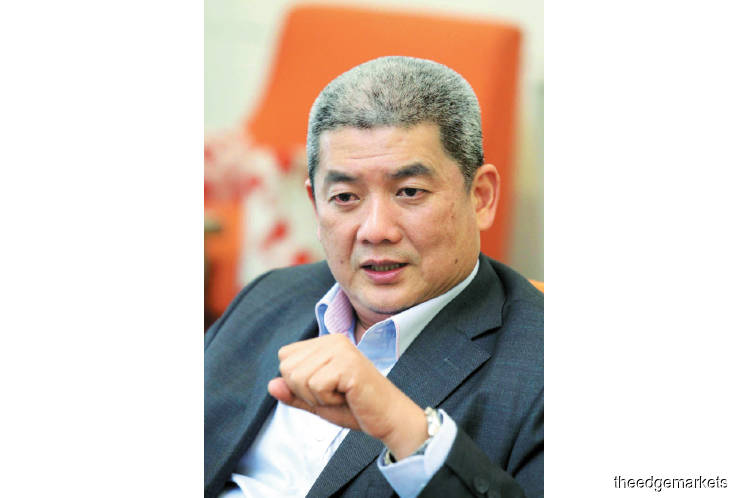 Abdul Karim: "Personally, I am of the opinion that for Serba Dinamik to be successful, it needs to have the entire supply chain capabilities, not just O&M. Photo by kenny yap/the edge
AS Datuk Mohd Abdul Karim Abdullah, founder and group CEO of Serba Dinamik Holdings Bhd, fulfils its institutional investors' wish to keep the group as an engineering solutions provider, offering pure play exposure to the oil and gas (O&G) and power generation sectors, he has taken stakes in other companies in his personal capacity in a bid to strengthen the group.
"We have institutional shareholders that have certain expectations of what Serba Dinamik should be. Some of these expectations are restricting my ambition and plans to position the company as a multinational corporation and the preferred choice, meaning that when our customers globally engage our services, they will not regret their decision," he tells The Edge in an interview.
According to him, most of the institutional shareholders are of the opinion that Serba Dinamik should not diversify too far from its current business as that might present a different level of challenges that could jeopardise their investment.
"I fully respect their views. I do agree with them that within the operations and maintenance (O&M) and engineering, procurement, construction and commissioning (EPCC) scope, there is more that can be done. As such, I am maintaining Serba Dinamik within the scope of what these institutional shareholders believe in and want it to be like," he adds.
He declined to name the institutional shareholders, but Bursa Malaysia filings show that the Employees Provident Fund and Kumpulan Wang Persaraan (Diperbadankan) are the group's two leading institutional investors.
Shares in Serba Dinamik have nearly tripled in price since their trading debut two years ago, from their IPO price of RM1.50 apiece to close at RM4.15 last Thursday, giving the company a market value of RM6.09 billion (US$1.5 billion).
Nevertheless, Abdul Karim does not deem Serba Dinamik a big player as it is still a long way from its global peers such as Hitachi, Siemens and General Electric, whose market caps range from US$33 billion to US$81 billion.
From what he has observed on his many trips around the world, he believes that the "gateway" for Serba Dinamik to become a big player in the global market is via property development, construction and civil works.
"In every country I have been to, be it developed or less developed, there are always lots of opportunities for property development, construction and civil works.
"Personally, I am of the opinion that for Serba Dinamik to be successful, it needs to have the entire supply chain capabilities, not just O&M. Civil works covering construction and property development are part and parcel of supply chain for engineering capabilities," he says.
Call him determined or stubborn, the 54-year-old entrepreneur is going about fulfilling his ambitions for Serba Dinamik without incurring the wrath of its institutional shareholders through his recent personal investments in Sarawak Consolidated Industries Bhd (SCIB) and Kumpulan Powernet Bhd (KPowernet). His plan is to see the three companies working alongside each other across the value chain in the energy sector.
Abdul Karim emerged as the largest shareholder of loss-making textile manufacturer KPowernet in June, holding a 20.04% stake. At Thursday's closing of 79 sen, KPowernet had a market cap of RM60.16 million.
Abdul Karim says KPowernet, where he was appointed deputy chairman on July 1, is in the midst of finalising its board of directors and management team.
Noting that KPowernet has been in the red since its financial year ended Dec 31, 2010 (FY2010), he is confident the company will be able to stage a turnaround within a year as it ventures into property development, logistics, infrastructure and energy while reducing its focus on the textile business.
In the cumulative nine months ended March 31, KPowernet narrowed its net loss to RM1.83 million from RM3.56 million a year ago. This was despite a 71% drop in revenue to RM1.27 million year on year.
Last Thursday,  Abdul Karim raised his stake in SCIB and now holds 42.84% in his personal capacity in the company, which has a market cap of RM91.89 million. The acquisition triggered a mandatory general offer to acquire the remaining shares in SCIB for RM1.10 each, or a total of RM48.53 million. However, Abdul Karim intends to maintain the company's listing status on the Main Market of Bursa Malaysia.
He is upbeat on the prospects for SCIB, which has been bleeding red ink in the last two years, as he plans to expand its geographic presence and venture into other sectors. SCIB's net loss widened to RM9.57 million in the financial year ended Dec 31, 2018 (FY2018), from RM472,000 in FY2017, even though revenue rose 10% year on year to RM75.8 million.
"SCIB is quite well managed, but its current scope and vision are too narrow. It has three core businesses — manufacturing of piles for use in the construction and infrastructure sectors, precast concrete and industrialised building system components. If SCIB continues to focus on just manufacturing, it will not suffice because customers are looking for companies that provide a one-stop solution," says Abdul Karim, who is also a non-executive director of SCIB.
Moving forward, SCIB will diversify and expand into property development. It will also extend its business beyond Sarawak into other parts of the country.
"SCIB is also heavily reliant on government projects and has not really looked at the O&G sector. We cannot deny that O&G will continue to be a bullish sector and will still be an important economic driver for Malaysia, at least for the next 10 years. So, the opportunity for SCIB is tremendous," he says, adding that corporate exercises are on the cards for the company to raise capital to fund its expansion.
After a flurry of acquisitions in the past two years, Serba Dinamik is taking a breather to nurture the foreign companies that it has acquired, including Psicon BV, Psicon AVV, OHP Ventures Inc and La Rapida SA.
"There are a lot of things to do. In 2020, we will see quite a lot of objectives and goals from these acquisitions materialising and proven to our shareholders and investors," he says, without elaborating.
Abdul Karim is keeping to a growth guidance of 15% to 20% in revenue and net profit for Serba Dinamik this year. In FY2018, the group posted a 26% y-o-y increase in net profit to RM387.9 million on the back of a 21% y-o-y rise in revenue to RM3.28 billion.
Serba Dinamik's outstanding order book amounts to RM9.4 billion, putting it on track to meet its target of RM10 billion this year. Its tender book stands at RM15 billion, with a 30% to 40% success rate.