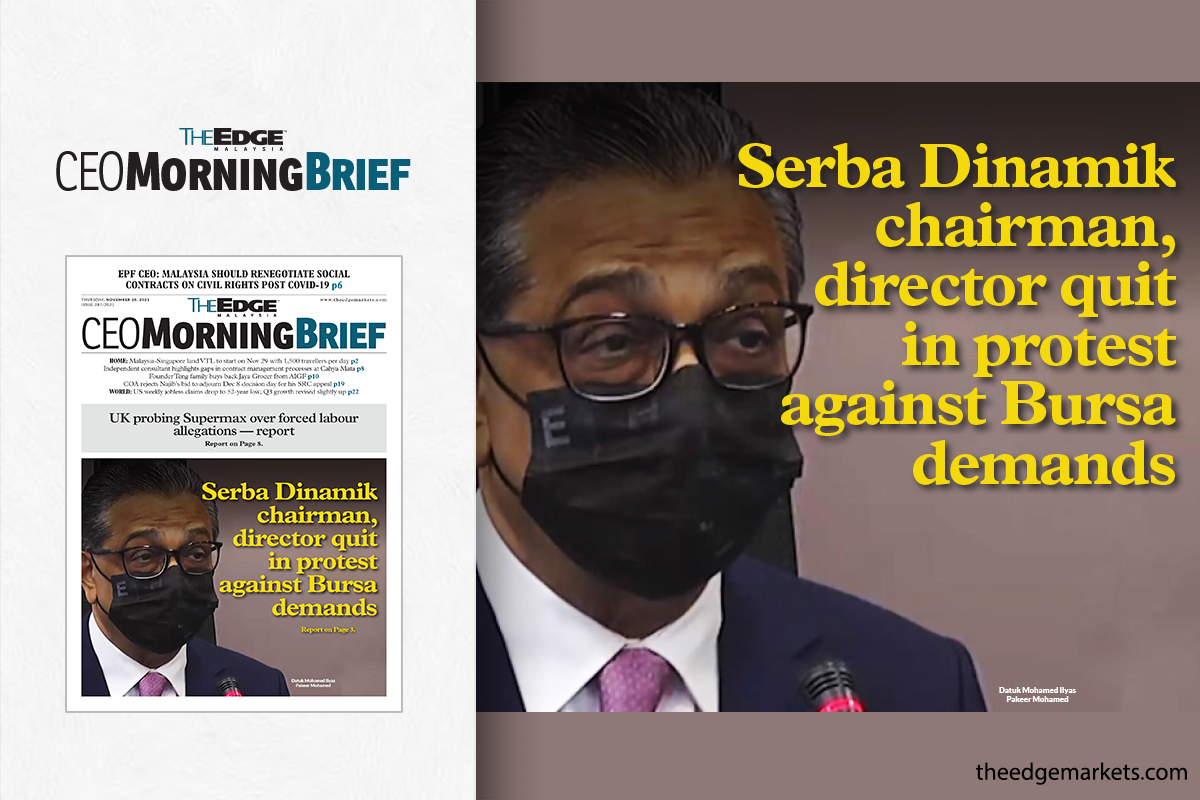 Both cited the same reason for their departure, which is that Bursa Malaysia's stipulations had stopped them from fairly discharging their duties, according to bourse filings on Wednesday.
KUALA LUMPUR (Nov 24): More board members have resigned from Serba Dinamik Holdings Bhd.
The company has announced the resignations of its chairman Datuk Mohamed Ilyas Pakeer Mohamed and independent director Johan Mohamed Ishak, less than six months after the duo joined the board in mid-June.
Both cited the same reason for their departure, which is that Bursa Malaysia's stipulations had stopped them from fairly discharging their duties, according to bourse filings on Wednesday.
"The requirements imposed by Bursa to Serba Dinamik have prohibited him from fairly discharging duties as an independent director of the company vis-a-vis an independent director's responsibilities to the company, its shareholders and the overall fairness of (an) independent director's role in Malaysian capital market.
"Adhering to the requirements imposed by Bursa would put him in an untenable position, contradictory to the said responsibilities above-mentioned, as it necessitates, in his opinion, premature and unfair actions due to the incomplete special independent review by Ernst & Young Consulting Sdn Bhd (EY Consulting) that is still ongoing and thus inconclusive," read Serba Dinamik's filings on their respective resignations.
Serba Dinamik also announced that Datuk Seri Mohamed Farid Abu Hassan has been redesignated as chairman, while remaining as its independent non-executive director.
Johan, meanwhile, has also stepped down as chairman for the group's audit and risk committee. Currently, only non-independent non-executive director Datuk Abdul Kadier Sahib and independent non-executive director Siti Zaleha Sulaiman remain in the committee.
The resignations came after Bursa announced on Tuesday (Nov 23) that it was seeking a court order to compel Serba Dinamik to disclose updates on the factual findings of the special independent review conducted by EY Consulting on its financial accounts to address the audit issues flagged by its former external auditor, KPMG.
Mohamed Ilyas and Johan joined the board about a month after the audit dispute that arose between Serba Dinamik and KPMG was made public and the discrepancies in Serba Dinamik's financial accounts for the 12-month period ended Dec 31, 2020 (FP2020) were raised to the Securities Commission, which prompted the regulator to raid the company's office and initiate a probe.
The former chairman once commented at a press conference that KPMG was "behaving like official gangsters, hiding behind the veil of whatever act they have".
"I have got all the information, I spoke to SC and I spoke to Bursa. I think you better clarify your information," said Ilyas when asked about the criticism that the lawsuit against KPMG was to distract from the actual issue faced by Serba Dinamik.
Four Serba Dinamik independent directors, namely Rozilawati Basir, Sharifah Irina Syed Ahmad Radzi, Tengku Datuk Seri Hasmuddin Tengku Othman, and Hasman Yusri Yusoff, had also resigned in protest over the company's lawsuit against KPMG in late June. At the time, another independent and non-executive director Masleena Zaid also quit, but cited "personal commitment" as the reason for her resignation.
A total of seven board members have quit since the audit issues were revealed.
The issues red-flagged in Serba Dinamik's accounts involved transactions, receivables, payables and materials on site amounting to over RM4.6 billion. KPMG had said it was not able to identify counterparties in the transactions.
Serba Dinamik was suspended on Oct 22 for failing to comply with Bursa's directive to immediately announce the findings of the special independent review.
Bursa had given the O&G services group till Oct 26 to reveal the findings, but the group responded by saying the information on the findings was immaterial.
It said "there were no documents or copy of any documents that fit the description of 'factual findings update as at Sept 30, 2021' given to the independent non-executive directors as at Oct 22, 2021".
Serba Dinamik then proceeded to take legal action against the stock exchange on Nov 8, to challenge the latter's directives concerning the requirement to conduct a special independent review and to disclose the findings of the review, saying the regulator had acted in excess of its powers.
It then sought an interim injunction against EY Consulting on Nov 10 to prevent the auditor from sharing any findings or opinions on the company, as well as a declaration that EY Consulting had misrepresented that it could be appointed to conduct the review following a directive by Bursa, and that its appointment had no legal effect from the start.
The courts dismissed Serba Dinamik's application for an interim injunction against Bursa and EY Consulting the following day, but granted its request for an adjournment of the hearing of the injunction application to respond to affidavits filed by Bursa and EY Consulting. Hearing for the injunction application has now been fixed for Dec 8.
Prior to its suspension, Serba Dinamik's share price had sunk to 35 sen. The stock was trading around RM1.61 before the audit dispute arose
Read also:
Abdul Karim sells 4.6% stake in KPower at below market price for RM10.38m
Why Bursa sought Serba Dinamik to be compelled to make public announcement on independent review
Bursa seeks court order to compel Serba Dinamik to disclose update on independent review factual findings
Serba Dinamik in face-off with regulators
Serba Dinamik takes legal action against KLSE Screener 
To receive CEO Morning Brief please click here.
Tan Choe Choe & Lam Jian Wyn