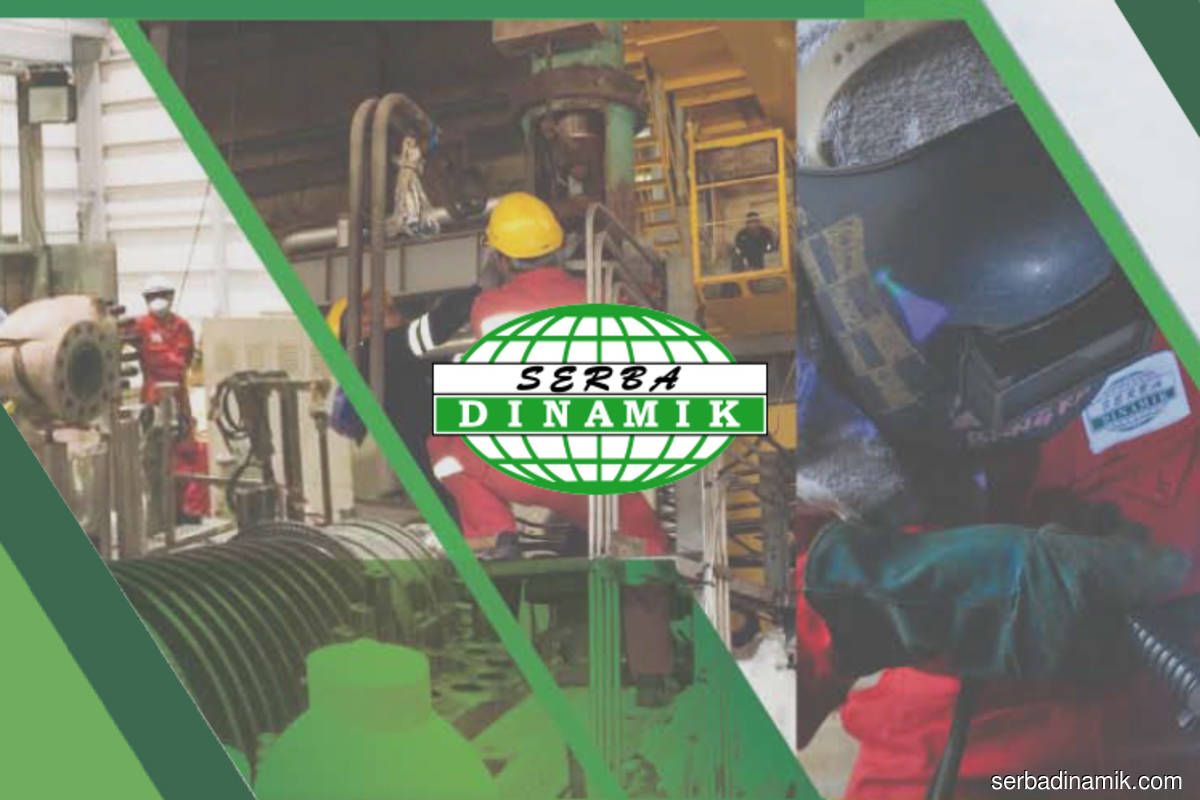 KUALA LUMPUR (Nov 23): Serba Dinamik Holdings Bhd's third quarter net profit grew 30.78% to RM148 million or 4.39 sen per share, from RM113.16 million or 3.36 sen per share a year earlier, on the back of strong activities from its operation and maintenance (O&M) segment.
Revenue for the third quarter ended Sept 30, 2020 rose 41.8% to RM1.48 billion, from RM1.05 billion previously, the group said in a filing with Bursa Malaysia.
Serba Dinamik declared a third interim dividend of 1.35 sen per share, payable on Dec 30.
The group said the operating profit for its O&M segment increased 37.6% to RM222.39 million, from RM161.62 million a year ago, due to higher activities from its maintenance, repair and overhaul of rotating equipment (MRO) activity in the Middle East region including Qatar, Oman and Bahrain, as well as Malaysia.
Furthermore, its ICT business also saw a near 12-fold boost in operating profit to RM23.38 million, from RM1.96 million. "Aside from the contribution of the existing contracts which are related to customised solutions involving software developments, the increase was mainly contributed by [the] new contract secured in Bahrain for service provision relating to extended reality training applications," said Serba Dinamik.
For the first nine months of 2020, the group's total net profit increased 20.76% to RM429.6 million or 12.75 sen per share, from RM355.76 million or 10.56 sen per share in the same period last year, while revenue rose 32.52% to RM4.2 billion from RM3.17 billion.
Looking ahead, the group said it remains vigilant and positive in pursuing business opportunities, as well as securing more market share both within and outside the country.
"The group is continuously servicing the existing contracts, especially O&M contracts, on hand, without any significant disruption, despite the Covid-19 pandemic as most of our operations are essential industries such as O&G, power generation, and water and utilities," said Serba Dinamik.
While oil prices rose further in August, the group said the increase was limited amid lingering uncertainties, adding that signs of weakening oil demand, weaker refining margins, as well as softening buying interest from China, added downward pressure on prices.
Additionally, the group has also completed its acquisition of the Teluk Ramunia Yard (TR Yard) that is located in Kota Tinggi, Johor.
"This facility will strengthen the group's position as a total engineering solution provider, covering onshore and offshore across upstream, midstream and downstream value chain," said Serba Dinamik, adding that the group has identified a few works from its existing contacts and is also negotiating with potential customer to lease some of the area in TR Yard.
Shares of Serba Dinamik closed three sen or 1.8% higher at RM1.70 today, valuing the group at RM5.76 billion. Year-to-date, the counter has fallen 27% from RM2.33.