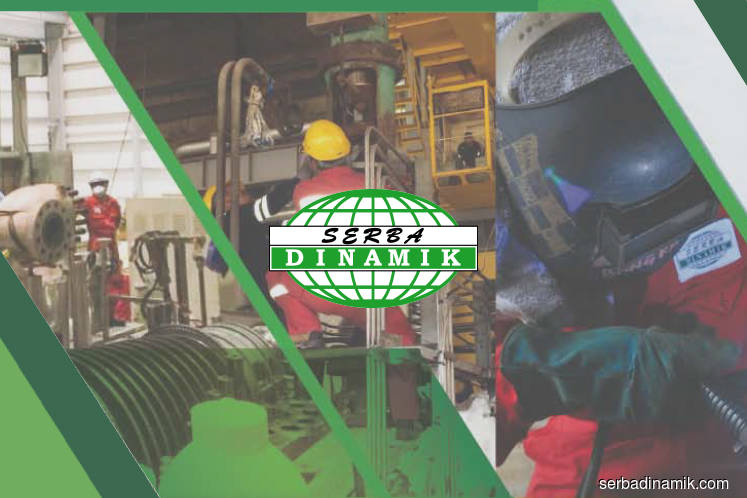 Serba Dinamik 3Q net profit jumps 36% as O&M, EPCC contributions improve, pays 2.34 sen dividend
KUALA LUMPUR (Nov 25): A jump in revenue from stronger contributions from its operation and maintenance (O&M) segment pushed Serba Dinamik Holdings Bhd's net profit up by 36% in the third quarter ended Sept 30, 2019 (3QFY19) to RM113.16 million, from RM83.23 million a year ago.
Revenue was up in tandem to RM1.05 billion, from RM770.22 million. The group declared a third interim dividend of 2.34 sen per share, to be paid on Dec 30, its stock exchange filing today showed.
The integrated engineering services provider said O&M, the group's largest contributor, made up 89% or RM925.77 million of its 3QFY19 revenue, an increase of RM227.6 million or 33% from the RM698.15 million recorded in 3QFY18.
The increase, it said, was due to higher maintenance, repair and overhaul (MRO) of rotating equipment activities in Middle East countries like Qatar, UAE and Kuwait, as well as Malaysia. It also saw higher growth in inspection, repair and maintenance (IRM) activities, it said. "The segment recorded an improved operating profit of RM161.6 million, which represents a gross margin of 17.5%," the group said.
Its engineering, procurement, construction and commissioning segment also showed significant improvement, with revenue jumping 54% or RM37.5 million to RM106.7 million from RM69.2 million. The EPCC segment contributed 10.2% of the group's total revenue in 3QFY19.
"Increased revenue from EPCC segment was mainly derived from our chlor-alkali plant in Tanzania and activity with New Thunder in UAE. The segment recorded an operating profit of RM16.2 million, yielding a gross margin of 15.2%," Serba Dinamik said.
The better quarterly earnings pushed the group's nine-month net profit up by 28% to RM355.76 million from RM278.61 million, as revenue increased 37% to RM3.17 billion from RM2.31 billion.
"We are near to the RM3.28 billion revenue, which we achieved for our financial year ended 2018, based on the 9MFY19 revenue itself at RM3.17 billion.
"Hence, we are confident that the group is closing to our internal double-digit growth target for both top and bottom line for FY2019," Serba's group managing director Datuk Dr Mohd Karim Abdullah said in a separate statement.