This article first appeared in The Edge Financial Daily, on January 8, 2019.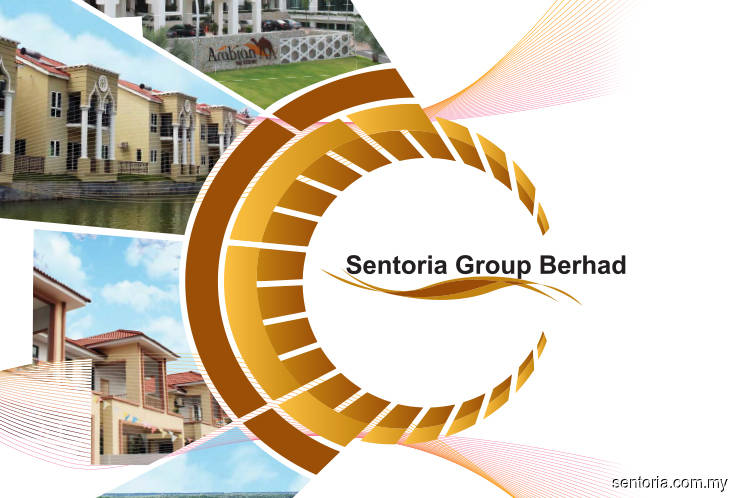 Sentoria Group Bhd
(Jan 7, 40 sen)
Maintain hold with a lower target price (TP) of 43 sen: We recently met Sentoria Group Bhd's management team to learn about its plans for the financial year 2019 (FY19), such as new launches worth some RM740 million lined up. While there is no official sales target set for FY19, management intends to benchmark it with sales in FY18. Meanwhile, management acknowledged the outlook for the leisure business is challenging but strives to achieve break-even this year. The group's unbilled sales of RM425 million should continue to anchor its future earnings. We maintained our "hold" call with a lower TP of 43 sen per share.
 
We understand that management plans to launch some RM740 million worth of new properties in FY19. In Kuantan, Pahang, Sentoria will roll out affordable landed properties at below RM200,000 per unit, and RM300,000 for a single-storey terrace or a semi-detached house. In Morib, Selangor, the group will be launching single-storey semi-detached houses, also affordable at between RM298,000 and RM328,000 per unit.
In Kuching, Sarawak, new projects set to be launched in FY19 are the affordable Rumah Spektra, with an average selling price of RM143,000 per unit; and Borneo Samariang Garden — single-storey terrace houses and single-storey semi-detached houses from RM254,000 per unit and RM400,000 per unit respectively. Townships in Kuantan, Morib and Kuching are expected to contribute bread-and-butter sales to Sentoria in FY19.
In addition, the group will unveil the maiden phase for its developments in Sungai Petani and Langkawi in FY19. Scheduled for launch in the second half of FY19, the Sungai Petani project will feature single-storey semi-detached houses and single-storey bungalows with potential gross development value of RM129 million; the anticipated selling price for the single-storey semi-detached houses and bungalows is at RM241,000 per unit. On the other hand, we understand the Langkawi Resort City's first phase will only be rolled out after the Sungai Petani project launch, as it would require the group to swap the Malay reserve land title in Langkawi with the non-Malay reserve land in Sungai Petani. We are upbeat about the upcoming launches in Sungai Petani and Langkawi, as this would enable the group to expand into and diversify its business in northern Peninsular Malaysia.
While there is no official sales target set for FY19, management intends to benchmark it with sales in FY18. Recall that the group recorded sales of RM393 million, comprising property sales and a design and build (D&B) contract of RM197 million and RM196 million respectively. While we are excited about these projects' official launches up north, we do not discount the possibility of delays, given the official launches are highly dependent on timely approvals from the relevant authorities.
As such, we conservatively project the group to secure new sales of RM380 million in FY19, comprising new property sales and a D&B contract of RM250 million and RM130 million respectively. In our earnings model, we assume about 50% take-up for landed residential projects in Kuantan, Morib and Kuching, and the launches in Sungai Petani and Langkawi to be postponed to FY20.
Sentoria's FY18 leisure and hospitality division's loss before interest and tax widened to RM1.8 million, from a loss of RM600,000 a year ago, mainly due to initial operating costs and overheads incurred for the group's new theme parks — Langkawi Nature Park in Langkawi and Borneo Samariang Water Park, which commenced operations in January 2018 and March 2018 respectively. Meanwhile, lower visitor arrivals and hotel occupancy at Bukit Gambang Resort City also contributed to the decline.
Management acknowledged the leisure business outlook will be challenging over six to 12 months, given a heightened competition in the theme park space in Malaysia. With cost rationalisation measures implemented, the leisure business is expected to break even this year. The group should chart a better performance in FY20, following the Morib Waterpark's completion by end-2019.
Our FY19 to FY21 earnings forecasts are revised lower by 5% to 7%, factoring in lower visitor arrivals, occupancy rates, revenue spending per pax and operating margin for the leisure division. There is no change to our property sales assumptions of RM380 million per annum for FY19 to FY21. The property development division earnings will be anchored by a total unrecognised revenue of RM425.2 million — 1.7 times FY18 property development revenue — comprising unbilled property sales and a D&B contract of RM158.6 million and RM266.6 million respectively.
Following the earnings adjustment, we reduced the TP to 43 sen from 44 sen per share, based on an unchanged target average blended calendar year 2019 price-earnings to price-to-book ratio of six times and 0.5 times. We maintained our "hold" call on Sentoria. — TA Securities, Jan 7