This article first appeared in The Edge Malaysia Weekly, on October 26, 2020 - November 01, 2020.
The retirement landscape today looks vastly different from a decade ago. While Malaysians tend to retire from their full-time jobs in their sixties, many find themselves back in the workforce shortly after, be it for financial reasons or just to keep themselves occupied.
Seniors typically look for jobs that make use of their most valuable asset — their experience. So, they tend to seek out senior management roles that place them in a position of influence, enabling them to multiply the impact of their experience and learnings throughout the organisation, says JobStreet Malaysia country manager Gan Bock Herm.
"It also helps that a higher proportion of senior workers tend to have postgraduate qualifications compared with their younger peers, lending credence to their guidance and influence," he adds.
In the corporate world, more companies are seeing the benefits of hiring seniors. The types of companies willing to take on people from this age group are quite varied, says Hire.Seniors managing director Jasmin Amirul Ghani, adding that they range from small businesses to multinational corporations. However, Hire.Seniors has observed more demand from SMEs that want specific experts in their respective fields.
"For example, we have had requests for human resources (HR) managers, finance managers and sales consultants, where they wanted someone to come in and guide their young sales team. We also get quite a lot of demand for administrative as well as accounting or finance roles," says Jasmin.
On the other hand, there aren't any specific types of jobs that seniors look out for. It all depends on their past experience and individual preferences, she adds.
Since Hire.Seniors began operating its post-retirement job specialist platform more than two years ago, it has noticed that there are two broad categories of seniors who seek to return to work after retirement on a full-time, part-time, freelance or flexible work arrangement basis. The first consists of those who are financially secure but want to do something to keep themselves occupied. They are looking for mental stimulation as well as to maintain social connections.
"Many in this category have often told us that they were initially happy to retire. But after a few years, they found it to be rather boring and wanted to do something with their time. Others have said they felt the need to contribute their knowledge and expertise gained over the years, back to the workplace, to help and guide the younger generation where they need it," says Jasmin.
The second category comprises seniors who need to support themselves and their families beyond their retirement age. They are not particular about the kind of job they get as long as it provides financial support and helps to pay the bills. "Some have also said that due to the current difficulties faced by their children in getting jobs, they feel the need to continue working to support their children," she says.
Gan holds similar views, saying that older job seekers never truly retire in this era and oftentimes return to work to continue earning a steady income to sustain a lifestyle they may have enjoyed in their prime working years. To avoid boredom from setting in, some look forward to forging a bond with their peers and colleagues in their social network.
"Employers and industries strongly benefit from senior workers' continued participation in the workforce to contribute specific knowledge and expertise, which is built with age and experience," he adds.
Still in demand
The market for senior talent is a sizeable one, but older job seekers tend to gravitate towards certain companies. According to JobStreet's recent Laws of Attraction study, which involved more than 10,000 Malaysian job seekers, senior talent exhibit a stronger preference for companies with better reputations, compared with the talent in other age groups. "They appreciate working for financially stable companies with a high staff retention rate in established industries," says Gan.
He adds that seniors in leadership positions with an established track record of successfully managing volatility, uncertainty, conflict and ambiguity are in great demand, especially in today's business climate. "Senior workers are especially well placed to take on such leadership roles, armed with years of experience in navigating challenges and crises.
"Though they have the mettle to steer organisations out of tight spots, senior talent value a corporate culture that emphasises positivity. They shine in an organisation that seeks out good leadership and leverages their strengths to grow the people around them."
At Hire.Seniors, the job demand seen is across all skill levels. Jasmin says there have been companies wanting to hire people at very senior levels such as chief operating officers and HR directors, as well as mid-level roles like HR managers and finance managers. It also sees a demand for consulting and advisory roles such as sales and marketing consultants and chemists as well as operational roles such as administrators and accounts and finance executives. Lower-skilled roles such as drivers and cooks are also in demand.
The reasons for wanting to hire seniors vary, depending on the company. Jasmin says there are three main ones. The first is that they are looking for specific expertise and knowledge that younger talent do not possess and require the seniors to help guide their younger workforce.
"For example we have had requests for someone with strong sales experience to help guide and coach a younger sales team, as well as requests for someone experienced in mainframe technology to guide and mentor the younger technology team. Some companies seek seniors with specific expertise to assist as consultants in developing system user requirements," she adds.
The second main reason companies want to hire seniors is that they are unable to fill a particular role and are willing to try seniors with ready experience. In such cases, some companies are also keen to hire seniors due to their willingness to work on a short-term basis — for example, on specific projects.
The third reason is that the companies are seeking a more stable workforce from a retention perspective. "They often cite issues with the retention of younger workers and thus, are willing to try seniors as they are known to be more stable and resilient at their jobs," says Jasmin.
"We are definitely seeing more seniors wanting to work beyond their retirement age. Many have said they do not feel they are ready to retire and have more to contribute. However, age bias sadly does exist among employers, which makes it difficult for seniors to find jobs. But there are some more progressive employers, who are able to see the benefits that seniors bring to the workplace, and these are the ones who are willing to hire."
Putting your name out there
The easiest way to gain employment post-retirement, says JobStreet's Gan, would be for senior talent to share their interest of re-entering or remaining in the workforce with their network of peers or friends, so that their name can be considered for suitable roles.
However, he adds, actively searching out vacancies on a job platform remains the most effective way for senior talent to land a role that matches their experience and leverages their qualifications. "The vastness of opportunities listed on a simple-to-use job platform like JobStreet makes it the ideal avenue for senior talent to power through a job search and land their post-retirement gig.
"We would advise those nearing retirement to be open to the idea of exploring opportunities at organisations that allow their full capabilities and experience to shine through. Take in your stride the new corporate culture that may come with working at another organisation and look for opportunities to make your own mark.
"The expertise that you bring to the table is invaluable. Thus, we would encourage you to influence the way of work at your new organisation to make it an enjoyable place to earn your keep."
Jasmin advises those who are nearing retirement age to plan ahead by considering what they want to do post-retirement. This can be done by considering their passions and interests as well as experiences and transferable skills.
Seniors should also consider what employers are looking for. Then, they can do a technology and skills audit to identify any gaps they may have in terms of the roles they want and seek to get re-skilled or certified accordingly.
"Then they should start developing their résumé and get feedback on it to ensure it 'sells' well. Creating a LinkedIn profile can also help. However, the most important thing is to persevere," says Jasmin.
"We have had many people who have been frustrated at the length of time it takes to land a job. At the same time, there are those who do not give up but keep applying and trying different avenues. The [latter group] usually ends up finding something that suits their experience and needs."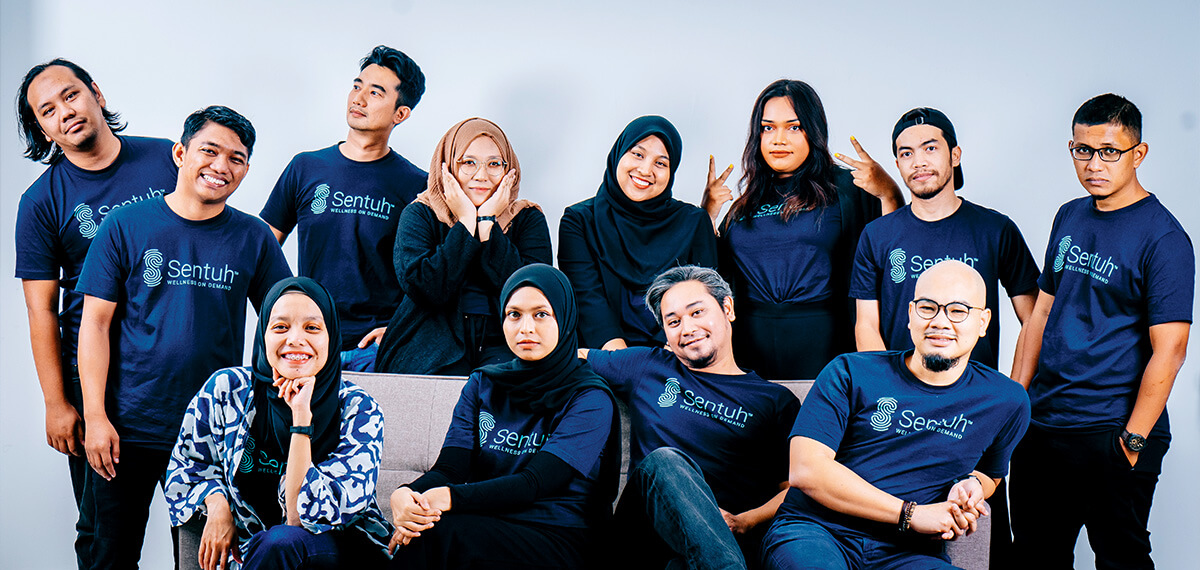 Ahmad Aizudin (seated, second from right) says when Sentuh started, it received a lot of employment requests from those aged 55 and above
Fewer seniors in the gig economy, players observe
Businesses operating in the gig economy are still seeing low numbers of seniors working for them compared with those in other age groups. This could be due to the nature of many gigs, which tend to be more physically demanding, coupled with the justified health fears amid the ongoing Covid-19 pandemic, say industry players.
Companies that require workers to be more physically fit have not seen much participation from seniors. Ahmad Aizudin Ahmad Anuar, founder and CEO of on-demand wellness platform Sentuh Sinergi Sdn Bhd says those aged 60 and above only make up about 5% of its workforce. That is because a massage requires physical strength.
"When we started, we received a lot of requests from those aged 55 and above to work as therapists. If they are providing services under Sentuh Luxe, they will need to carry the spa setup with them, which includes a massage table. We usually have our senior therapists offer the Sentuh Lite service because it's more accommodating to their needs," he says.
Sentuh Luxe provides a spa setup inclusive of a portable bed, diffuser, music, tower and disposable items. Sentuh Lite only offers body massages, where therapists provide the massage oils, bedsheets and towels.
A lot of gig economy jobs are strenuous, which may not be suitable for seniors due to health and physical constraints. This is also a main concern of seniors as many of them were hesitant to resume working after the three-month Movement Control Order (MCO) was imposed in mid-March, says Ahmad Aizudin.
"We were allowed to resume operations in June after the MCO and when we first started, we did not allow our senior workers to work because they were considered a high risk group. Only after a month, we started to open up employment to them, but some were still hesitant," he says.
Nevertheless, Ahmad Aizudin says there is an untapped senior masseuse manpower in rural areas. The main challenge with this group of people in relation to Sentuh, however, is the technological aspect as it will be a challenge for them to transition from analogue to digital, which is something Sentuh is planning to tackle.
"Sentuh now only operates in the Klang Valley, but we are planning to expand outside of Kuala Lumpur. We have started in Kota Kinabalu with about 20 to 30 therapists and we'll be expanding to the east coast later this year, where we expect to engage a lot of senior workers," he says.
Jeevan Kumar, co-founder and group CEO of local logistics provider Zoom, says that while the company does not have an age limit for its delivery agents, 90% of its riders are aged between 25 and 45. "We do have [seniors in our workforce] but the number is not significant because they are mostly not out looking for delivery jobs that are quite physical. Of the 25,000 registered freelancers we have across Malaysia, Indonesia and Cambodia, the number of senior workers is below 50."
Grab Malaysia head of operations Rashid Shukor says the gig economy has been an integral part of the new economy, quickly becoming an option for some unemployed Malaysians. The flexibility allows anyone to work during their preferred working hours to earn an income to sustain their livelihoods.
"Many of our senior partners who are above 55 years old and considered high risk for Covid-19 have opted to stay home. As the economy slowly reopens, our senior partners are beginning to resume work, although [we have observed] 30% have not yet returned to work," he says.
As a tech enabler and proponent of the digital economy, Rashid says the company has always focused on providing more income opportunities for its drivers and delivery partners.
With more than 98.5% of businesses in Malaysia comprising micro, small and medium enterprises (MSMEs), Grab has been working to support those who lack the resources and knowledge to transition their businesses online and embrace the digital economy so no one is left behind, says Rashid. This includes encouraging entrepreneurs to list their businesses on the Grab platform.
"Several of our traditional merchant partners such as Nyonya Heritage, which is run by a senior husband-and-wife team with their son, as well as Lizar Chilli at the TTDI market selling homemade spices and pastes, have seen an increase in sales after listing on the Grab platform," he says.
Rashid says Grab believes that the gig economy will continue to play an important role in ensuring people can maintain their livelihoods, especially in view of the challenging economic times ahead. "We are proactively adapting our business to this new reality and helping our partners who seek a livelihood through our platform. We will continue to work closely with the government to enable gig work that is fair, inclusive and sustainable."