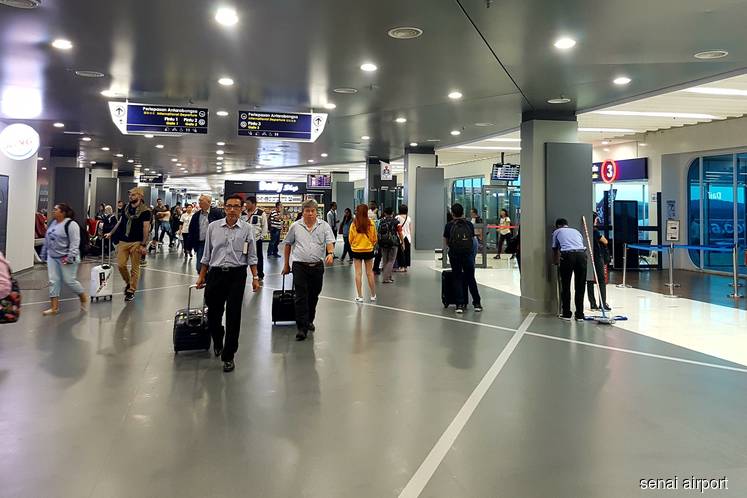 KUALA LUMPUR (Jan 28): Senai International Airport has set another new record in 2018, handling 3.52 million passengers, a 13% increase compared with 2017.
The growth was mainly driven by domestic passengers with an increase of 9% or 234,650 passengers, from 2.68 million in 2017 to 2.91 million in 2018, the group said in a statement.
International passenger traffic, meanwhile, rose by 37% or 163,127 to 0.6 million from 0.44 million in 2017.
Commercial aircraft movements were 8% higher with a total of 32,574 landings and takeoffs.
"2018 has been our busiest year yet and we are anticipating for further growth in 2019," said Md Derick Basir, the chief executive officer of Senai Airport Terminal Services Sdn Bhd, a member of MMC Group.
"The growth was fuelled by the southern region's rigorous economic activities, escalating the demand for business and corporate travel, as well as the leisure sector," he added.
In particular, the rise in total passenger traffic in 2018 was mainly attributed by the introduction of new routes including Seoul by Jin Air, Sanya and Haikou by Malindo Air as well as Alor Setar and Ipoh by AirAsia in addition to the increase in flight frequencies for existing sectors such as Kuala Lumpur, Penang, Kota Kinabalu, Langkawi and Bangkok.
"We are aggressively collaborating with the industry players including the tourism bodies and airlines to promote Johor as a destination, ultimately the aim is to encourage the demand for more air connectivity.
"For 2019 Senai International Airport aims to handle 3.76 million passengers. It is going to be a busy and exciting year for us now that we have also expanded our portfolio to manage Kertih Airport in Terengganu." said Md Derick.
Recently Senai International Airport was awarded 'Asia Pacific Regional Airport of the Year 2018' under the less than 10 million annual passenger category by CAPA for its leading role in using new biometrics technology and its support of the low-cost carrier (LCC) model.
Its retail offerings have also improved with the opening of international brands such as Pizza Hut, Gong Cha, WH Smith, O'Briens Irish Sandwich Bar, Boost Juice and Burger King.
"Today, it is not just 'an airport' for travelling passengers, but has become 'the place' for the surrounding working communities to meet for business discussions," said Md Derick.