This article first appeared in The Edge Financial Daily, on October 29, 2019.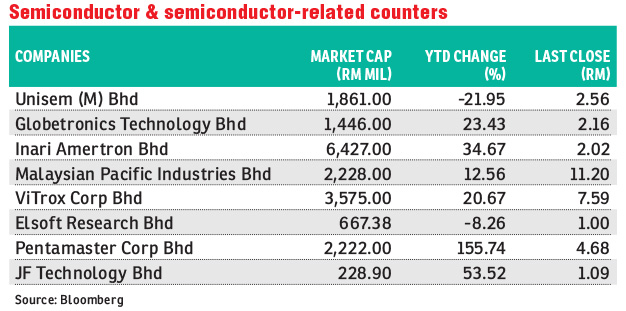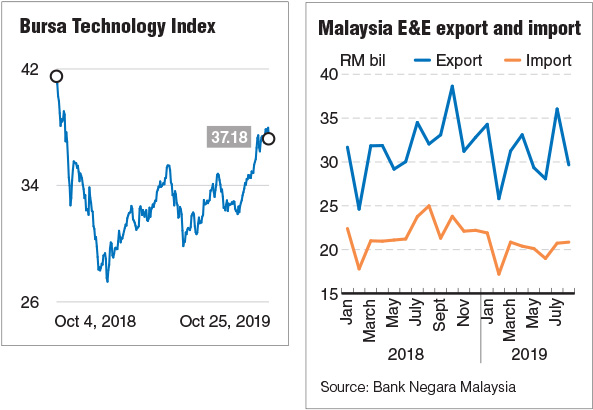 KUALA LUMPUR: The prospects of the local semiconductor industry took centre stage in the otherwise lacklustre stock market last week after the dismal ViTrox Corp Bhd's earnings performance.
Coincidentally, the steep fall in ViTrox's profit came shortly after Texas Instruments' earnings warning as the Sino-US trade tension is making customers cautious.
This prompted Morgan Stanley to warn its clients that a possible slowdown in the semiconductor industry is seen.
Some quarters see the trade tension has cast a pall and soon this will be reflected in Malaysian-based semiconductor companies' performances.
However, others are optimistic of a recovery in the coming quarters. The share price weakness is good buying opportunities.
ViTrox's sharp net profit contraction was taken by the cautious investors as evidence of a possible slowdown in the semiconductor industry.
Its share price declined by 6% to RM7.59 last Friday, after the announcement that its net profit fell by half to RM13.9 million and revenue declined 34% to RM66.5 million for the third financial quarter ended Sept 30, 2019 (3QFY19).
Meanwhile, Unisem (M) Bhd last Friday announced that it fell into the red after the market closed with quarterly net loss of RM3.2 million in the third quarter ended Sept 30 and an 11% decline in the quarterly revenue.
Unisem's share price, however, has already headed south last Friday. The stock was also down by nine sen or 3.4% to RM2.56 before the release of 3QFY19 results.
MIDF head of research Mohd Redza Abdul Rahman told The Edge Financial Daily the decline in Malaysia's electronics and electrical (E&E) exports and imports in August could be an indicator of technology (tech) companies' order volume.
"E&E exports have weakened during the quarter (3QFY19). While we don't have data for September, in August, exports declined 7.4% compared with August 2018. E&E imports also declined 16.6%. We can use this as the leading indicator for September exports where E&E exports look to come down as well. So it is no surprise that 3QFY19 results are disappointing," said Mohd Redza.
"Uncertainty over the US-China trade war, especially over the tariffs on remaining Chinese exports, is one reason for the decline," he said.
Mohd Redza recommended investors take profit on selective tech counters for now, before their order volume recover.
Hong Leong Investment Bank Bhd analyst Tan J Young agreed, saying the US-China trade war is taking a toll on the E&E sector.
"Customers [of tech companies] are having difficulty in making (their) investment decisions. ViTrox 3QFY19 results were impacted because of that, due to last-minute pullback of orders," he said.
For EquitiesTracker head of research Lim Tze Cheng, short-term weakness in share prices for tech counters could be a good time to invest.
"As value investor, we always believe that as long as the industry dynamics and the companies are fundamentally strong, any short-term weakness in price is a good time to invest.
"The latest string of poor results among the semiconductor players was mainly due to the pullback in orders due to uncertainty created by the trade war. This, we see, as a short-term event. We do not foresee further slowdown as we are seeing investment activities resuming, driven mainly by motor vehicle, fifth-generation cellular network technology (5G) and Internet of things devices," he said.
Lim said some of the fundamentally-sound companies include Inari Amertron Bhd, FoundPac Group Bhd, JF Technology Bhd, Elsoft Research Bhd and KESM Industries Bhd.
Meanwhile, UOB Kay Hian analyst Desmond Chong sees the 5G deployment in 2020 would be a growth catalyst that will energise the recovery on the semiconductor industry.
"The procurement in the semiconductor sector has already slowed down since the past few quarters and we expect some recovery in 2020.
"Given the slower-than-expected global semiconductor sales pick-up from the US-China trade truce, we are now expecting [ViTrox] earnings to be compressed in 2019 (by 11%) versus our initial expectation of 5% year-on-year growth, on the ongoing weakness from its semiconductor clients, particularly in the smartphone business," he said.
Nonetheless, Chong noted that ViTrox's share price has already factored in the good news; hence any disappointment will spark selling on the stock.