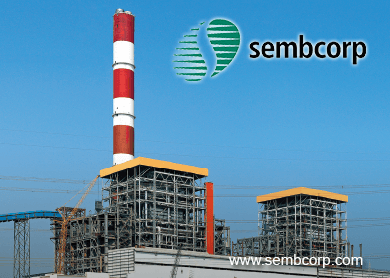 KUALA LUMPUR: Singapore's Sembcorp Industries Ltd is said to be a new contender for 1Malaysia Development Bhd's (1MDB) power assets, according to a source close to the matter.
Sembcorp is "keen" on acquiring 1MDB's wholly-owned subsidiary Edra Global Energy Bhd, which houses the power assets that are worth an enterprise value of RM16 billion to RM18 billion.
The utilities and integrated services provider is a government-linked company (GLC) in Singapore. Sembcorp is 49.5% owned by the state's investment company, Temasek Holdings Private Ltd.
As at press time, Sembcorp has yet to respond to queries pertaining to the matter.
Given the latest development, this means that a new strong contender has emerged to IJM Corp Bhd (fundamental: 1.1; valuation: 1.4) and Tenaga Nasional Bhd (fundamental: 1.3; valuation: 1.8), who have both indicated their interests in the acquisition of these power assets as well.
However, some quarters said Sembcorp might be in a position of less advantage, considering it is a government-controlled entity. Also, concerns on national security may arise. Should the Malaysian government allow a foreign party control of a big chunk of equity in the country's power assets?
Nonetheless, selling the assets to a foreign party would allay criticisms of "bailout", as a disposal to a local GLC could be seen as yet another move by the government to reduce 1MDB's RM42 billion debt.
It is not known whether it was Sembcorp or 1MDB who first initiated the talks.
To recap, 1MDB is looking to raise funds to address its huge amount of debt by selling off its power assets via a direct sale, after the Securities Commission's (SC) rejection of its application for Edra's listing.
Its president and group executive director Arul Kanda Kandasamy, in a report of a strategic review on 1MDB, said measures will be taken to ensure that the entity services its debt and infrastructure obligations. One of the moves involves the planned monetisation of Edra this year.
After that 1MDB appointed CIMB Group as an adviser for a direct sale of 1MDB's power assets to a third party, which was subsequently aborted by the Finance Ministry. It is currently preparing to resubmit its application for the initial public offering (IPO) to the SC in its second attempt for listing.
However, an IPO at this point in time may not be a good idea, judging from the lacklustre share price performance of power producer, Malakoff Corp Bhd. It was listed on May 15, which explains why 1MDB might reconsider a direct sale.
Malakoff, a subsidiary of MMC Corp Bhd, saw its share price fall below its IPO price of RM1.80 by 10 sen to RM1.70 on May 21.
This article first appeared in The Edge Financial Daily, on June 4, 2015.