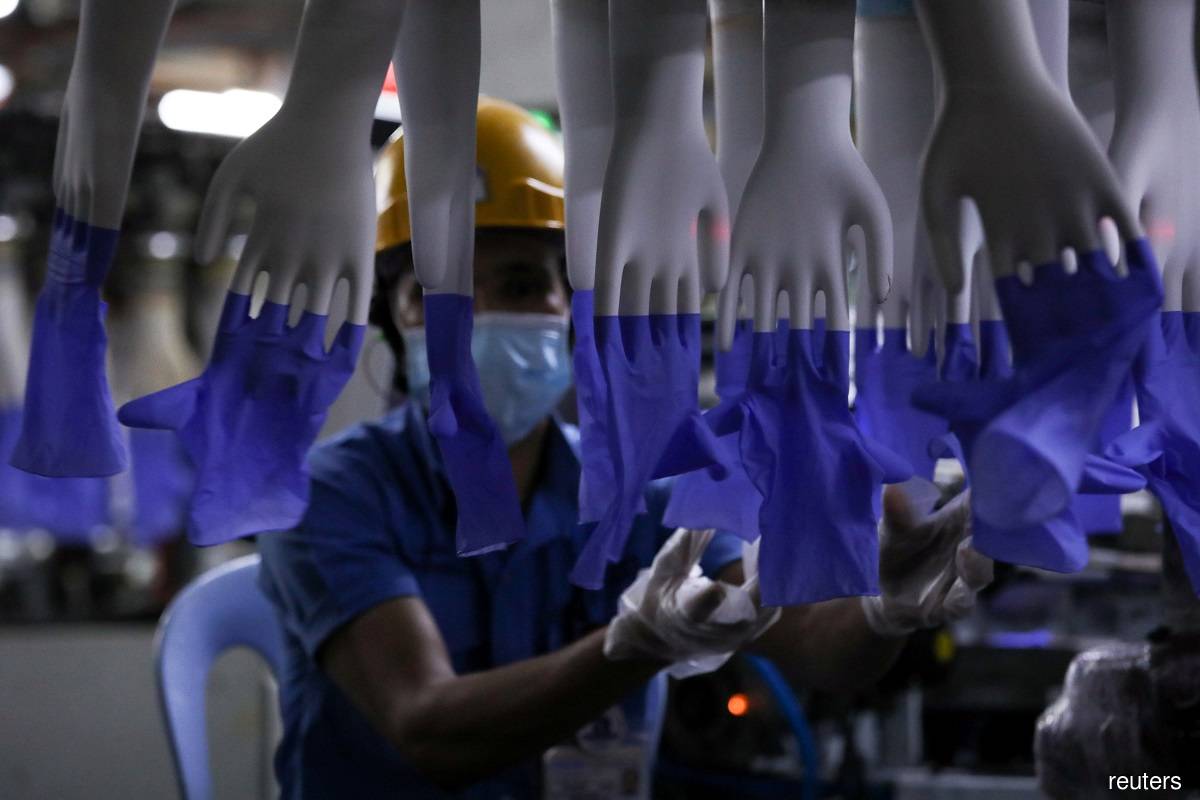 KUALA LUMPUR (Feb 22): Glove bulls seem to be getting lethargic as more countries kick-start their Covid-19 vaccination programmes. Malaysia will soon be the latest one, which will begin on coming Wednesday.
Selling pressure on glove stocks mounts as domestic investors see the rising optimism that the coronavirus will be contained more effectively with the availability of vaccines.
However, the recent selldown has pulled share prices down to attractive bargain hunting level against the target prices of the majority investment analysts.
At market close, the Healthcare index, which tracks share prices of pharmaceutical companies, rubber glove manufacturers and hospital operators, slipped 1.51% or 52.26 points to close at 3,399.28.
Top Glove Corp Bhd slid 27 sen or 4.46% to RM5.78 — its lowest level since Jan 6 — shaving its market capitalisation to RM47.41 billion. Trading volume was 39.05 million shares.
Supermax Corp Bhd slid 4.66% or 27 sen to RM5.53 with a market value of RM15.05 billion. It saw some 19.6 million shares transacted.
Hartalega Holdings Bhd — the sixth top loser on Bursa in terms of value — shed 42 sen or 3.48% to RM11.64 with some 4.75 million shares changing hands. This gave the group a market capitalisation of RM39.9 billion.
Among other glove players, Comfort Gloves Bhd fell as much as 18 sen or 7.03% to RM2.38; Careplus Group Bhd was down by 4.9% or 10 sen to RM1.94; while Rubberex Corp (M) Bhd dropped eight sen or 5.8% to RM1.30.
The first shipment of 312,390 doses of the Pfizer-BioNTech Covid-19 vaccine arrived on Sunday as the first phase of the National Immunisation Programme is set to begin earlier on Feb 24, instead of Feb 26 as previously announced.
The Covid-19 immunisation programme has three phases, targeting 80% of the population or 26.5 million recipients who will be inoculated for free.
Science, Technology and Innovation Minister Khairy Jamaluddin, who is also in charge of the National Immunisation Programme, said Prime Minister Tan Sri Muhyiddin Yassin and Health director-general Tan Sri Dr Noor Hisham Abdullah will be among the first individuals to receive the vaccines on coming Wednesday.
Health workers and other front-line workers will be inoculated in the first phase from February until April, followed by senior citizens and high-risk groups in the second phase (from April until August). Meanwhile, the third phase involving those aged 18 and above will take place from May until February 2022.
In a thematic report dated Feb 18, MIDF Research said sentiment towards the glove sector had changed as the development of Covid-19 vaccines progressed, however, it still maintained its positive stance on the sector as the research house believed the demand growth of gloves would continue after the pandemic.
MIDF also kept its "buy" recommendations on the four companies under its coverage, namely Hartalega with a target price (TP) of RM18.25, Top Glove (TP: RM8.29), Kossan Rubber Industries Bhd (TP: RM7.33) and Supermax (TP: RM13.83).
"Malaysia supplies about 65% of the world's total rubber gloves, which means collectively, Malaysian glove companies have market leader advantages," said MIDF.
The research house said one notable growth driver of rubber glove demand is higher hygiene awareness in the developing nations, while in the developed countries, demand is driven by more stringent medical processes, an ageing population which leads to higher medical needs, as well as consumption in other services sectors.
"The glove consumption is expected to remain high in 2021. We believe that mass testing and random testing will continue until a wide population is vaccinated.
"This is especially so if economies, social activities, and schools are to reopen while remaining safe. For example, in the US, US$50 billion has been allocated to expand testing to buy rapid tests and increase laboratory capacity to support regular testing in schools so that they can safely reopen," it said.
That said, MIDF added that industry players also expect high demand for rubber gloves from the massive roll-out of vaccination programmes.
"On top of that, buyers may need another few months to rebuild their inventory level. According to MARGMA (Malaysian Rubber Glove Manufacturers Association), glove demand is expected to grow by 15% to 20% per annum going forward. Prior to the pandemic, demand for gloves was growing by 8% to 12% per annum," it noted.
Read also:
Top Glove spends RM59m in latest share buy-back
Top Glove registers highest RSS volume and value
Temporary suspension on IDSS and PDT short-selling extended to Aug 29