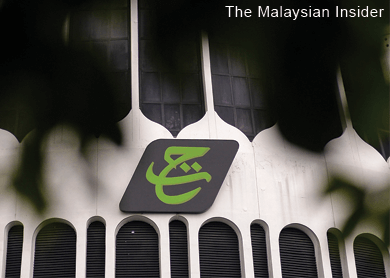 (May 11): DAP today questioned the rationale behind Prime Minister Datuk Seri Najib Razak's defence of the controversial deal between Tabung Haji and debt-laden 1Malaysia Development Berhad (1MDB), following the pilgrims fund's claim that it would make RM5 million from disposing the land it bought a month ago.
National publicity secretary Tony Pua said if the purchase of the land was a sound commercial decision, then Najib should ask his stepson, Riza Aziz, to sell off his properties in the United States to acquire the Tun Razak Exchange (TRX) land from Tabung Haji.
State news agency Bernama had reported that Najib, who is also the finance minister, had said turning over the 0.64 ha land to the private sector was a good commercial deal which would see Tabung Haji make a few million ringgit overnight.
"The prime minister must be joking. If it is so easy for Tabung Haji to earn a few million ringgit, then why did 1MDB, who is so desperate for funds, not sell it to those parties who are allegedly willing to purchase it for more money than what Tabung Haji was willing to pay?
"Hence we call upon Najib to lead by example and immediately advise his own stepson, Riza Aziz to dispose of his luxury properties in the United States and purchase the land from Tabung Haji," Pua said in a statement today.
Last February, the New York Times said that movie producer Riza, 38, had bought an apartment in Park Laurel, New York for US$33.5 million and a house in Beverly Hills worth at least US$17.5 million in cash.
It also highlighted the wealth of businessman Low Taek Jho, more popularly known as Jho Low, and his role as an investor on behalf of various parties as well as his connection with 1MDB, which has accumulated an RM42 billion debt.
Both properties were purchased by Low, whose wealth is similarly unexplained, NYT reported.
Riza had confirmed the transactions and it was also reported that the Beverly Hills property had been torn down in order to be rebuilt from the ground – a project that would cost millions of dollars.
Tabung Haji's purchase of the plot of land from 1MDB for RM188.5 million, or RM2,774 per sq ft, for the purpose of building a residential tower has created uproar among its depositors, some of whom withdrew their savings at its branch in Shah Alam on Thursday.
Opposition politicians were quick to note that Tabung Haji was paying far more per square feet (psf) than what 1MDB had paid at RM64 psf when it first bought the land from the government, leading some to call the deal a "bailout" given 1MDB's massive debts.
On Saturday, the fund announced it was selling the land it purchased from 1MDB, following public outcry over the transaction.
Tabung Haji chairman Datuk Seri Abdul Azeez Abdul Rahim said Najib had advised him to dispose of the land so that the fund's reputation was not "tarnished" due to its business transaction with 1MDB, and in order to respect the "sensitivity" of the depositors.
Pua said today that 1MDB's dire condition had forced the state investment vehicle to dispose of its assets, which it had previously acquired cheaply from the government, to raise funds to service its burgeoning debts.
"Under such circumstances, since the prime minister believes that paying more than RM2,773 psf for the piece of land is still such a good deal, he should immediately advise Riza Aziz to dispose of his RM184 million of properties in the United States and bring back the cash to buy this piece of land from Lembaga Tabung Haji.
"If Najib insists that Malaysians have to bail out 1MDB for its monstrous financial problems, then it is only right that he set the example by asking his family members of unexplained immense wealth to repatriate their money to bail out 1MDB first," the Petaling Jaya Utara MP said. – The Malaysian Insider