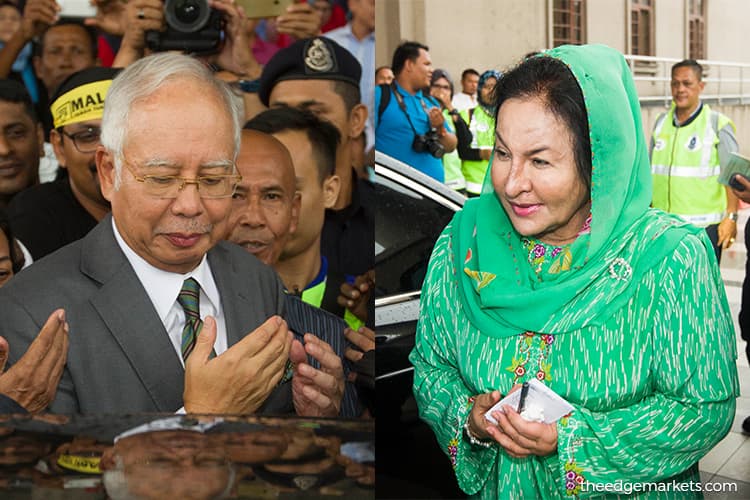 KUALA LUMPUR (May 10): The honorifics awarded by the Selangor Sultan to former prime minister Datuk Seri Najib Razak and his wife Datin Seri Rosmah Mansor have been suspended effective May 6, pending their respective court cases.
In a statement today, Selangor state secretary cum registrar of Selangor honorifics Datuk Mohd Amin Ahmad Ahya said the decision to suspend the titles was done on the order of the Sultan of Selangor after consultation with the Royal House of Selangor.
Najib was awarded the Darjah Kebesaran Seri Paduka Mahkota Selangor Kelas Pertama that carries the title "Dato' Seri" in 2004 and the Darjah Kebesaran Dato' Paduka Mahkota Selangor Kelas Kedua that carries the title Dato in 1992.
Amin said the titles were suspended as Najib has been charged in court on several charges involving corruption, criminal breach of trust, and money laundering.
"The suspension of the title awarded by the Sultan of Selangor will be reviewed once the case is finalized in court," he said.
Rosmah was awarded the Darjah Seri Paduka Mahkota Selangor Kelas Pertama that carries the title Datin Paduka Seri in 2005.
Amin said the title was suspended as Rosmah is currently facing corruption and money laundering charges, as well as a case by the Inland Revenue Board for failing to declare her income.
The suspension of Rosmah's title by the Selangor Sultan will also be reviewed once her cases are finalised in court, Amin added.