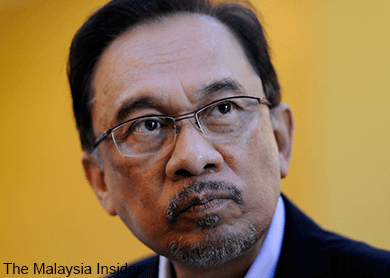 Opposition leader Datuk Seri Anwar Ibrahim has been stripped off his "Datuk Seri" title by the Sultan of Selangor.
The Selangor palace said in a statement today that the decision was made because Anwar had repeatedly questioned the integrity of Sultan Sharafuddin Idris Shah and the royal institution during the recent menteri besar saga.
"The decision is based on Anwar's repeated questioning of the integrity of the Selangor Sultan and royal institution in resolving the Selangor MB crisis, as well as his questioning of issues related to Islam," Sultan Sharafuddin's private secretary, Datuk Mohamad Munir Bani, said in the statement.
The revocation of the award took effect on November 3.
The Sultan made the decision after consulting with the Selangor Royal Council, in line with the Sultan's powers to confer the said titles as enshrined in the state's constitution.
The award was conferred to Anwar by the Selangor ruler in 1992.
Munir also said that the PKR adviser's action and behaviour showed that he was no longer fit to hold such a title.
Apart from the Selangor Sultan's award, Anwar was also bestowed awards which carry the title "Datuk Seri" from other states, including from Sabah, Negri Sembilan and Penang.
Sultan Sharafuddin, who heads the Royal Council, has been known to be stringent in awarding and stripping of awards.
Over the years, the sultan has stripped the titles from several people for various reasons, ranging from abuse to involvement in activities deemed to have tarnished the title bestowed on them and criminal activities.
In 2007, the sultan stripped Indonesian businessman Kenneth Chow of his title after he was charged with involvement in the submission of false information to a company.
In 2002, Sultan Sharafuddin stripped the datukship of Tan Hock Low from Kuala Langat and Robert Chan Wai Ing from Kuala Lumpur following complaints from the public and police investigations of their involvement in "improper conduct".
Former MCA deputy president Tan Sri Lee Kim Sai, was once stripped off his datukship by the late Sultan of Selangor in 1987 for questioning the status and rights of the Malays. – The Malaysia Insider