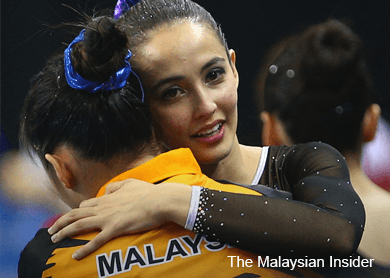 (June 26): Displeased with those who made an issue of SEA Games gold medallist Farah Ann Abdul Hadi's attire, the Selangor sultan has instead congratulated the gymnast and advised her not to take the negative comments to heart, The Star reported.
In a letter to Farah, Sultan Sharafuddin Idris Shah also told her that she had made her country proud.
"Criticising your attire should be the last matter in the minds of those who commented negatively on social media.
"They should be celebrating your achievements for Malaysia and Selangor," he said in the letter handed to her today by a palace official, the report said.
The sultan also acknowledged her hard work and dedication in the letter, saying: "I am sure it must have taken years of hard work, dedication, determination and long hours of training to reach the level that you have achieved."
Farah said she was humbled to receive the sultan's letter.
Some social media users had slammed the 21-year-old for her attire, saying she had exposed her "aurat" (parts of body to be covered according to Islam) in her leotard.
But the double gold medallist fired back on Twitter: "Empty cans make the most noise." – The Malaysian Insider